As the search for a COVID-19 vaccine intensifies, there is a global focus on the Life Sciences industry. The industry has been hit hard this year – having to deliver overtime through a disrupted supply chain, unexpected demand spikes, and reduction of revenues from their regular streams. Life sciences organisations are already challenged by the breadth of their focus – across R&D and clinical discovery; Manufacturing & Distribution; and Sales & Marketing. Increasingly, many pharmaceutical and medtech organisations choose to outsource some of these functions, which brings to fore the need for a robust compliance framework. In the Ecosystm Digital Priorities in the New Normal Study, two-thirds of life sciences organisations mention that they have either been forced to start, accelerate or refocus their Digital Transformation initiatives – the remaining one-third have put their Digital Transformation on hold. The industry is clearly at an inflection point.
Challenges of the Life Sciences Industry
Continued Focus on R&D. Life sciences companies operate in an extremely competitive global market where they have to work on new products against a backdrop of competition from generics and a global concern over rising healthcare expenditure. Apart from regulatory challenges, they also face immense competition from local manufacturers as they enter each new market.
Re-thinking their Distribution Strategy. Sales and distribution for many pharma and medtech organisations have been traditional – using agents, distributors, clinicians, and healthcare providers. But now they need to change their go-to-market strategies, target patients and consumers directly and package their product offerings into value-added services. This will require them to incorporate customer experience enhancers in their R&D, going beyond drug discovery and product innovation.
Tracking Global Regulations. Governments across the world are trying to manage their healthcare budgets. They are also more focused on chronic disease management. The focus has shifted to value-based medicine in general, but pharma and medtech products are being increasingly held accountable by health outcomes. Governments are increasingly implementing drug reforms around what clinicians can prescribe. Global Life Sciences organisations have to constantly monitor the regulations in the multiple countries where they operate and sell. They are also accountable for their entire supply chain, especially ensuring a high product quality and fraud prevention.
The global Ecosystm AI study reveals the top priorities for Life Sciences organisations, focused on adopting emerging technologies (Figure 1). They appear to be investing in emerging technology especially in their R&D and clinical discovery and Manufacturing functions.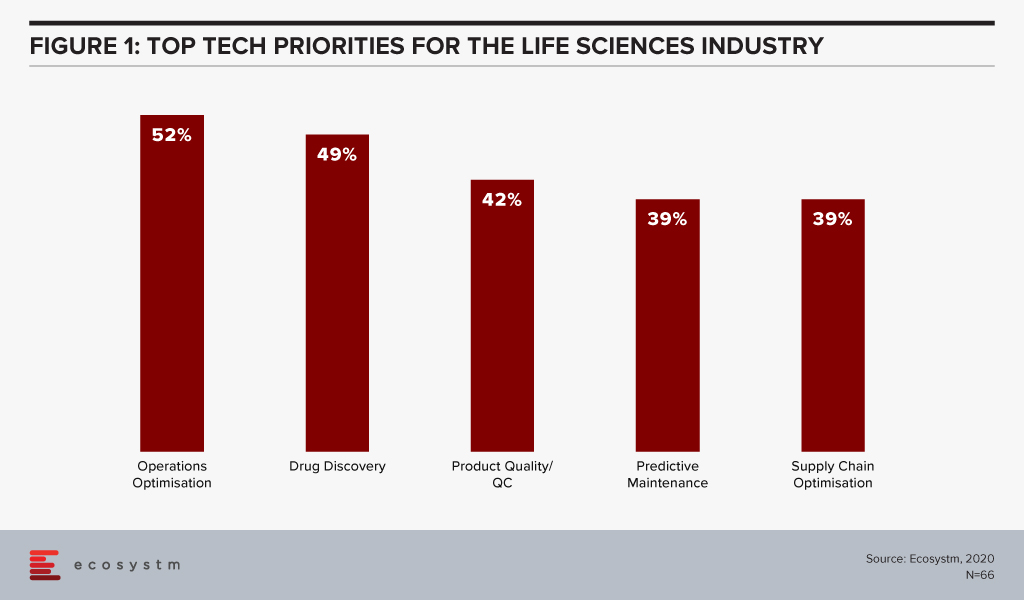 Technology as an Enabler of Life Sciences Transformation
Discovery and Development
With the evolution of technology, Life Sciences organisations are able to automate much of the mundane tasks around drug discovery and apply AI and machine learning to transform their drug discovery and development process. They are increasingly leveraging their ecosystem of smaller pharma and medtech companies, research laboratories, academic institutions, and technology providers to make the process more time and cost efficient.
Using an AI algorithm, the researchers at the Massachusetts Institute of Technology have discovered an antibiotic compound that can kill many species of antibiotic-resistant bacteria. MIT's algorithm screens millions of chemical compounds and chooses the antibiotics which have the potential to eliminate bacteria resistant to existing drugs. Harvard's Wyss Institute for Biologically Inspired Engineering is manufacturing 3D printed organ-on-a-chip to give insights on cell, tissue, and organ biology to help the pharma sector with drug development, disease modelling and finally in the development of personalised medicine.
Life Sciences are also engaging more with technology partners – whether emerging start-ups or established players. Pfizer and Saama are working together on AI clinical data mining. The companies are developing and deploying an AI-based analytical tool where Pfizer provides clinical data and domain knowledge to train models on the Saama Life Science Analytics Cloud (LSAC). Saama was identified as a partner at a hackathon. Sanofi and Google have established a new virtual Innovation Lab to develop scientific and commercial solutions, using multiple Google capabilities from cloud computing to AI.
Tech providers also keep evolving their capabilities in the Life Sciences industry for more efficient drug discovery and better treatment protocols. Microsoft's Project Hanover uses machine learning to develop a personalised drug protocol to manage acute myeloid leukaemia. Similarly, Apple's ResearchKit – an open-source framework is meant to help researchers and developers create iOS-based applications in the field of medical research.
Manufacturing and Logistics
The industry also faces the challenges faced by any Manufacturing organisation and has the need to deploy manufacturing analytics, and advanced supply chain technology for better process and optimisation and agility. There is also the need for complete visibility over their supply chain and inventory for traceability, safety, and fraud prevention. Emerging technologies such as Blockchain will become increasingly relevant for real-time track and trace capability.
The MediLedger Network was established as an open network to the entire pharma supply chain. The project brings a consortium of some of the world's largest pharmaceutical companies, and logistics providers to improve drug supply chain management.
Since the data on the distributed ledger is encrypted, it creates a secure system without any vulnerabilities. This eliminates counterfeit products and ultimately ensures the quality of the pharma products and promotes increased patient safety. To foster security and improve the supply chain, the United States Food and Drug Administration (USFDA) successfully completed a pilot with a group including IBM, KPMG, Merck and Walmart to support U.S. Drug Supply Chain Security Act (DSCSA) to trace vaccines and prescription medicines throughout the country.
Diagnostics and Personalised Healthcare
As more devices (consumer and enterprise) and applications enter the market, people will take ownership and interest in their own health outcomes. This is seeing a continued growth in online communities and comparison sites (on physicians, hospitals, and pharmaceutical products). Increasingly, insurance providers will use data from wearable devices for a more personalised approach; promoting and rewarding good health practices.
Beyond the use of wearables and health and wellness apps, we will also see an exponential increase of home-based healthcare products and services – whether for primary care and chronic disease management, or long-term and palliative care. As patients become more engaged with their care, the life sciences industry is beginning to serve them through personalised approach, medicines, right diagnosis and through advanced medical devices and products.
An online tool developed by the University of Virginia Health Systems helps identify patients that have a high risk of getting a stroke and helps them reduce that risk. This tool calculates the patient's probability of suffering a stroke by measuring the severity of their metabolic syndrome – taking into account a number of conditions that include high blood pressure, abnormal cholesterol levels and excess body fat. Life Sciences organisations are increasingly having to invest in customer-focused solutions such as these.
Wearables with special smart software to monitor health parameters, gauge drug compatibility and monitor complications are being implemented by Life Sciences organisations. The US FDA approved a pill called Abilify MyCite fitted with a tiny ingestible sensor that communicates with a patch worn by the patient to transmit data on a smartphone. Medtech companies continue to develop FDA approved health devices that can monitor chronic conditions. Smart continuous glucose monitoring (CGM) and insulin pens send blood glucose level data to smartphone applications allowing the wearer to easily check their information and detect trends.
Technologies such as AR/VR are also enabling Life Sciences companies with their diagnostics. Regeneron Pharmaceuticals has created an AR/VR app called "In My Eyes" to better diagnose vision impairment in patients.
What is interesting about these personalised products is that not only do they improve clinical outcomes, they also give Life Sciences companies access to rich data that can be used for further product development and improvement.
The Life Sciences industry will continue to operate in an unpredictable and competitive market. This is evident by the several mergers and acquisitions that we witness in the industry. As they continue to use cutting-edge technology for their R&D practices, they will leverage technology to transform other functions as well.
---
Get access to AI insights and key industry trends from our AI research, click below to access
---