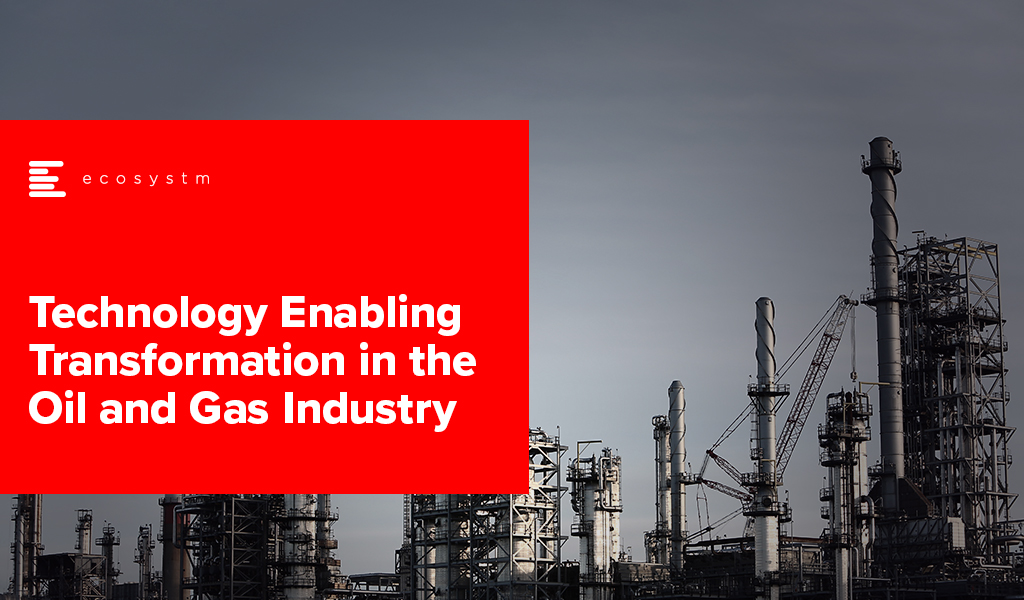 The Oil and Gas industry has seen volatile times and is affected by its own set of unique challenges ranging from commodity price fluctuations, a potential supply crunch, geo-political events, and energy policies including energy transition. Moreover, the challenges and requirements are distinct at different stages of operations – upstream, midstream and downstream. The industry has been an early adopter of a few emerging technologies and is looking to leverage them to remain competitive and better employee management.
Drivers of Transformation in the Oil and Gas Industry
Remaining competitive in an evolving market
Oil and Gas companies are having to clean up old processes, as the market gets increasingly competitive. Ecosystm research finds that the top business priorities for Oil and Gas companies do not stop at cost reduction and revenue growth. The industry also has to focus on employee experience and safety, compliance, and increasingly even customer experience. And they must remain competitive through potential disruption in supply, demand and production; the rising costs of processes; and ongoing exploration costs. Oil and Gas companies are also focusing more on their downstream operations including retail in order to remain competitive.
Shortage of skilled workforce
The industry also faces the challenge of skills shortage. A survey conducted by the Global Energy Talent Index (GETI) found that nearly 70% of Oil and Gas professionals think the industry is already facing skills shortage or will be hit by it within the next 5 years. This is due to a number of reasons, including a reluctance of younger professionals to commit to a profession that has harsher conditions than many. Moreover, as energy transition becomes a topic of global discussion, many have a perception that the industry is not sustainable in the future. The industry also goes through cycles where they cut back on exploration and production, which results in the loss of skills and inadequate knowledge transfer. It has a long-term challenge around knowledge management.
Safety and environmental regulations
The industry has to contend with green energy movements and environmental regulations. There are several country-level regulations around air and water quality. Most Oil and Gas companies have cross-border operations and have to comply with a number of regulations on harmful emissions, greenhouse gases and offshore activities, in several countries. Increasingly, all leading Oil and Gas companies have to work in alignment with the Paris Agreement when developing solutions across functions – exploration, extraction and supply chain. There are also worker safety regulations and standards that they have to comply with.
The global Ecosystm AI study reveals the top priorities for Oil and Gas companies that are focused on adopting emerging technologies (Figure 1). It is very clear that the key areas of focus are process automation, asset and supply chain management and compliance.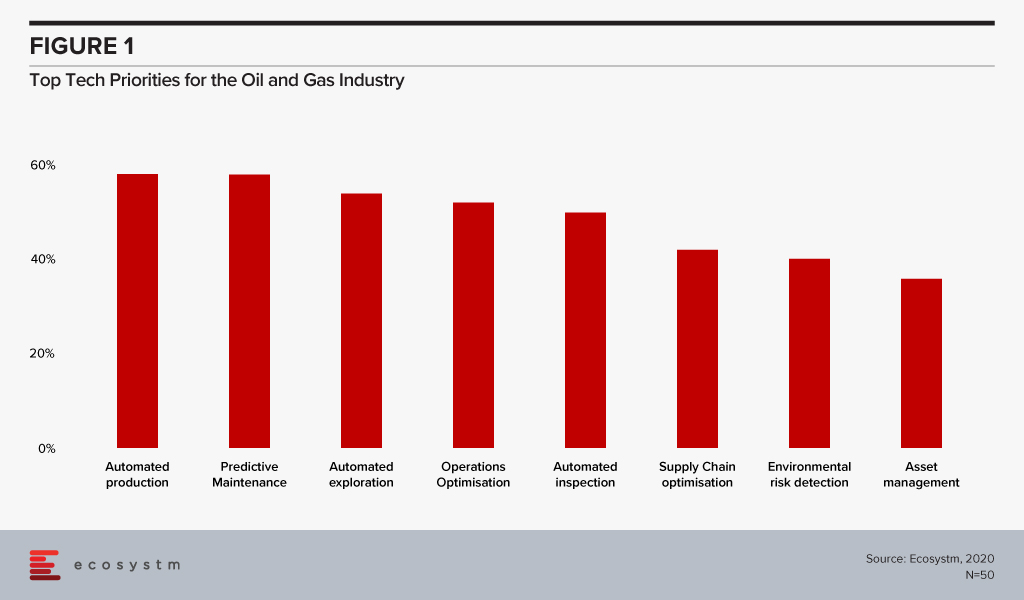 Technology as an Enabler of Oil and Gas Transformation
Several emerging technologies are being used by the Oil and Gas industry as they continue their struggle to remain competitive across the different stages of operations – upstream, midstream and downstream.
IIoT
As the costs of sensors go down, connectivity widens and computing power increases, the industry is seeing greater uptake of Industrial IoT (IIoT) solutions. From wearables (to monitor employee safety) to drones with smart cameras (for remote inspections, environmental monitoring), IoT solutions have an immense role to play in the Oil and Gas industry. The industry has had to be cautious about the choice of devices, however, due to pervasive inflammable hydrocarbons and the related regulations.
Not only are they implementing sensors, Ecosystm research finds that 30% of Oil and Gas companies are also leveraging the IoT sensor data for analytics and intelligence. A common application is in predictive maintenance. Two years ago, Chevron launched predictive maintenance solutions in its oil fields and refineries. While the pilot ran on heat exchangers, the company aims to connect all assets by 2024 and expects to save millions on asset management.
AI
AI and machine learning have applications across Oil and Gas operations, leveraging IoT sensor data. "Smart fields" where production is monitored centrally, has a high level of automated controls. AI/Analytics is allowing companies to run simulations, use predictive data models and identify patterns to gauge risks associated with new projects. This has an impact on production, exploration and making efficient use of existing infrastructure. Oilfield services company Baker Hughes has worked on an AI-based application that allows well operators to view real-time production data and predict future production with more accuracy.
AI is also helping organisations monitor environmental risk and has the potential to help Oil and Gas companies with their compliance requirements. Gazprom Neft, one of the largest suppliers of natural gas to Europe and Seismotech are exploring using AI for seismic data processing, for solutions that are specific to the needs of the industry.
While the applications of AI in the industry are often focused on upstream activities, AI has applications across all operations. In the midstream, transporting crude oil to refineries has always had its unique challenges. Since transport lead times are long and prices fluctuate based on the availability of products, organisations benefit from demand forecasting and price risk modelling. While the common perception of the industry does not include customer interactions, the truth is that the industry is increasingly focusing on the retail space. The need is enough for Shell to begin experimenting with virtual assistants as far back as in 2015, to interact with their retail customers. In fact, the company anticipates a higher adoption of AI in the industry and is collaborating with Udacity to bridge the skills gap.
Technologies empowering employees
As discussed earlier, one of the key challenges of the industry is the inability to manage a reliable knowledge management system that can help consistent knowledge and skills transfer. A single source of truth that can be accessed by all employees on processes, including safety requirements has an immense role to play to help with the skills shortage in the industry.
Enterprise mobility is another tech area that holds immense potential for the industry, with its huge proportion of mobile workers, many in remote locations. Mobility solutions can help in productivity, process optimisation and monitoring of health and safety of the employees and are increasingly incorporating wearables and location-based services. GIS and GPS systems are helping employees with accurate directions, easier access to drilling locations and more. Given the number of devices, platforms and OSs, the industry is seeing an increased interest in unified enterprise mobility (UEM) solutions. Ecosystm finds that more than a third of Oil and Gas companies have implemented or are evaluating UEM, while another 20% are expressing early interests.
Blockchain
The sheer quantity of documents, transaction records and contracts that a typical Oil and Gas company has to manage – including cross-border transactions – poses some difficulty for the industry. The companies have to reconcile and handle issues involving multiple contractors, sub-contractors, and suppliers. Supply chain and inventory management is also a challenge. With the adoption of Blockchain, the industry can automate the management of purchase orders, change orders, receipts, and other trade-related documentation, as well as inventory data with more efficiency and transparency. Blockchain is enabling a seamless supply chain, improved project management and simplifying contractual obligations at each point along the way. Gazprom Neft's aviation refuelling business is an early adopter of Blockchain-based smart contracts. All refuelling operations are undertaken exclusively on the basis of digital contracts approved by both parties near real-time and eliminates the possibility of any breach of contract and makes the accounting process more transparent.
As the market continues to be volatile for Oil and Gas companies and uncertainties loom in the future, the industry will increasingly depend on technology to remain competitive.
---
---