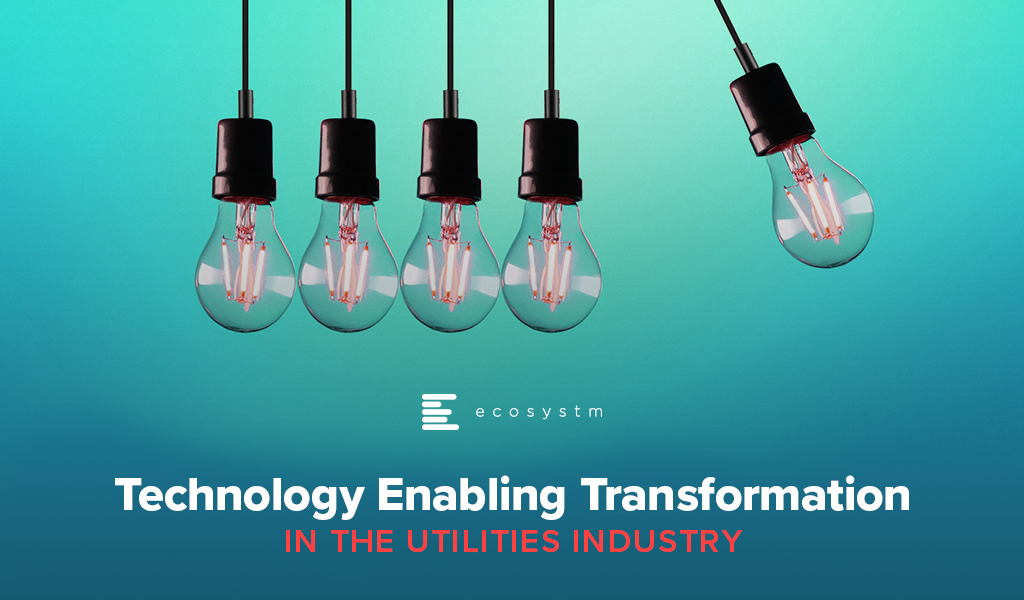 In the midst of the current global crisis, the Utilities industry has had to continue to provide essential public services – through supply chain disruption, reduction of demand in the commercial sector, demand spikes in the consumer sector, change in peak profiles, remote staff management, cyber-attacks and so on. Robust business continuity planning and technology adoption are key to the continued success of Utilities companies. The Ecosystm Business Pulse Study which aims to find how organisations are adapting to the New Normal finds that 6 out of 10 Utilities companies are accelerating or refocusing the Digital Transformation initiatives after the COVID-19 outbreak, underpinning the industry's need for technology adoption to remain competitive.
Drivers of Transformation in the Utilities Industry
The Evolving Energy Industry. As consumers become more energy-conscious, many are making changes in their usage pattern to stay off the grid as much as possible, potentially reducing the customer base of Utilities companies. This increases their reliance on renewable energy sources (such as solar panels and wind turbines) and batteries, forcing Power companies to diversify and leverage other energy sources such as biomass, hydropower, solar, wind, and geothermal. The challenge is further heightened by the fast depletion of fossil fuels – it is estimated that the world will have run out of fossil fuels in 60 years. The industry is also mandated by government regulations and cleaner energy pacts that focus on climate change and carbon emission – there are strict mandates around how Utilities companies produce, deliver and consume energy.
Business Continuity & Disaster Management. Perhaps no other industry is as vulnerable to natural disasters as Utilities. One of the reasons why the industry has been better prepared to handle the current crisis is because their usual business requires them to have a strong focus on business continuity through natural disasters. This includes having real-time resource management systems and processes to evaluate the requirement of resources, as well as a plan for resource-sharing. There is also the danger of cyber-attacks which has been compounded recently by employees who have access to critical systems such as production and grid networks, working from home. The industry needs to focus on a multi-layered security approach, securing connections, proactively detecting threats and anomalies, and having a clearly-defined incident response process.
The Need to Upgrade Infrastructure. This has been an ongoing challenge for the industry – deciding when to upgrade ageing infrastructure to make production more efficient and to reduce the burden of ongoing maintenance costs. The industry has been one of the early adopters of IoT in its Smart Grid and Smart Meter adoption. With the availability of technology and advanced engineering products, the industry also views upgrading the infrastructure as a means to mitigate some of its other challenges such as the need to provide better customer service and business continuity planning. For example, distributed energy generation systems using 'micro grids' have the potential to reduce the impact of storms and other natural disasters – they can also improve efficiency and quality of service because the distance electricity travels is reduced, reducing the loss of resources.
The Evolving Consumer Profile. As the market evolves and the number of Energy retailers increases, the industry has had to focus more on their consumers. Consumers have become more demanding in the service that they expect from their Utilities provider. They are increasingly focused on energy efficiency and reduction of energy consumption. They also expect more transparency in the service they get – be it in the bills they receive or the information they need on outages and disruptions. The industry has traditionally been focused on maintaining supply, but now there is a need to evaluate their consumer base, to evolve their offerings and even personalise them to suit consumer needs.
The global Ecosystm AI study reveals the top priorities for Utilities companies, that are focused on adopting emerging technologies (Figure 1). It is noticeably clear that the key areas of focus are cost optimisation (including automating production processes), infrastructure management and disaster management (including prevention).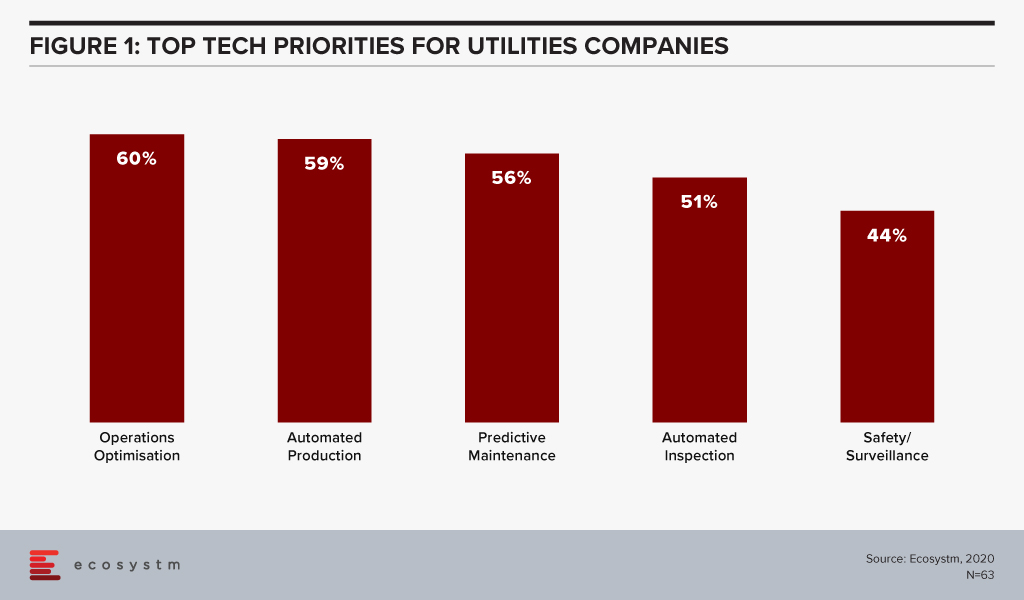 Technology as an Enabler of Utilities Sector transformation
Utilities companies have been leveraging technology and adopting new business models for cost optimisation, employee management and improved customer experience. Here are some instances of how technology is transforming the industry:
Interconnected Systems and Operations using IoT
Utilities providers have realised that an intelligent, interconnected system can deliver both efficiency and customer-centricity. As mentioned earlier, the industry has been one of the early adopters of IoT both for better distribution management (Smart Grids) and for consumer services (Smart Meters). This has also given the organisations access to enormous data on consumer and usage patterns that can be used to make resource allocation more efficient.
For instance, the US Government's Smart Grid Investment Grant (SGIG) program aims to modernise legacy systems through the installation of advanced meters supporting two-way communication, identification of demand through smart appliances and equipment in homes and factories, and exchange of energy usage information through smart communication systems.
IoT is also being used for predictive maintenance and in enhancing employee safety. Smart sensors can monitor parameters such as vibrations, temperature and moisture, and detect abnormal behaviours in equipment – helping field workers to make maintenance decisions in real-time, enhancing their safety.
GIS is being used to get spatial data and map project distribution plans for water, sewage, and electricity. For instance, India's Restructured Accelerated Power Development & Reforms Program (R-APDRP) government project involves mapping of project areas through GIS for identification of energy distribution assets including transformers and feeders with actual locations of high tension and low tension wires to provide data and maintain energy distribution over a geographical region. R-APDRP is also focused on reducing power loss.
Transparency and Efficiency using Blockchain
Blockchain-based systems are helping the Utilities industry in centralising consumer data, enabling information sharing across key departments and offering more transparent services to consumers.
Energy and Utilities companies are also using the technology to redistribute power from a central location and form smart contracts on Blockchain for decisions and data storage. This is opening opportunities for the industry to trade on energy, and create contracts based on their demand and supply. US-based Brooklyn Microgrid, for example, is a local energy marketplace in New York City based on Blockchain for solar panel owners to trade excess energy generated to commercial and domestic consumers. In an initiative launched by Singapore's leading Power company, SP Group, companies can purchase Renewable Energy Certificates (RECs) through a Blockchain-powered trading platform, from renewable producers in a transparent, centralised and inexpensive way.
Blockchain is also being used to give consumers the transparency they demand. Spanish renewable energy firm Acciona Energía allows its consumers to track the origin of electricity from its wind and solar farms in real-time providing full transparency to certify renewable energy origin.
Intelligence in Products and Services using AI
Utilities companies are using AI & Automation to both transform customer experience and automate backend processes. Smart Meters, in itself, generate a lot of data which can be used for intelligence based on demographics, usage patterns, demand and supply. This is used for load forecasting and balancing supply and demand for yield optimisation. It is also being leveraged for targeted marketing including personalised messages on Smart Energy usage.
Researchers in Germany have developed a machine learning program called EWeLiNE which is helping grid operators with a program that can calculate renewable energy generation over 48 hours from the data taken from solar panels and wind turbines, through an early warning system.
Niche providers of Smart Energy products have been working with providing energy intelligence to consumers. UK start-up Verv, as an example, uses an AI-based assistant to guide consumers on energy management by tracing the energy usage data from appliances through meters and assisting in reducing costs. Increasingly, Utilities companies will partner with such niche providers to offer similar services to their customers.
Utilities companies have started using chatbots and conversational AI to improve customer experience. For instance, Exelon in the US is using a chatbot to answer common customer queries on power outages and billing.
While the predominant technology focus of Utilities companies is still on cost optimisation, infrastructure management and disaster management, the industry is fast realising the power of having an interconnected system that can transform the entire value chain.
---
For more insights from our AI Research, click below
---