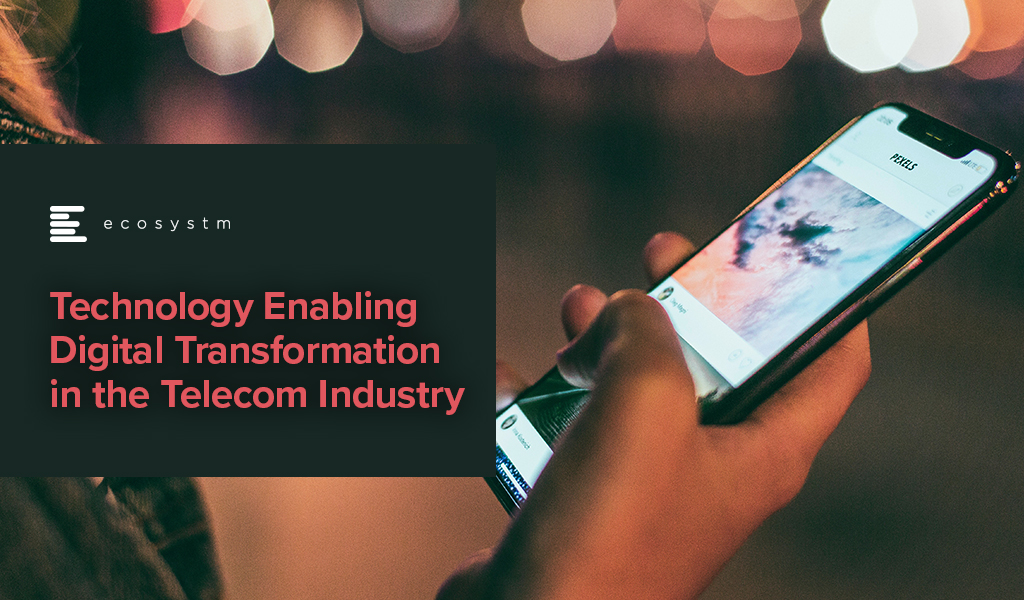 The telecommunications industry has long been an enabler of Digital Transformation (DX) in other industries. Now it is time for the industry to transform in order to survive a challenging market, newer devices and networking capabilities, and evolving customer requirements. While the telecom industry market dynamics can be very local, we will see a widespread technology disruption in the industry as the world becomes globally connected.
Drivers of Transformation in the Telecom Industry
Remaining Competitive
Nokia Bell Labs expects global telecom operators to fall from 10 to 5 and local operators to fall from 800 to 100, between 2020 and 2025. Simultaneously, there are new players entering the market, many leveraging newer technologies and unconventional business models to gain a share of the pie. While previous DX initiatives happened mostly at the periphery (acquiring new companies, establishing disruptive business units), operators are now focusing on transforming the core – cost reduction, improving CX, capturing new opportunities, and creating new partner ecosystems – in order to remain competitive. There is a steady disaggregation in the retail space, driving consolidation in traditional network business models.
"The telecom industry is looking at gradual decline from traditional services and there has been a concerted effort in reducing costs and introducing new digital services," says Ecosystm Principal Advisor, Shamir Amanullah. "Much of the telecom industry is unfortunately still associated with the "dumb pipe" tag as the over-the-top (OTT) players continue to rake in revenues and generate higher margins, using the telecom infrastructure to provide innovative services."
Bringing Newer Products to Market
Industries and governments have shifted focus to areas such as smart energy, Industry 4.0, autonomous driving, smart buildings, and remote healthcare, to name a few. In the coming days, most initial commercial deployments will centre around network speed and latency. Technologies like GPON, 5G, Wifi 6, WiGig, Edge computing, and software-defined networking are bringing new capabilities and altering costs.
Ecosystm's telecommunications and mobility predictions for 2020, discusses how 5G will transform the industry in multiple ways. For example, it will give enterprises the opportunity to incorporate fixed network capabilities natively to their mobility solutions, meaning less customisation of enterprise networking. Talking about the opportunity 5G gives to telecom service providers, Amanullah says, "With theoretical speeds of 20 times of 4G, low latency of 1 millisecond and a million connections per square kilometre, the era of mobile Internet of Everything (IoE) is expected to transform industries including Manufacturing, Healthcare and Transportation. Telecom operators can accelerate and realise their DX, as focus shifts to solutions for not just consumers but for enterprises and governments."
Changing Customer Profile
Amanullah adds, "Telecom operators can no longer offer "basic" services – they must become customer-obsessed and customer experience (CX) must be at the forefront of their DX goals." But the real challenge is that their traditional customer base has steadily diverged. On the one hand, their existent retail customers expect better CX – at par with other service providers, such as the banking sector. Building a customer-centric capability is not simple and involves a substantial operational and technological shift.
On the other hand, as they bring newer products to market and change their business models, they are being forced to shift focus away from horizontal technologies and connecting people – to industry solutions and connecting machines. As their business becomes more solution-based, they are being forced to address their offerings at new buying centres, beyond IT infrastructure and Facilities. Their new customer base within organisations wants to talk about a variety of managed services such as VoIP, IoT, Edge computing, AI and automation.
The global Ecosystm AI study reveals the top priorities for telecom service providers, focused on adopting emerging technologies (Figure 1). It is very clear that the top priorities are driving customer loyalty (through better coverage, smart billing and competitive pricing) and process optimisation (including asset maintenance).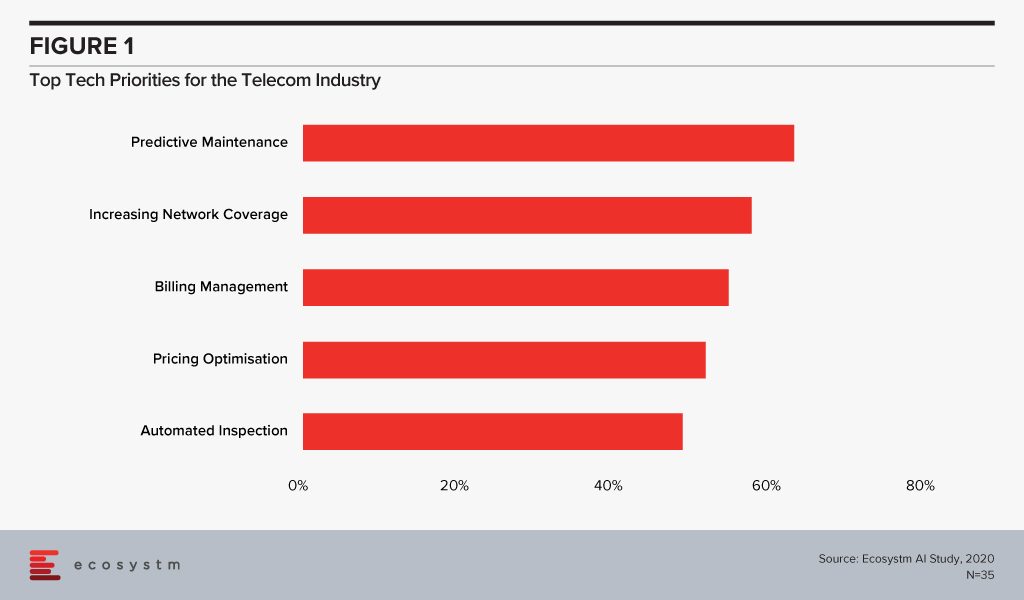 Technology as an Enabler of Telecom Transformation
Several emerging technologies are being used internally by telecom service providers as they look towards DX to remain competitive. They are transforming both asset and customer management in the telecom industry.
IoT & AI
Telecom infrastructure includes expensive equipment, towers and data centres, and providers are embedding IoT devices to monitor and maintain the equipment while ensuring minimal downtime. The generators, meters, towers are being fitted with IoT sensors for remote asset management and predictive maintenance, which has cost as well as customer service benefits. AI is also unlocking advanced network traffic optimisation capabilities to extend network coverage intelligently, and dynamically distribute frequencies across users to improve network experience.
Chatbots and virtual assistants are used by operators to improve customer service and assist customers with equipment set-up, troubleshooting and maintenance. These AI investments see tremendous improvement in customer satisfaction. This also has an impact on employee experience (EX) as these automation tools free workforce from repetitive tasks and they be deployed to more advanced tasks.
Telecom providers have access to large volumes of customer data that can help them predict customer usage patterns. This helps them in price optimisation and last-minute deals, giving them a competitive edge. More data is being collected and used as several operators provide location-based services and offerings.
In the end, the IoT data and the AI/Analytics solutions are enabling telecom service providers to improve products and solutions and offer their customers the innovation that they want. For instance, Vodafone partnered with BMW to incorporate an in-built SIM that enables vehicle tracking and provides theft protection. In case of emergencies, alerts can also be sent to emergency services and contacts. AT&T designed a fraud detection application to look for patterns and detect suspected fraud, spam and robocalls. The system looks for multiple short-duration calls from a single source to numbers on the 'Do Not Call' registry. This enables them to block calls and prevent scammers, telemarketers and identity theft issues.
Cybersecurity
Talking about the significance of increasing investments in cybersecurity solutions by telecom service providers, Amanullah says, "Telecom operators have large customer databases and provide a range of services which gives criminals a great incentive to steal identity and payment information, damage websites and cause loss of reputation. They have to ramp up their investment in cybersecurity technology, processes and people. A telecom operator's compromised security can have country-wide, and even global consequences. As networks become more complex with numerous partnerships, there is a need for strategic planning and implementation of security, with clear accountability defined for each party."
One major threat to the users is the attack on infrastructure or network equipment, such as routers or DDoS attacks through communication lines. Once the equipment has been compromised, hackers can use it to steal data, launch other anonymous attacks, store exfiltrated data or access expensive services such as international phone calls. To avoid security breaches, telecom companies are enhancing cybersecurity in such devices. However, what has become even more important for the telecom providers is to actually let their consumers know the security features they have in place and incorporate it into their go-to-market messaging. Comcast introduced an advanced router to monitor connected devices, inform security threats and block online threats to provide automatic seamless protection to connected devices.
Blockchain
Blockchain can bring tremendous benefits to the telecom industry, according to Amanullah. "It will undeniably increase security, transparency and reduce fraud in areas including billing and roaming services, and in simply knowing your customer better. With possibilities of 5G, IoT and Edge computing, more and more devices are on the network – and identity and security are critical. Newer business models are expected, including those provided for by 5G network slicing, which involves articulation in the OSS and BSS."
Blockchain will be increasingly used for supply chain and SLA management. Tencent and China Unicom launched an eSIM card which implements new identity authentication standards. The blockchain-based authentication system will be used in consumer electronics, vehicles, connected devices and smart city applications.
Adoption of emerging technologies for DX may well be the key to survival for many telecom operators, over the next few years.
---
For more insights on the key trends in the telecom services market in Southeast Asia, read Shamir's report
For more information on "The New Normal for Telecom Providers in South East Asia", report please contact us at info@ecosystm360.com
---