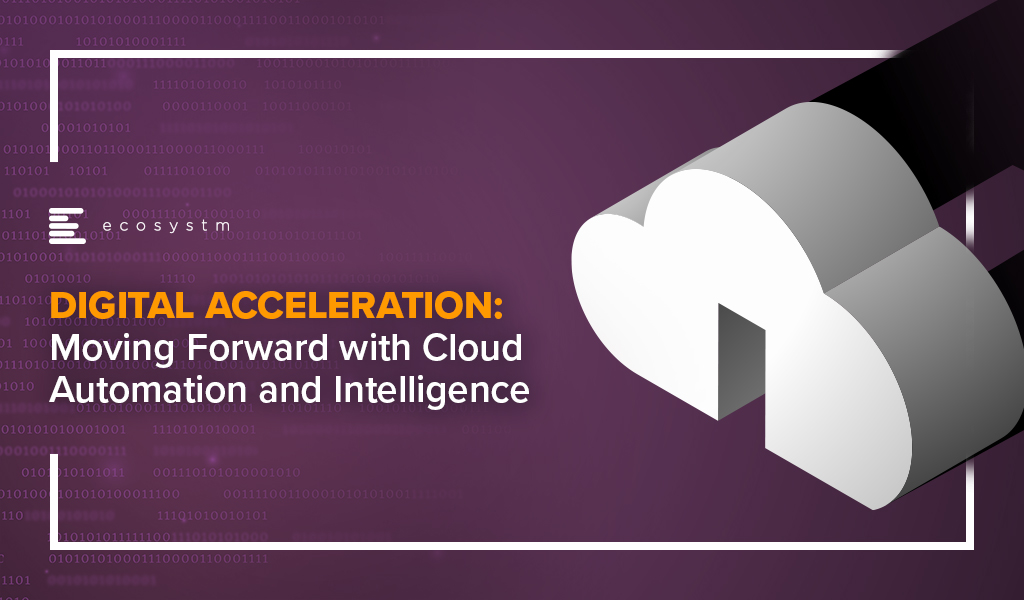 Focused on Digital Transformation? It is now more about how fast you can react to market shifts by using specific infrastructural resources.
This period is about digital acceleration. Cloud automation, artificial intelligence (AI), robotic process automation (RPA) and machine learning are all means to accelerate using infrastructure scalability.
Digital acceleration addresses the pace of change
Enterprises are searching to find unique and innovative ways to leverage cloud infrastructures with automation and intelligence. This is both to modernise and to optimise business processes while decreasing expenses. The speed at which the economic landscape has changed during the pandemic has removed debates on cloud usage:
Remote work from home (WFH) with the need for video conferencing and collaboration tools has been supported by cloud
Record amounts of SPAM and hacking attempts during the pandemic have leveraged cloud implementations for key security controls
Tracking apps and classification and encryption of personally identifiable information (PII) via mobile devices are using cloud technology for greater automation and use of AI
Bandwidth and capacity are needed now. The ability to pivot, turn and shoot forward is critical to surviving and thriving in today's radically changed marketplace. Cloud enablement can deliver enhanced customer experiences, monetise data assets, and can create new revenue streams by enabling new business models.
Cloud enablement explained
Digital acceleration is driven by cloud enablement, amplifying the enterprise value in the infrastructural investment.
Cloud enablement is an ongoing operational model. It incorporates orchestration, correctly organising teams, and a shift away from thinking only about platforms. The cloud platform is now a launchpad, not the main choice that has to be made. Orchestration is around the business and the business model, not just the technology.
Creating a cloud enablement strategic vision can identify where you need to go. It can provide the necessary requirements for expertise along the journey and deliver rapid, meaningful automation services engagements to deliver unbreakable delivery pipelines and agile cloud operations.
But this also involves managing and adjusting on the fly. Initial platform decisions, rolling out countless configuration changes and adjusting to new cloud investments make cloud enablement a tricky road to manage. Enterprises need to be cloud-smart towards their own business model and their strategy. Whatever configuration (on-prem, hybrid, private, public) combination works is dependent on many factors, including industry, size of the enterprise, employee resources and location.
The goal is implementing secure, flexible, scalable, and cost-effective cloud solutions. To do this requires regular cloud enablement audits as to the state of play and measuring successes.
Building and maintaining modern IT
Modern IT is hybrid and all the pieces that collect and manage the data need to be properly and securely managed. Just as technological (and economic) disruption has generally led to automation and the elimination of outdated processes, it has also always created new ideas and innovations.
One way to make your organisation more data-centric and digital is to selectively invest in those technology choices that are most adaptable and flexible to business needs. Data is the most strategic of assets and can be empowered by increasingly sophisticated intelligent operations. Process automation and AI help put that data to work by adding valued intelligence and encapsulating information.
Hybrid cloud coordination automated
Hybrid cloud coordination is an increasing enterprise demand, particularly in the Asia Pacific region, leading to enhanced data centres with joint customer support like the new Tokyo interconnection with Oracle and Microsoft Azure. The key to successfully monitoring a distributed cloud ecosystem is not only in gathering data on usage; it's about knowing which questions to ask to make it more efficient and effective. This includes tracking connectivity speeds, creating common technical support and using single sign-on for better security. Here both AI and automation can help.
In Asia Pacific, the multi-cloud theme is being promoted heavily among integration providers with solutions that can plug into multiple clouds with virtual machine usage. Enterprises value enabled automated orchestration between cloud platforms. There will be a continued need for integrated tools across public and private clouds. This includes advanced analytics and AI as important aspects of an IT infrastructural investment.
Your choice of vendor for AI & Automation
In my opinion, AWS has the broadest AI service capabilities in the Asia Pacific cloud/ AI space, when compared to Microsoft, Google, and IBM. AWS provides users with pre-trained AI services for computer vision, language, recommendations, and forecasting to build, train, and deploy machine learning models at scale.
The Ecosystm VendorScope (Figure 1) rates the leading AI & Automation vendors in Asia Pacific based solely on quantifiable feedback from those who actually procure technology. It becomes clear from the responses that many organisations still start their AI journey through Automation.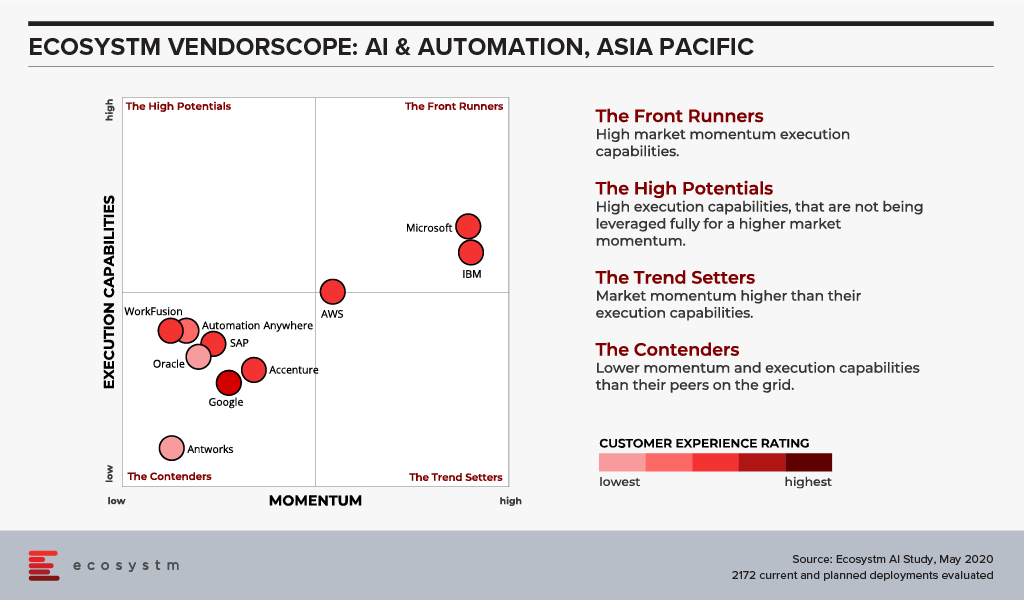 Most organisations understand the importance of leveraging AI to gain competitive advantage. But they do not necessarily know where to start. The secret is that AI is about intelligent process automation, and the firms who understand this are not the ones automating tasks. The use of RPA with vendors such as Antworks, WorkFusion, Arago and Automation Anywhere, leverages automated reasoning using knowledge-based problem-solving engines. These vendors add RPA to AI, not the other way around.
And domain-specific service providers have been creating the synergies for enterprises to link intelligent automation software and industry knowledge to create the necessary end-to-end workflows. An innate understanding of the specific business process is key to leveraging intelligent automation.
Focusing on developing a modern data supply chain process, with actionable analytics insights built into the infrastructure, can aid the development of self-service business intelligence capabilities along with visual data discovery solutions.
Cloud enablement solutions generate maximum business value by enabling IT with scalability and flexibility. This can reduce maintenance and security costs. A focus on cloud intelligence and scalability allows IT departments to concentrate more on innovative solutions, insights and systems that drive significant business growth. Now is the time, and speed is of the essence.
---
Ecosystm Vendorscope: AI & Automation
Sign up for Free to download the Ecosystm Vendorscope: AI & Automation report.
---