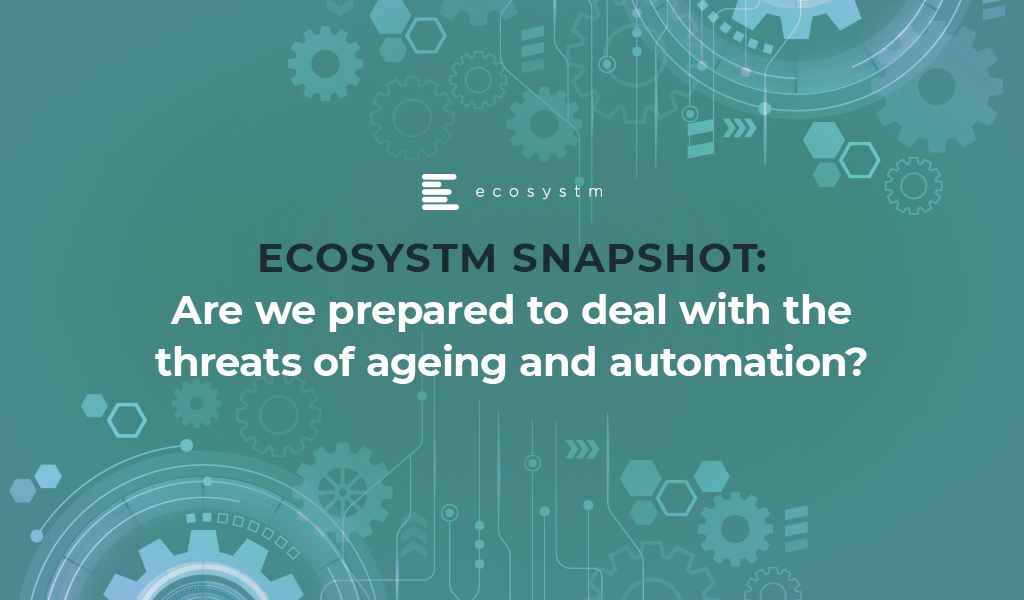 According to a recently released report from Mercer measuring resilience against ageing society and job automation among workers aged 50 and above, Asian countries were the least prepared to combat the threats, out of the 20 major economies worldwide.
Newer technologies such as artificial intelligence and robotics have given rise to the adoption of Industry 4.0, replacing traditional tools and ways of working. With the rise of automation low skilled workers, technicians, operators and maintenance roles are at high-risk, especially amongst workers aged 50 and over.
The index revealed the rankings where the top 3 spots were given to Denmark, Australia and Sweden and moving towards the second half of the list, Singapore was ranked 13, ahead of Japan (17), China (18) and South Korea (20).
Commenting on the threat of ageing population and job automation, Audrey William, Principal Advisor at Ecosystm said, "Automation is high in most of the mature markets in the Asia Pacific and older workers face the greatest threat as a result of job automation. Governments are concerned as it will not be easy to sustain living costs and grow the economy if the ageing population is unemployed. Mental health issues including depression can also set in when workers think they are no longer relevant. This further burdens the government with higher healthcare costs."
Possible reasons for Asia falling behind in the index
While automation is on the rise, Asia is still lagging when it comes to the mitigating the risk of automation on older workers. One of the reasons for this is that "governments did not predict the full impact of Automation and AI, and hence did not create a plan in the previous 10 years and are unprepared to handle this issue. In addition to this, a lack of coordination between the government and industry to mitigate the threats through upskilling programs and new courses for workers was also missing. For several regional governments, especially Singapore, this is now a top priority for the coming years," said William.
Singapore most resilient in Asia
According to UN data from World Population Prospects 2019, for the first time in history, in 2018 persons aged above 65 outnumbered children below 5 years of age globally. The number of people aged 80 or over is projected to triple, from 143 million in 2019 to 426 million in 2050. The elderly population is growing while at the same time the working-age population is shrinking.
It is expected that by 2030, 35% of the employees in Singapore will be above the age of 50 and the country will have to tackle the challenges of an ageing population and job automation among older workers.
Just a month ago the Singapore Government announced that it would raise the retirement and re-employment criteria in stages thus filling the gap by adding extra years before retirement and re-employment opportunities for older workers.
"The costs of redundancies and other associated social costs will mean governments will have a lot to budget for in the next 20 years. Job loss because of automation is inevitable in mature Asian countries. There will be room for older workers to be trained to work alongside machines and robots. Whilst the ageing population is a threat, it represents a huge opportunity to expand the labour pool by upskilling the baby boomers," said William.
Preparedness to manage ageing and automation
We are seeing a trend that as automation and AI permeate every business there will be more programs developed to manage ageing and automation. "We are living in the era of the gig/freelance economy and the trend is pertinent in mature economies. Even the younger generation will have to work with different employers – which can be positive as it gives the opportunity for workers to acquire new skills," said William. "As customer experience becomes increasingly significant there will be a need for human touch and empathy, amidst all the process automation – actually older workers are equipped to do a better job at that. So, there could be programmes in place for older workers to play an important role in customer-facing roles in the future."
In addition to this, governments can introduce some measures and drive initiatives to manage the problems. William suggests:-
Introducing free learning courses for older workers – short courses that come with certification
Mentoring the older generation, introducing skills transfer programmes and make it mandatory for all companies to adhere to the programme
Working with colleges and universities to foster shorter courses for the ageing population at a subsidised cost, discounted rates or easy instalments to help them acquire certain skills that will be relevant in the next 10 years.
The older population can continue to have a positive socio-economic impact. Government support will be a key factor in ensuring that the ageing population is equipped to handle automation and changes in job scopes.