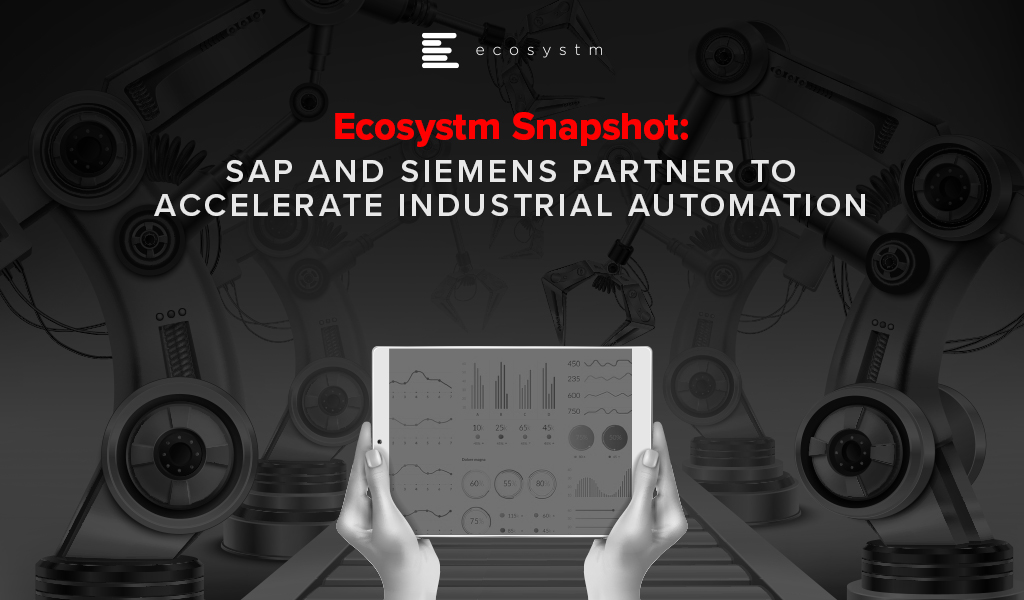 Last week industry leaders, SAP and Siemens, announced a partnership to bring together their respective expertise on creating integrated and enhanced solutions for product lifecycle management (PLM), supply chain, service and asset management, in a move that is expected to accelerate Industry 4.0 globally.
The partnership between SAP and Siemens aims to develop innovative business models to break silos between manufacturing, product development and service delivery teams to establish seamless customer-centric processes. It will provide users with real-time business information, customer insights and performance data over the entire product development cycle.
As the first step of this agreement, Siemens will offer SAP's Intelligent Asset Management solution and Project and Portfolio Management applications and SAP will offer Siemens' PLM suite Teamcenter software for product lifecycle collaboration and data management to manufacturers and business operators across the network – complementing each other's solutions.
Ecosystm Principal Advisor, Kaushik Ghatak says, "The convergence of the Information Technology (IT) and the Operational Technology (OT) worlds is a must for companies to operate in the cyber physical world of Industry 4.0. Historically, these two worlds have operated in silos. This is a great partnership announcement aimed towards meeting the convergence goals by integrating the capabilities of Siemens (an OT leader), and SAP (an IT leader). Together they would be able to offer an exhaustive set of very valuable offerings in the Digital Supply Chain and Digital Manufacturing domain for customers worldwide."
Ghatak says, "This is not the first such partnership for Siemens. A strategic alliance between Siemens and Atos has been in place since 2011. In 2018 the alliance was strengthened with plans to accelerate their joint business until 2020, with a focus on building innovative solutions by combining their capabilities. However, the difference this time is that SAP has very a deep and wide set of software offerings in the supply chain and manufacturing domains, which when stitched together with Siemens' PLM solutions can provide true end-to-end digitalisation capabilities across the 'Design, Source, Make, Deliver and Plan' continuum of the value chain."
Ecosystm Comments
Ghatak, however, cautions that while this is a great partnership announcement between two giants in their respective fields, they will need to collaborate actively on three key aspects for this partnership to deliver value for the customers.
Product Development. Building-integrated solutions with heterogenous data models is not easy. It will require very open collaboration between their product development teams to identify the use cases and build solutions that can enable seamless information flow and actions across the different software modules owned by each.
Go-to-market. Going to market jointly will need strong collaboration too. In terms of the agreement on customer account ownership, pricing, sharing of pre-sales resources and so on.
Implementation. And, last but not the least, it will require collaboration to ramp up the implementation capabilities of the jointly developed solutions.
---
Checkout insights from the Ecosystm IoT Study.Click on the link below to Access 👇
---