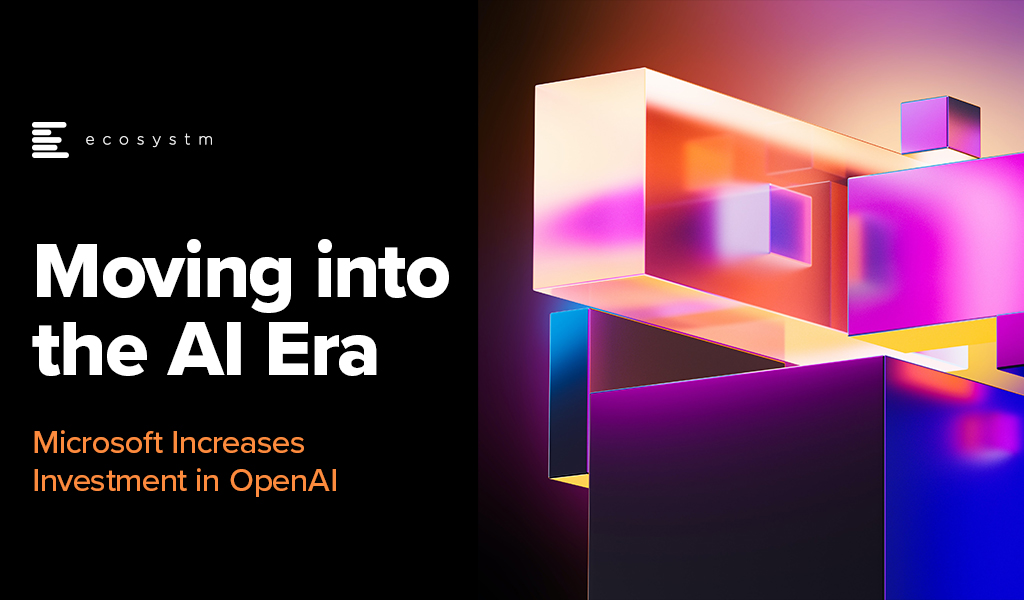 Microsoft's intention to invest a further USD 10B in OpenAI – the owner of ChatGPT and Dall-E2 confirms what we said in the Ecosystm Predicts – Cloud will be replaced by AI as the right transformation goal. Microsoft has already invested an estimated USD 3B in the company since 2019. Let's take a look at what this means to the tech industry.
Implications for OpenAI & Microsoft
OpenAI's tools – such as ChatGPT and the image engine Dell-E2 – require significant processing power to operate, particularly as they move beyond beta programs and offer services at scale. In a single week in December, the company moved past 1 million users for ChatGPT alone. The company must be burning through cash at a significant rate. This means they need significant funding to keep the lights on, particularly as the capability of the product continues to improve and the amount of data, images and content it trawls continues to expand. ChatGPT is being talked about as one of the most revolutionary tech capabilities of the decade – but it will be all for nothing if the company doesn't have the resources to continue to operate!
This is huge for Microsoft! Much has already been discussed about the opportunity for Microsoft to compete with Google more effectively for search-related advertising dollars. But every product and service that Microsoft develops can be enriched and improved by ChatGPT:
A spreadsheet tool that automatically categorises data and extract insight
A word processing tool that creates content automatically
A CRM that creates custom offers for every individual customer based on their current circumstances
A collaboration tool that gets answers to questions before they are even asked and acts on the insights and analytics that it needs to drive the right customer and business outcomes
A presentation tool that creates slides with compelling storylines based on the needs of specific audiences
LinkedIn providing the insights users need to achieve their outcomes
A cloud-based AI engine that can be embedded into any process or application through a simple API call (this already exists!)
How Microsoft chooses to monetise these opportunities is up to the company – but the investment certainly puts Microsoft in the box seat to monetise the AI services through their own products while also taking a cut from other ways that OpenAI monetises their services.
Impact on Microsoft's competitors
Microsoft's investment in OpenAI will accelerate the rate of AI development and adoption. As we move into the AI era, everything will change. New business opportunities will emerge, and traditional ones will disappear. Markets will be created and destroyed. Microsoft's investment is an attempt for the company to end up on the right side of this equation. But the other existing (and yet to be created) AI businesses won't just give up. The Microsoft investment will create a greater urgency for Google, Apple, and others to accelerate their AI capabilities and investments. And we will see investments in OpenAI's competitors, such as Stability AI (which raised USD 101M in October 2022).
What will change for enterprises?
Too many businesses have put "the cloud" at the centre of their transformation strategies – as if being in the cloud is an achievement in itself. While cloud made applications and processes are easier to transform (and sometimes cheaper to deploy and run), for many businesses, they have just modernised their legacy end-to-end business processes on a better platform. True transformation happens when businesses realise that their processes only existed because they of lack of human or technology capacity to treat every customer and employee as an individual, to determine their specific needs and to deliver a custom solution for them. Not to mention the huge cost of creating unique processes for every customer! But AI does this.
AI engines have the ability to make businesses completely rethink their entire application stack. They have the ability to deliver unique outcomes for every customer. Businesses need to have AI as their transformation goal – where they put intelligence at the centre of every transformation, they will make different decisions and drive better customer and business outcomes. But once again, delivering this will take significant processing power and access to huge amounts of content and data.
The Burning Question: Who owns the outcome of AI?
In the end, ChatGPT only knows what it knows – and the content that it learns from is likely to have been created by someone (ideally – as we don't want AI to learn from bad AI!). What we don't really understand is the unintended consequences of commercialising AI. Will content creators be less willing to share their content? Will we see the emergence of many more walled content gardens? Will blockchain and even NFTs emerge as a way of protecting and proving origin? Will legislation protect content creators or AI engines? If everyone is using AI to create content, will all content start to look more similar (as this will be the stage that the AI is learning from content created by AI)? And perhaps the biggest question of all – where does the human stop and the machine start?
These questions will need answers and they are not going to be answered in advance. Whatever the answers might be, we are definitely at the beginning of the next big shift in human-technology relations. Microsoft wants to accelerate this shift. As a technology analyst, 2023 just got a lot more interesting!