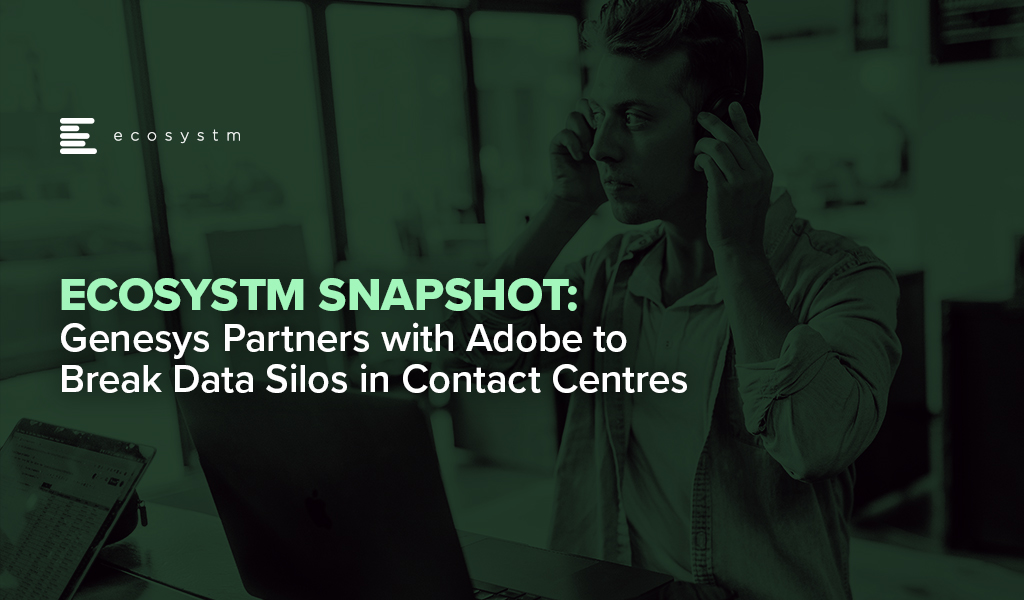 Contact centres were already on a path to modernisation – which got accelerated by the COVID-19 crisis. The need for omnichannel delivery and better insights from customer data has forced contact centres to adopt cloud solutions. Ecosystm Principal Advisor Audrey William says, "There is still a disconnect between integrating and synchronising customer data between Sales, Marketing and Customer Teams. However, the market is starting to see contact centre vendors work closer with vendors in customer experience management segment."
Genesys and Adobe are collaborating on integrating Genesys cloud and the Adobe Experience Platform. The deeper integration of both platforms is aimed to give organisations a better omnichannel presence. The platform is live for users and Genesys and Adobe will introduce other features and capabilities throughout 2020. Genesys is already a partner of Adobe's Exchange Program designed for technology partners to supplement Exchange Marketplace with extensions and applications for Adobe Creative Cloud users.
Augmenting the CX journey through Data Synchronization
Ecosystm data finds that 62% of contact centres have driving omnichannel experience as a key customer experience (CX) priority and 57% want to analyse data across multiple data repositories. However, when asked about the challenges of driving consistent CX, data access and integration appears to be a barrier in achieving their priorities. These challenges are the reason why getting a "true view" of the customer data has been an arduous task and achieving consistent CX continues to be a struggle.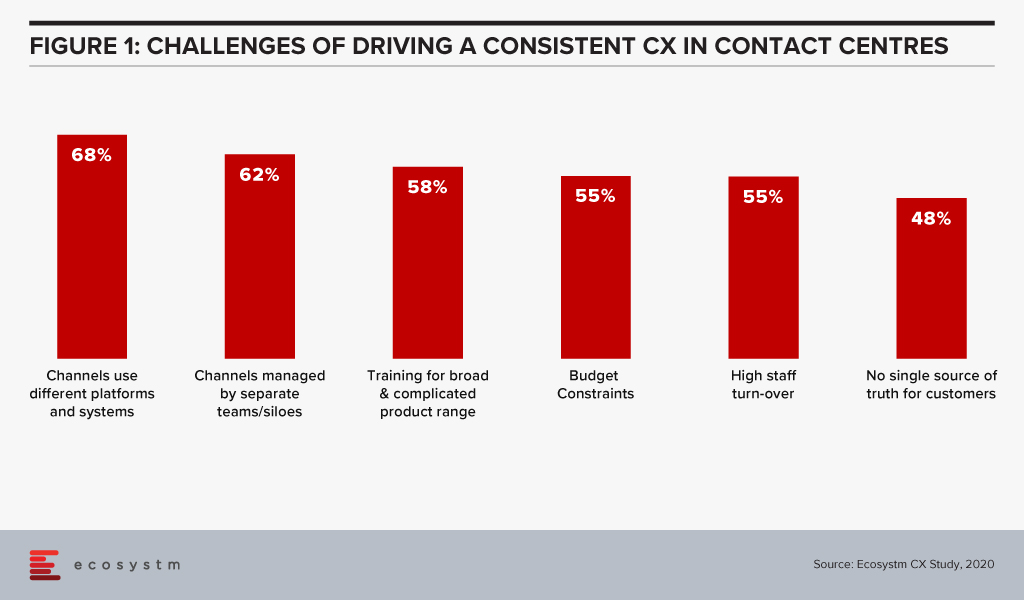 William says. "The customer data collected by a particular service or department does not always move along in real-time with the customer interactions across different touchpoints. This complicates maintaining a real-time customer profile and impacts the CX."
"Sales and Marketing have different KPIs and tend to view customer data from different angles. The data from in-store, Marketing and Sales interactions sits within departmental silos. They may deal with the same customers and not follow them through their entire journey. This leads to missed opportunities in reaching out to them at the right time with the right products to upsell, resell or provide better CX. Data synchronisation across channels, would solve that problem."
Integrating Genesys and Adobe Experience Platform will give organisations the capability to provide contact centre agents with real-time customer data and profiles from a single point to provide an personalised experience. The platform is powered by Genesys Predictive Engagement that uses AI to provide more intelligence based on past interactions to drive effective, data-driven conversations. In addition to this, the partnership also enables businesses and marketing departments to customise campaigns and extend their digital and voice capabilities for optimal conversions. William says, "The ability to use AI to understand customer intent, behaviour and patterns is critical as it will allow brands to re-look at how to design the customer journey. When you keep using the same and outdated profile, it will be hard to have discussions around intent, customer interest and assess how customer priorities have changed. Accurate and automate data profiling will lead to more targeted and accurate marketing campaigns."
Genesys Deepening Industry Partnerships
Genesys is re-shaping its strategy on Contact Centre as a Service (CCaaS) offerings through partnerships and working on its vision of providing Experience as a Service to its global clients. The need for CCaaS has been accelerated by the pandemic. Last month Genesys signed a five year deal with Infosys to develop and deploy cloud CX and contact centre solutions.
Earlier this year, Genesys partnered with MAXIMUS, a US Government services provider to set up the MAXIMUS Genesys Engagement Platform, an integrated, cloud-based omnichannel contact centre solution driven by the government requirement for public sector organisations to provide seamless customer experiences similar to those offered in the private sector.
The company has also partnered with various other industry leaders like Microsoft, Google Cloud, and Zoom to roll out cloud-based innovations to benefit customers.
---
Click below to access insights from the Ecosystm Contact Centre Study on visibility into organisations' priorities when running a Contact Centre (both in-house and outsourced models) and the technologies implemented and being evaluated
---