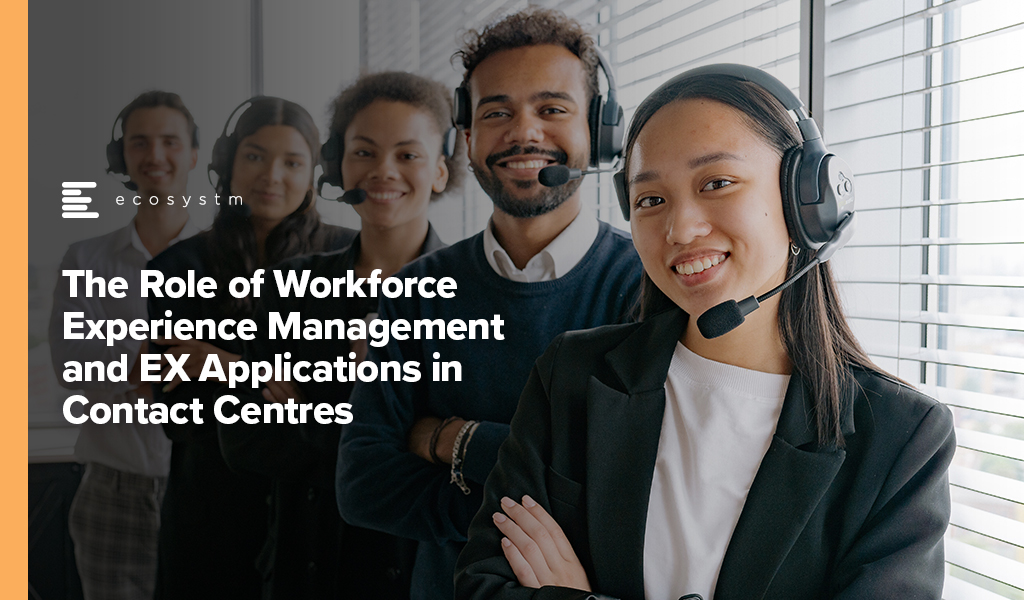 Agents are the biggest assets in a contact centre and agent attrition is not a new challenge – 40% of contact centres globally state that high staff turnover is one of the challenges of driving consistent customer experience (CX). The ability to find the right talent has been equally challenging. The pandemic and the hybrid work model have made it harder to manage the onboarding, training, and the other processes required to get the agent up to speed on the job. Despite the challenges contact centres need a strong focus on managing the experience for the agents – they are a company's front-line staff and the experience they deliver to the customers has an immense impact on the brand.
Workforce Experience Management (WEM) tools have gone beyond just scheduling – they are now able to leverage data and analytics to allow agents more control over their performance and their work preferences. Additionally, Agent Assist and knowledge management solutions give contact centre agents dynamic access to intelligent data. Ecosystm research shows that contact centres across the globe are ramping up their investments in employee experience (EX) technologies (Figure 1). They are focused on simplifying agent workload and offering more flexibility.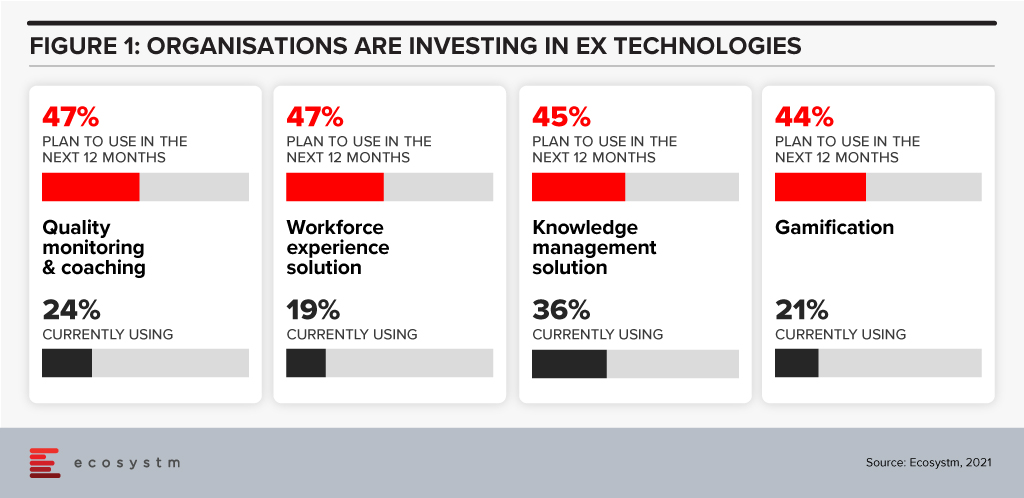 How do you elevate the Agent Experience in the Hybrid Work Model?
Encourage shift bidding. Build flexible scheduling and shift bidding into the company culture. Agents should be encouraged to work on a schedule that works best for them. If you are employing part-timers, retirees or you have agents working from home, you have to factor in their home commitments. Additionally allowing them to bid and openly talk to their managers and colleagues about swapping shifts demonstrates a company culture of open communication and collaboration. So, in essence, this is not a scheduling conversation, but an image-building exercise. You will be able to attract more talent, in an industry where it is hard to retain talent.
Evaluate your agents' strengths in voice and self-service channels. Not all agents are good with voice calls and this can sometimes be overlooked by contact centre leaders. Your organisation's brand image depends on the customer care your employees provide. Voice calls are still important; despite the increase in the adoption of AI and automation, the human touch remains critical. It is important for agents to be as authentic as possible on calls. Assigning the right agent to the right channel, keeping in mind their strengths and weaknesses will help your organisation to maintain the human touch. For example, some agents may be able to multitask well and are better prepared to manage multiple channels simultaneously.
Your knowledge system is critical. Make sure it is relevant and not outdated! Your agents have limited time on their hands. They often need information urgently, especially when dealing with a difficult customer. An updated knowledge system allows your agents to be consistent in their messages and their delivery. This helps agents to meet the AHT, FCR and other metrics and reduces human errors. Nearly 60% of contact centres globally rate improving knowledge management systems as a CX priority. There is still a lot of data inconsistency and irrelevance which needs to be worked through. An accurate and updated knowledge management system is critical, and it should be ONE source of truth. For compliance reasons, data consistency is critical. Also, the search for the information must be easy and only relevant articles and information should be pushed to live agents. The need to access multiple knowledge systems and CRM tools creates additional stress on agents.
Give your agents access to call recordings. When your agents have access to the call recordings, they can evaluate how they have performed; and reflect and improve on the outcomes at their own pace. This will also allow them to spot the mistakes they are making, often prompting them to reach out to their manager and/or colleagues for help on how to avoid them. Often managers have access to sentiment analysis applications to spot issues from the tones of the agents and the customers. This can be useful in situations where the agent might have provided the right answers, but the customer is not fully satisfied. Giving equal access to the agents empowers them to find ways of improving the CX they deliver.
Invest in advanced technologies around forecasting and scheduling. AI and self-adjusting algorithms are important for accurate and real-time forecasts. It is challenging to sometimes predict the volume of voice and non-voice transactions in a day. API-based tools can integrate data from different sources such as web chat, social media, voice, and workforce experience management solutions for an accurate view of the workload, including wait times. The analytics should be able to alert you of potential gaps before the resource shortfall, allowing you to plan your staffing requirements better.
Conclusion
The hybrid work model has its challenges for the contact centre industry. The ability of agents to walk up to their supervisors or raise their hands when they have an issue has been impacted. While it is important to focus on how agents will perform their jobs remotely, it is equally important to evaluate the overall experience including training, scheduling and forecasting workload. AI and automation, WEM and knowledge solutions can help reduce confusion and ease the workload for the agents. An integrated EX platform that uses a single dashboard will be most beneficial for agents to navigate for information. What is important is to have a new approach to managing EX. This will help your organisation immensely in attracting and retaining talent.