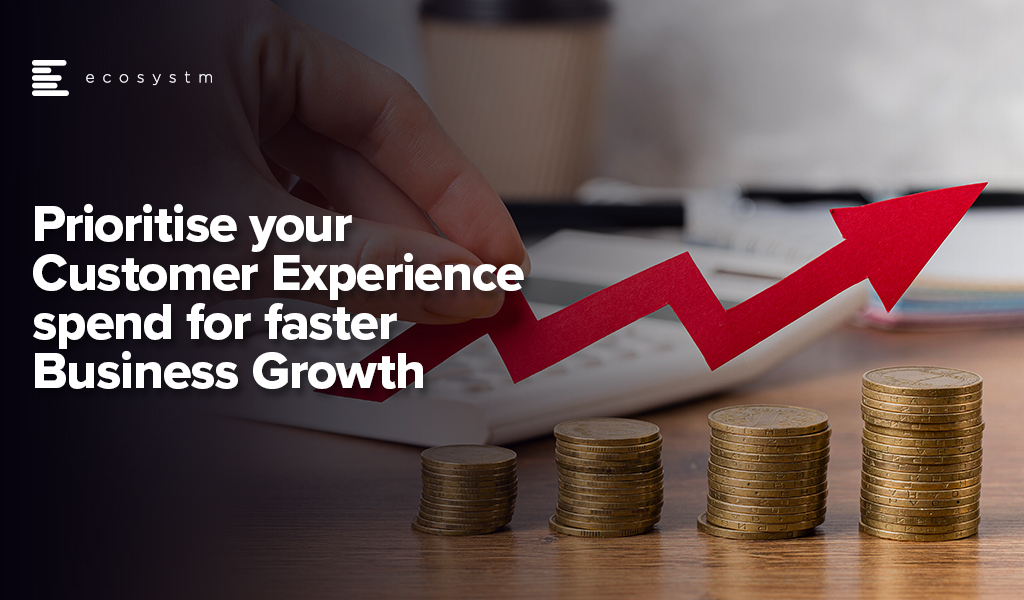 The past twelve months have been tough. Most businesses in Singapore (68%) still haven't seen revenue recover to pre-pandemic levels. Many budgets are down and you are likely to have a long list of spending options that might help you grow revenue and pull your business out of the pandemic-induced slump. Even if your business is doing well, the pressure on budgets is real.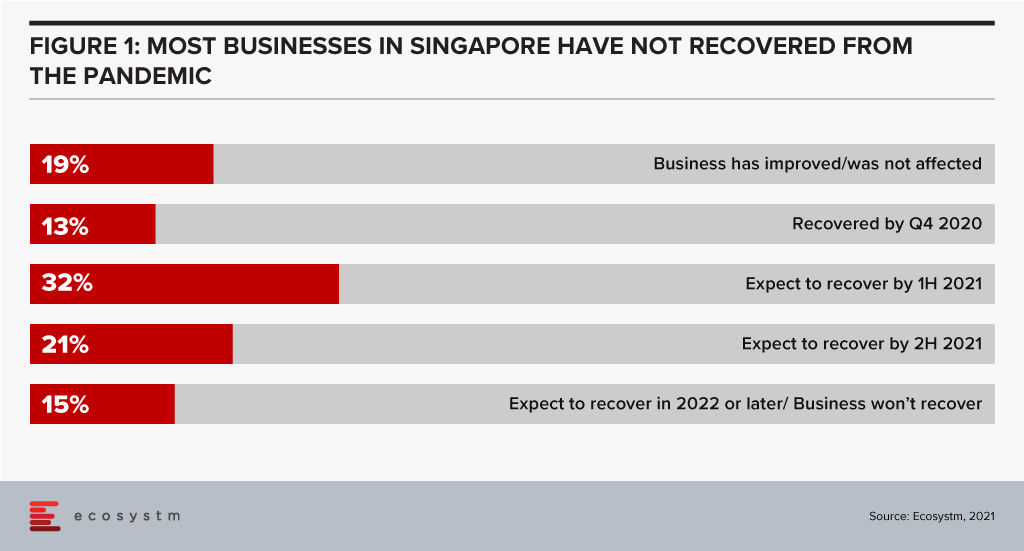 Increasing your CX Spend
Despite the pressure on budgets Ecosystm data makes a strong case to not cut your customer experience (CX) spend! Businesses in Singapore that are cutting their CX spend are less likely to return to growth, more likely to be competing on price (hence cutting margins), not focused on their digital and omnichannel customers, and have lower levels of innovation. Funnily enough, these are also the businesses with complex, legacy systems which need more focus to provide an improved CX! To be quite frank, businesses in Singapore who are cutting CX spend are setting themselves up for failure. With other businesses increasing CX spend, the gap between the customer experiences will grow to a point where customers will leave and it will be hard to catch up.
Prioritising your CX Spend
So now that you have secured your CX spend, where will you get the biggest bang for your buck? Let's look at where businesses in Singapore are focusing their CX initiatives in 2021.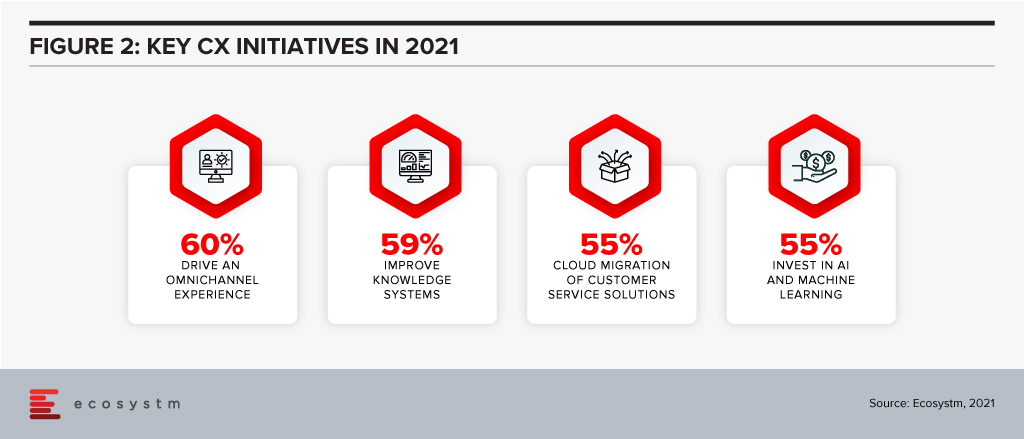 Offering an omnichannel experience. Your customers expect more than just a great digital experience – they want the right experience at the right touchpoint. The CX leaders in Singapore (who, unsurprisingly are often the market leaders) are already offering great omnichannel experiences, so this is quickly becoming about catching up – and not about getting ahead. Providing a consistent, personalised, and optimised experience across your digital touchpoints needs to be a top priority for your business today. If you are not offering conversational commerce solutions, start that strategy as soon as possible – you need to be where your customers are today. Extending this to physical channels and broader ecosystem partners should also be on your agenda.
Improving knowledge systems. Your knowledge systems don't do what they say on the box. They don't provide answers to questions – for employees or customers. In fact, if your customer service agents get asked a question they don't know the answer to, their number one source for answers is actually their colleagues or team leaders – NOT the knowledge management system! Start investing in systems – or ideally a single system – that help your employees get better, faster answers to questions. Make sure that the system is providing the same answers to both your employees and your customers across all touchpoints – physical and digital.
Migrating customer service platforms to the cloud. Over half the businesses in Singapore that we assessed have this as a top CX priority. Cloud solutions offer faster time to value, lower management costs, give access to more regular improvements and often provide the ability to easily integrate with partners who offer product extensions and customisations. This trend will continue in 2021 and 2022 as more businesses realise that their legacy customer service or contact centre platform is inhibiting their ability to innovate their customer experience. These systems also help businesses to stay compliant and reduce the reliance on internal IT – which has traditionally struggled to keep up with the fast-changing nature of the contact centre and customer service teams.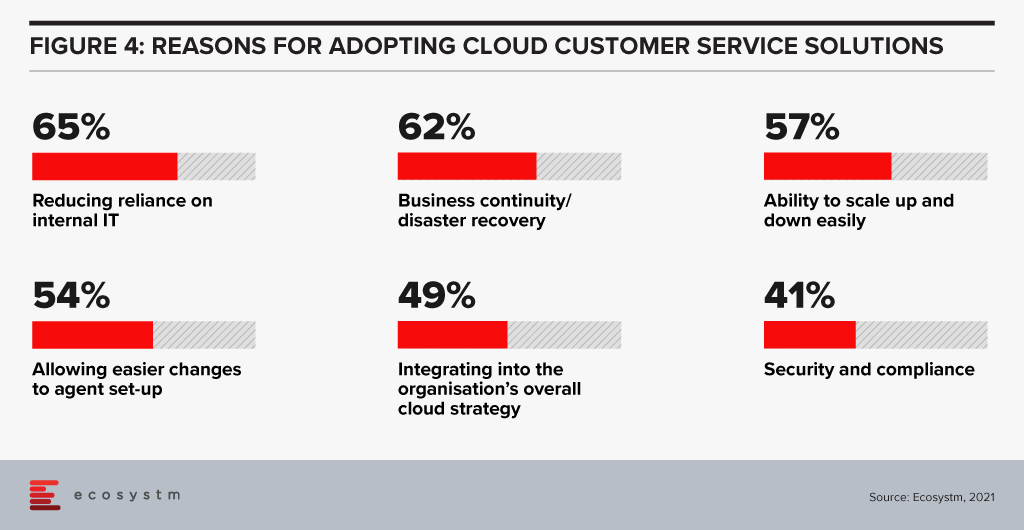 Investing in AI and machine learning. Many businesses are using AI to provide the personalised and optimised customer experiences they aspire to. AI and machine learning are allowing businesses to create personalised offers, offer a next-best action and automate services. Advanced banks in Singapore can create interest rate offers for each individual customer based on their credit profile and history. 46% of businesses in Singapore are already using AI to offer recommendations for customer service agents, 44% to optimise or test messaging and campaigns and 43% to provide faster, more accurate access to information and knowledge. 18 months ago, AI was a business differentiator – allowing your business to create a stand-out CX. Today AI is quickly becoming a standard practice – the battle now is around using AI to create personalised and optimised experiences.
A great customer experience will be the most important factor in lifting your business to pre-pandemic growth levels and helping your business remain competitive in today's tough business conditions. When it comes to CX, there is no such thing as "saving your way to growth".
---
Your opportunity to drive greater business success lies in your ability to better win, serve and retain your customers. Refresh your customer strategy and capability today to make 2021 an exceptional year for your business.