According to a recently-released report, e-Conomy Southeast Asia 2019 by Google, Temasek Holdings Pte and Bain & Co., Southeast Asia's Internet economy could exceed US$100 billion this year (a 39% increase from 2018) and will touch US$300 billion by 2025. The report states that Southeast Asian's are 'the most engaged mobile Internet users in the world', and the region is becoming one of the world's fastest-growing areas for Internet users – fueled by 360 million existing online users.
Analysing the current and future potential of the Southeast Asian Internet economy across its six largest markets – Indonesia, Malaysia, the Philippines, Singapore, Thailand, and Vietnam – it has been a momentous time for online travel services, online media, ride-hailing services, eCommerce, and digital financial services to leverage digital tools.
Southeast Asia's Internet Economy is expected to grow
Southeast Asia's fundamental changes in consumer behaviour and engagement with mobile internet have grown demand for eCommerce and Ride-Hailing services.
eCommerce is the largest and fastest-growing sector with more than 150 million Southeast Asians engaged in online shopping, and this is indicative of the fundamental changes in the way people consume eCommerce services.
Growth of digital financial services
Currently, Southeast Asia lacks adequate financial services as out of nearly 400 million adults in the region an estimated 98 million are underbanked and 198 million are unbanked.
Commenting on the expanding Internet economy, Ecosystm Principal Advisor – Growth & Expansion, Paul Gestro said "Vietnam, Philippines, and Indonesia will be the markets that could benefit the most from the US$100 billion Internet economy. This is primarily because a large percentage of the population in these markets is unbanked. With the growth and access to some form of banking (traditional or virtual) and the ability to transact a payment, this will have a huge influence on Fintech solutions."
Another key trend is the growth of digital payment and financial services in the region. The growth of digital financial services will make the Internet economy more wide-ranging and consumers will enjoy greater access to Digital Payments and eCommerce.
Gestro added, "Insurance, payments and investment services will add to what we do now with ride-sharing and food delivery services. We will instantly make decisions on insurance and investment products and deals backed up by seamless payment mechanisms and different forms of payment."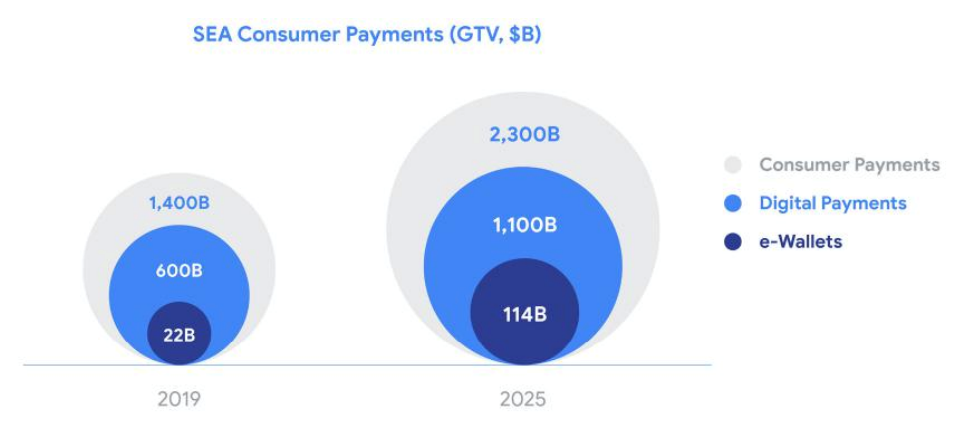 While most Digital Financial Services are still nascent, Digital Payments are expected to cross US$1 trillion by 2025 and this could open investment opportunities.
"The open investment opportunities for investors in Southeast Asia's internet economy will be investing in applications that are mobile-ready. There will be a growth in mobile transactions and services, and companies that take a mobile-first approach will be the investors' target," said Gestro.
The report advises governments of Southeast Asian countries to align digital financial service regulations across the region to facilitate the development of regional business models and help channel resources towards investments in world-class tech and talent.
Despite the growing Internet economy, talent constraints remain a pressing concern as the Internet economy expands. Gestro said, "programmes in schools are required to promote a digital understanding and offer clear pathways to build knowledge and skills required for an Internet economy. This also includes companies who should be offering internships and working closely with universities to make sure the courses match where talent is needed."
The use of mobile phones and mobile applications will connect consumers to a raft of services they previously lacked, and allow business owners and leaders to reach a whole new population of customers that was previously under-served. There's still a lot of work to be done to ensure Southeast Asia's Internet economy reaches its potential.