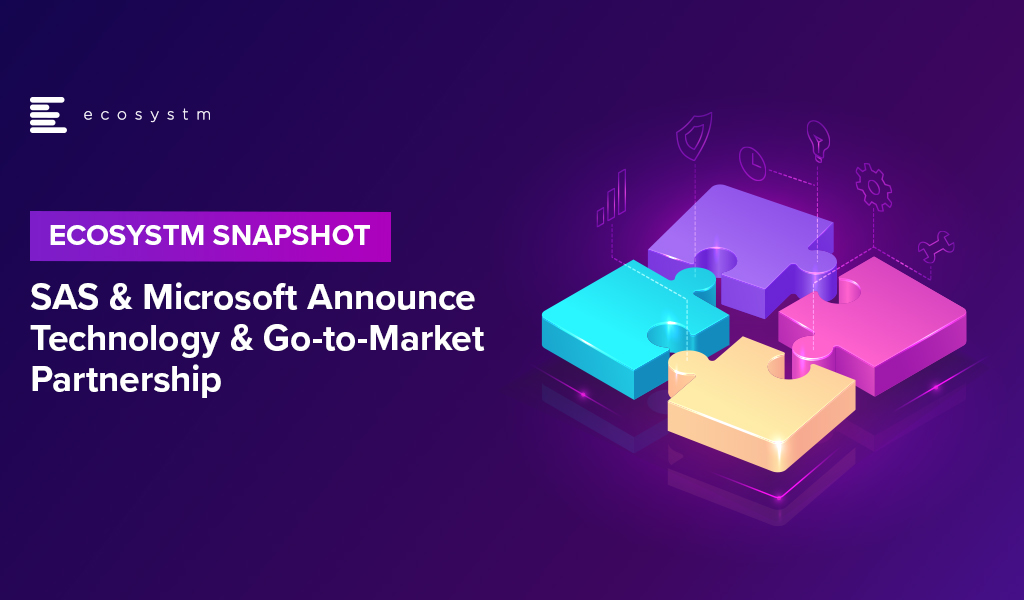 This week saw SAS and Microsoft announce a strategic partnership both in their technology offerings and go-to-market strategy. SAS analytical products and industry solutions will be migrated onto Microsoft Azure as the preferred cloud provider for the SAS Cloud. Microsoft hopes to leverage SAS' industry expertise, especially in healthcare and financial services. This partnership builds on SAS integrations across Microsoft cloud solutions for Azure, Dynamics 365, Microsoft 365 and Power Platform.
Here is what our Analysts say:

"To date, the focus of cloud computing has been around providing customers with levels of agility, speed, and scalability that cannot be provided by on-premises solutions. Customers have benefitted from this cloud functionality by being able to provision new services rapidly, pivot swiftly when they need to change their business models and build resilience and flexibility into the ways in which they do business. Today, customers are asking for more. Microsoft has responded to this demand by forming or enhancing cloud partnerships with leading cloud vendors including Salesforce, SAP, Oracle, Workday, ServiceNow and Adobe, as part of an overall strategy to make it easier for customers to choose Azure as their key enterprise foundation, and to offer more functionality.
Across industries, from healthcare to financial services, businesses finally realise the potential value of data. They recognise that the most competitive businesses are those that fully leverage the data that they can access. Businesses want cloud services to offer AI and machine learning capabilities. They want to use these capabilities to become more innovative and more competitive. To do this, these cloud services need to be integrated more tightly with capabilities which Microsoft does not have.
SAS is the leader in data analytics and AI software for enterprises, so it makes perfect sense for Microsoft to partner with the company. Integrating SAS models with Microsoft's cloud estate, in particular Azure will enable Microsoft to offer its customers more than the typical benefits of cloud services. They can offer their customers intelligent cloud services.
SAS can offer its customers a more comprehensive solution by integrating its AI and machine learning capabilities into the Microsoft cloud estate. SAS and Microsoft will combine their engineering resources to ensure that SAS' analytics products work well on Azure. A key priority is building an Azure-optimised version of Viya, the cloud version of SAS' core analytics toolkit. SAS will also look at ways in which it can integrate its software with the native analytics services provided in Azure.
Importantly, companies will create joint solutions across multiple verticals. An example of a joint solution is SAS' IoT analytics and the Azure IoT platform being used to increase situational awareness of rising stream levels, to predict where flooding might occur, thus improving emergency response.
SAS software will continue to be cloud-agnostic. But, SAS itself will migrate its internal operation and its global cloud business to Azure. The expanded partnership with Microsoft does not impact SAS customers who run on AWS or GCP. But, Azure customers can expect to see benefits over time as SAS and Microsoft work closely on joint solutions."

"The SAS and Microsoft relationship goes well beyond 'Azure is our cloud hosting platform of choice'. It brings together Microsoft's leading suite of AI tools and cloud infrastructure and platform capabilities and the leading analytics and intelligent applications provider. Through the combined toolset, every-day applications have the opportunity to become even more intelligent – and the industry-specific intelligent business processes that SAS is known for will be able to be hosted on the cloud, and more deeply integrated into existing solutions and PaaS services. The ability to embed SAS workloads into containers means that a broader user set can access and learn from the analytics that they provide – and automate an even greater number of business and customer processes using the AI and Analytics toolsets from both providers.
It also simplifies the management of SAS software and gives a clear and easy path to the public cloud for SAS customers who have not yet made that transition.
The partnership has the opportunity to further accelerate Microsoft's transition towards even smarter applications. Microsoft has already been recognised in the market as having one of the better AI capabilities – mostly because of embedding intelligence into existing applications and processes. But Microsoft was never going to be able to provide the intelligence for every process in every industry. This partnership will accelerate Microsoft towards the automation of more processes that are used by customers across the spectrum of sectors and industries – and it obviously extends SAS' reach beyond their traditional customer base."