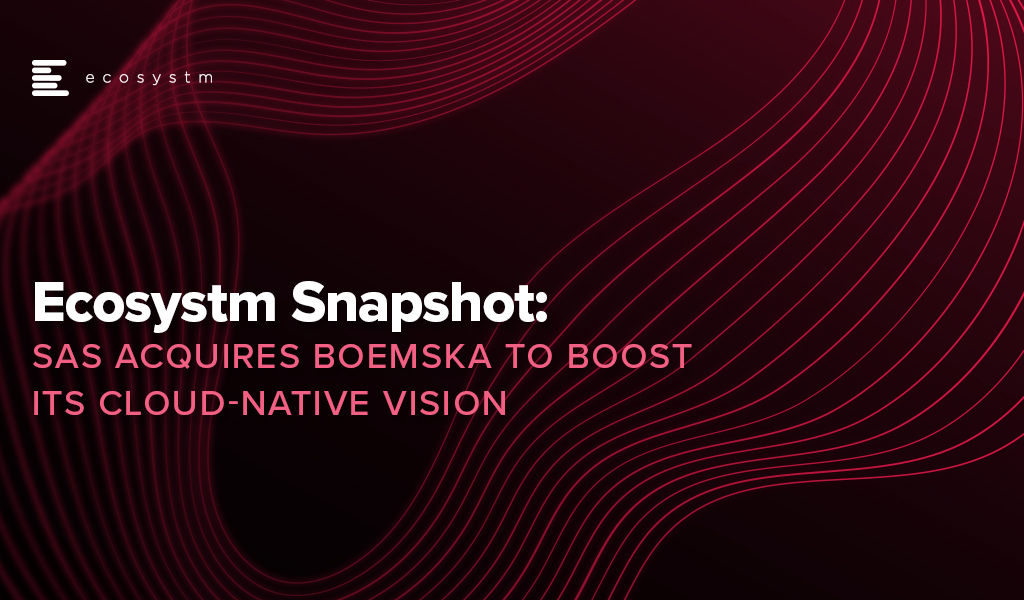 SAS announced that it has acquired Boemska, a provider of low-code development tools and analytics workload management software. The small, privately held company is UK-based with an R&D centre in Serbia. The acquisition will be integrated into SAS Viya, its cloud-native platform, which includes containerised analytics and machine learning offerings. Terms of the deal have not been disclosed.
A SAS silver partner, Boemska has wins in Health, Finance, and Travel. Most of its reference clients are based in Europe in addition to a small number in the US and South Africa. Boemska has two primary software offerings – Enterprise Session Monitor (ESM) and AppFactory. Additionally, it delivers cloud migration, performance diagnostics, and application development services.
Boemska Capabilities
Boemska ESM provides visibility into performance and cost management of analytics workloads. The product enables self-service root cause analysis for developers, monitoring and batch schedule optimisation for administrators, and departmental cost allocation of cloud resources. ESM manages SAS, R, and Python workloads and is compatible with workload management platforms from the likes of IBM and BMC. Boemska shipped an updated version of ESM in 2020 to improve the UI and ensure support for SAS Viya. At the time, it announced that its development team had doubled in the preceding 12 months, suggesting a trajectory of growth.
AppFactory is a low-code development platform for data scientists and data engineers using SAS, which generates JavaScript for front-end developers along with data transport, authentication, and exception handling. SAS emphasises the portability of apps that can be created and run on mobile and IoT devices. Examples provided include machine learning and event alerts in healthcare wearables, video-based defect identification in Manufacturing, and drone-based asset monitoring in Utilities. Boemska states that its low-code offering seeks to bridge the "last mile of analytics" by putting insights into the hands of decision-makers.
SAS Focuses on Cloud-Native Analytics and AI
SAS launched Viya 4.0 in mid-2020, a major step in its vision to become a provider of cloud-native analytics and machine learning solutions. The platform includes offerings, such as Visual Analytics, Visual Statistics, Visual Machine Learning, and Visual Data Science packaged in containers and orchestrated by Kubernetes. Microsoft Azure has become its preferred cloud partner, assisting in developing SAS Cloud, hosted from data centres in the US, Brazil, Australia, and newly launched facilities in Germany and the UK. Viya managed services are also available from Azure regions. AWS and Google Cloud are expected to make the leap to Viya 4.0 from version 3.5 soon. As part of its cloud-native strategy, SAS now offers three tiers for software updates – bi-annual, monthly, or immediately after release.
Ecosystm Comment
The major overhaul of SAS Viya is part of the vendor's USD 1B investment into AI over three years from 2019-2021. The platform includes a heavy emphasis on NLP, machine learning, and computer vision. The integration of Boemska's low-code development offering into Viya will allow SAS clients to extract greater value from AI by quickly embedding it in mobile and enterprise applications. The converging trends of citizen developers and data literacy suggest SAS has selected the right path for the future.
---
Download Ecosystm Predicts: The Top 5 AI & Automation Trends for 2021
Download Ecosystm's complimentary report detailing the top 5 AI trends in 2021 and what innovations they bring to the table that IT leaders should monitor. Create your free account to access all the Ecosystm Predictions for 2021, and many other reports, on the Ecosystm platform