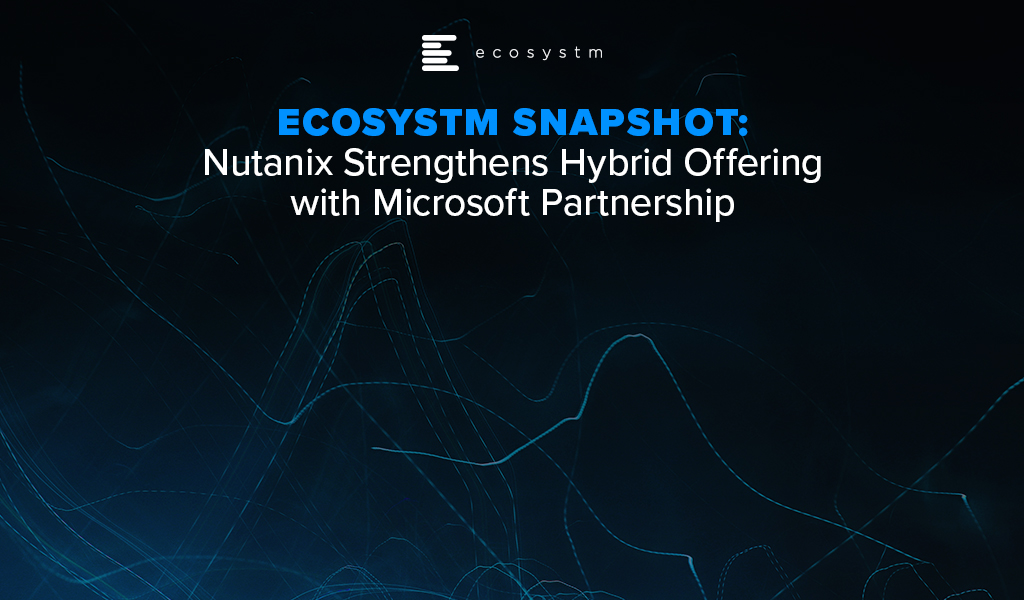 Nutanix has emerged as a leading hyper converged infrastructure (HCI) provider and is partnering with public cloud infrastructure providers to bring greater value to its customers. Last week saw the partnership between Microsoft and Nutanix, aimed to evolve the hybrid offerings of both providers. As part of this collaboration, both companies will focus on extending Nutanix hybrid cloud infrastructure to Azure. The collaboration will include the development of Nutanix-ready nodes on Azure to support Nutanix Clusters and services. The benefits expected include improved cost, security, and efficiency. Clients will also be able to deploy Azure instances from Nutanix interface for a consistent experience across their cloud environment. The solution is aimed to eliminate re-tooling, re-architecting processes and other technical challenges of maintaining a hybrid environment.
Ecosystm Principal Advisor, Darian Bird says, "The announcement of Nutanix Clusters on Azure is another piece of the hybrid puzzle that will allow Nutanix clients to extend their private cloud environments into public infrastructure. Organisations want the control associated with a private cloud but with the flexibility to scale up and down in the public cloud. Key to hybrid cloud is an additional layer that enables applications to be shifted from one cloud to another, either to prevent lock-in or to choose the best environment depending on the circumstances."
The deal will also broaden the sales and support experience for Microsoft and Nutanix. "Nutanix has emphasised licence portability as a key characteristic of its hybrid cloud strategy. Microsoft clients will be able to use Azure credits to pay for Nutanix software, while those already with Nutanix licences will be able to port those over to Clusters on Azure. Simplified cloud procurement will be critical for IT departments looking to optimise cloud expenditure across multiple providers."
Bird adds, "Organisations will now be able to manage servers, containers, and data services on Nutanix HCI, on prem or in the cloud through a single control pane with Azure Arc. Microsoft has realised that producing a true hybrid cloud system requires it to manage as many types of infrastructure as possible, whether they come from niche partners or major competitors. IT departments want the choice of supplier without adding complexity to their systems."
Nutanix Strengthening its Partner Ecosystem
"The partnership with Microsoft Azure comes only a month after Nutanix announced the general availability of Clusters on AWS. Considering Nutanix's close connection to Google, it seems likely that it will also launch on the search giant's cloud before long," says Bird.
Last year, Nutanix partnered with HPE for the general availability of HPE's integrated hybrid cloud as a service offering, HPE GreenLake for Nutanix, and the HPE ProLiant DX solution.
Earlier in the month, Nutanix launched its global partner multi-cloud program – Elevate – to bring Nutanix's global partner ecosystem under one integrated architecture managed through consistent tools, resources and platforms, to accelerate their clients' multi-product, multicloud roadmap in their transformation journeys.
"Nutanix has made great strides in its shift from hardware vendor to HCI provider and it's now focused on delivering tools that enable the shift to cloud. These recent moves will help Nutanix catch up to VMware and become a viable alternative in a hybrid cloud environment," says Bird.
---
Identifying emerging cloud computing trends can help you drive digital business decision making, vendor and technology platform selection and investment strategies.Gain access to more insights from the Ecosystm Cloud Study.
---