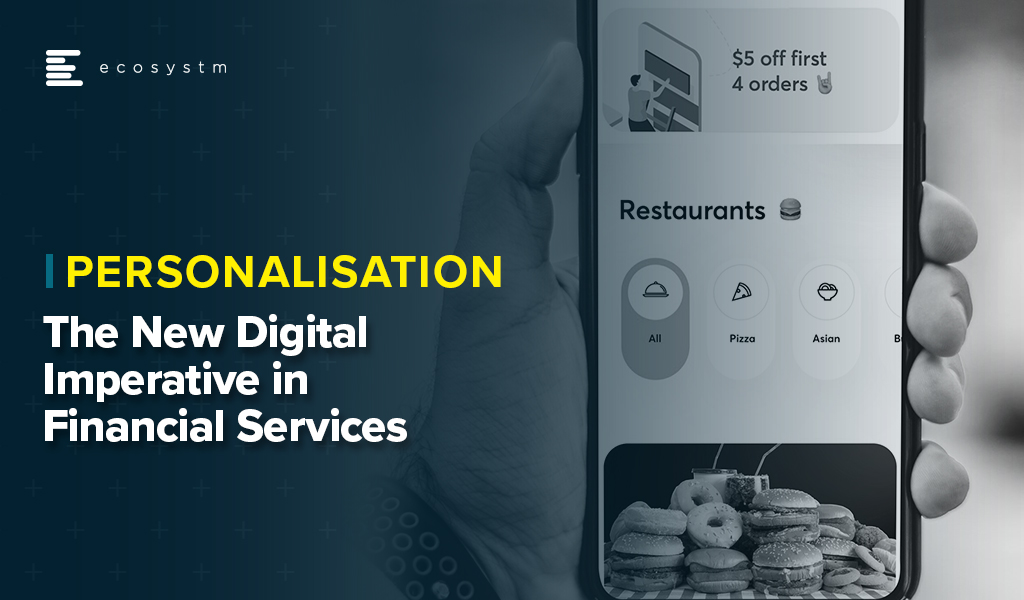 If you are a digital leader in the Financial Services industry (FSI), you have already heard this from your customers: 'Why is it that Netflix and Amazon can make more relevant and personalised offers than my bank or wealth manager?' Digital first players are obsessed with using data to understand their customer's commercial and consumer behaviour. Financial Services will need to become just as obsessed with personalisation of offerings and services if they want to remain relevant to their customers. Ecosystm research finds that leveraging data to offer personalised service and product offerings to their clients is the leading digital priority in more than 50% of FSI organisations.
Banks, particularly, are both in a strong position and have a strong incentive to offer this personalisation. Their retail customers' expectations are now shaped by the experience they have received from their favorite digital first firms, and they are making it increasingly clear that they expect personalised offerings from their banks. Furthermore, they are well positioned as a facilitator of commercial relationships between two segments of customers – consumers and merchants. The amount of data they hold on consumer interactions is comprehensive – and more importantly they are a trusted custodian of their customers' data and privacy.
The Barriers to Personalisation
So, what is stopping them? Here are three insights from over 12 years of experience driving digitisation of Financial Services:
Systems Legacy. Often the data and core banking systems do not allow for easy access and analysis of the required data across the data sets required (eg. Consumers and Merchants).
Investment Priorities. There is still a significant investment happening in compliance and modernisation of core banking systems. Too often the focus of these programs can be myopic, and banks miss the opportunity to solve multiple pain points with their investments driven by overly focused problem statements.
Culture and Purpose. Are banks stuck in a paradigm of their own making – defining their business models by what has served them well in the past? Will Amazon think about its provision of working capital to their small and medium business partners the same way as a bank does?
Vendor Focus – Crayon Data
Thankfully, there is a new breed of tech vendors who is making it easier for banks to drive personalisation of their offerings and connect customers from across segments. Crayon Data is a good example, with their maya.ai engine unearthing the preferences of customers and matching them to offerings from qualified merchants. It benefits all parties:
The Consumer receives relevant offers, is served from discovery to fulfillment on a single platform and all personal data and information guarded by their bank.
For Merchants, it allows them to reach the right customers at the right moment, develop valuable marketing and insights and all this directly from their bank partner's platform.
For Banks, it provides a scalable model for offer acquisition and easily configurable and measurable consumer engagement.
maya.ai leverages patented AI to create a powerful profile of each customer based on their buying habits and comparing these with millions of other consumers drawn in from their unstructured data sets and graph-based methodology. They then use their algorithms to assist their Financial Services client to make relevant offerings from qualified merchants to consumers in the right channel, at the right moment. All of this is done without exposing personal client information, as the data sets are based on behaviour rather than identity.
Conclusion
There are significant considerations for banks in offering these types of capabilities, such as:
Privacy. While the technology operates on non-identifiable information, the perception of clients being 'stalked' by their bank in order to drive business to a merchant is one that would need to be managed carefully.
Consumer opt-out. The ability for customers to opt out of this type of service is critical.
Consumer financial wellbeing. It may be in the best interests of some consumer to not receive merchant offers, for instance where they are managing to a strict budget. These considerations can be baked into the overall customer journey (eg. prompts when the consumer is nearing their self-imposed monthly budget for a category), but care will need to be taken to keep customers' best interests at heart.
While there are multiple challenges to overcome, the fact remains that personalisation is quickly becoming a core expectation for consumers. How will banks respond, and will we see AI use cases like Crayon Data become more prominent?
---