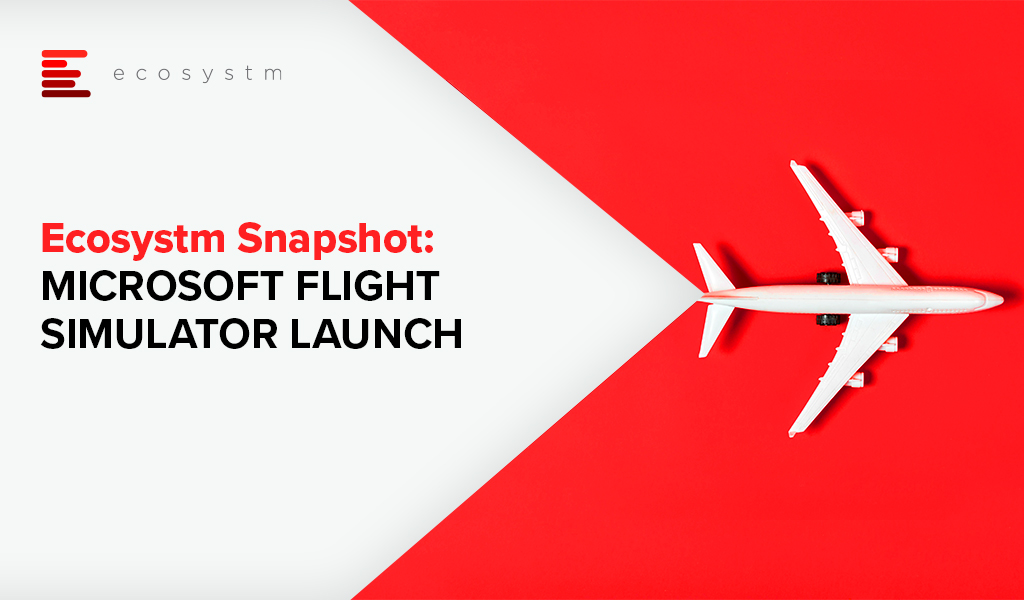 Last year Microsoft announced it was developing a new version of Flight Simulator which caught many of us by surprise. Flight Simulator? Really? The last launch of a new version of the game was in 2006 – 14 years ago, now!! How does something come back after all these years?
Now that it has launched about a week ago, the initial feedback has been extremely positive and it appears that Microsoft has a winner here. An analysis even claims that it will spur $2.6 billion in hardware sales of PCs, game accessories and the like!
I wanted to unpeel the onion a bit to take a closer look at what is going on and discovered a world of interesting developments around this product.
My first thoughts on hearing the announcement was that Microsoft, who has been steadily losing the battle of consoles to Sony's PlayStation platform, was reviving this old favourite to resuscitate its drooping share.
Not a bad move. Flight Simulator has a core of die-hard fans – it even boasts of professional pilots who play the game as relaxation. It has a long history and a captive fan community. But it is old. That loyal community is not part of the demographic that a gaming company would normally look at today.
The other interesting aspect to consider is the COVID-19 situation this year. Obviously, Microsoft did not know this at the time they embarked on this project but the pandemic has turned everything on its head – hardware sales are through the roof – including accessories, at a time when people have been homebound and looking for entertainment within the four walls of one's abode. The Ecosystm Digital Priorities in the New Normal study finds that 76% of organisations increased their hardware investments when the crisis hit – and 67% of organisations expect their hardware spending to go up in 2020-21. And that is only on the enterprise side of things. On the consumer side, at this point joysticks are in short supply – a trend that seems to have been accelerated by the Microsoft launch last week, interestingly – and so are PCs. The PC vendors are all enjoying a bumper year of growth. This is an ideal time to launch a really cool new version of the game.
Microsoft's Bigger Game
The reality however is that while Flight Simulator will add to the revenue and also give Xbox One a fillip, Microsoft is probably after a much bigger "game" (excuse the pun!). The company has called its 'Xbox Game Pass' the Netflix of the gaming market. With multiple cloud-based gaming platforms having been launched – many with subscription services – the battle is on to decide the winners in a relatively new space. To this end, Microsoft has announced an intention to make Game Pass available across different devices – XBox console, PCs, tablets, phones. Having a title like Flight Simulator available through Game Pass, will act as a key hook to get customers to sign up for the subscription.
The new Flight Simulator version has been developed using AI and real-world imagery brought in with data from Bing Maps. With the newly added realistic scenery, it also seems like a great fit for use with the HoloLens Virtual Reality headsets. In one shot Microsoft is showcasing their lead in areas of technology which are likely to prove attractive to developers in a big way. I believe that this is a way for them to entice more developers on to Azure and to Microsoft cloud to develop their games – "AI SDKs anyone? Virtual Reality tools anyone?"
What seems at first glance like the launch of a new "future is here" version of a great game will turn out to be a possible big swing at multiple targets by Microsoft – at leadership in gaming with Game Pass; at reviving Xbox fortunes; at leadership in game development platforms, with Azure packing AI services, Bing Maps, AR/VR tools, among other technologies to move more development on to the Microsoft cloud. In the process Microsoft launched a highly enjoyable game and got closer to their ultimate aim to indeed become the Netflix of gaming.
Great move Microsoft! Tip: This could also give them a foothold in the virtual travel and virtual vacations market! That would be a hot seller in these times.