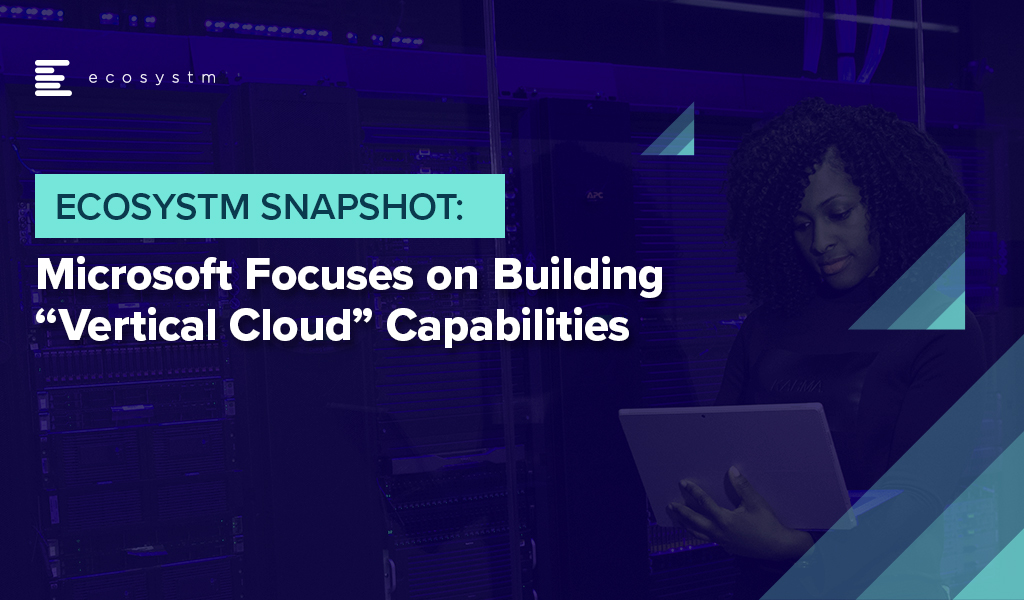 Microsoft introduced a second Vertical Cloud offering, last week – this time turning the focus on Retail, after having launched Microsoft Cloud for Healthcare in October 2020.
The Microsoft Cloud for Retail aims to offer integrated and intelligent capabilities to retailers and brands to improve their end-to-end customer journey. It brings industry-specific capabilities to the Microsoft suite including Microsoft Azure, Microsoft Power Platform, Microsoft 365, and Microsoft Dynamics 365 – and is aimed at the growing need for "intelligent retail'. Microsoft's partner ecosystem will also be involved in the new platform to address challenges in the sector and future proof the retail evolution.
In The Top 5 Retail & eCommerce Trends for 2021, Ecosystm notes that while retailers will focus on the shift in customer expectations, a mere focus on customer experience will not be enough this year. From the customer experience angle, they will strongly focus on omnichannel, catering to 'glocal' consumption, using location-based services, and improving both their onsite and online customer experience. They will also have to work on their supply chain and pricing capabilities, as distribution woes continue. These trends are seeing a deeper need for transformational technologies and leading cloud providers are introducing solutions targeted at the industry. Google has introduced its cloud retail solutions aiming to help retailers get more from data. Similarly, AWS has cloud offerings for the retail industry leveraging its retail domain experience and cloud deployment services.
Ecosystm Comments

"Global cloud vendors continue to "move up the stack" to provide more of the technology landscape for organisations. The focus of these tech giants is on adding unique value to customers by tailoring the combination of the different cloud services they can provide to specific industries. Providing the full-stack will mean higher customer retention rates – as the implementation time should be lower than traditional on-premises implementations. Microsoft has a diverse range of capabilities. Having a software company and implementation partner that can deliver the full stack of technology and business processes should improve the time to value for organisations.
But I see three key difficulties in implementing systems such as these:
People adapting effectively to use the new processes
Migrating enough high-quality data to leverage the new capabilities
Integrating the new capabilities into an organisation's existing landscape.
This is why it is likely that initial use will come from Microsoft's existing Retail customers as they expand the range of services they use. New adopters of these Microsoft solutions will find that much of the complexity and cost of implementing a new business solution will remain.
However, these value-added cloud services open access to smaller organisations. If Microsoft is able to work with their partners to simplify the implementation of these capabilities, it will allow smaller organisations to access these complex capabilities affordably."

"The Ecosystm Digital Priorities in the New Normal Study aims to determine how optimistic industries are about successfully negotiating these uncertain times (Figure 1). The industries that are rated the most optimistic fall into two clear categories. In the first category, there are industries, such as Healthcare that had to transform urgently – mostly in an unplanned manner. This has led to a greater appetite for change and optimism in these industries. Then there are industries, such as Retail, that had some time to re-focus their technology roadmap when the crisis hit. These industries have a strong customer focus and had started their digital journeys before the pandemic.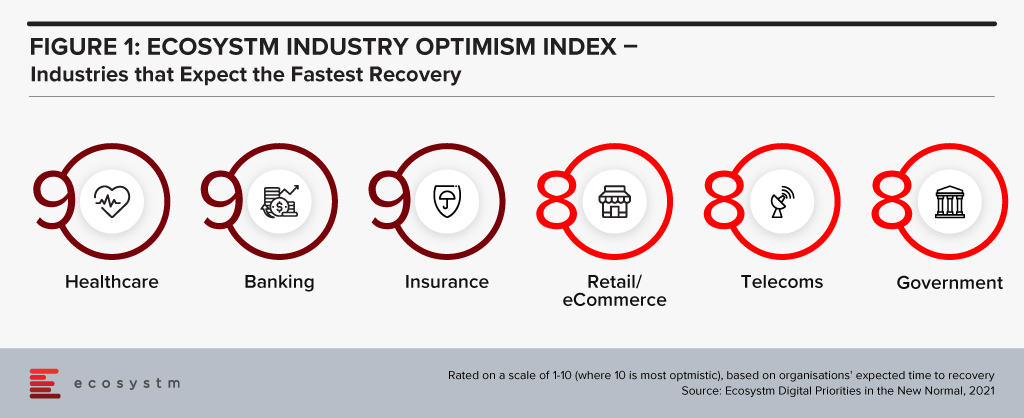 Microsoft's industry focus appears to be spot-on. Their first two vertical clouds target enterprises that have had to – and will continue to – pivot. The 'modular' approach taken in the Microsoft Cloud for Healthcare offering allows providers to choose the right capability for their organisation – whether it is workflow automation, patient engagement through virtual health, collaboration within care teams or better clinical and operational insights. As healthcare organisations across the world negotiate the challenges of mass vaccination, they may well find themselves leveraging these industry-specific capabilities as they revamp their workflows, processes, and data use."
---
Get to know the right research, insights and technologies for you to be one step ahead in this new world of retail in our top 5 retail trends for 2021 that represent the most significant shifts in 2021