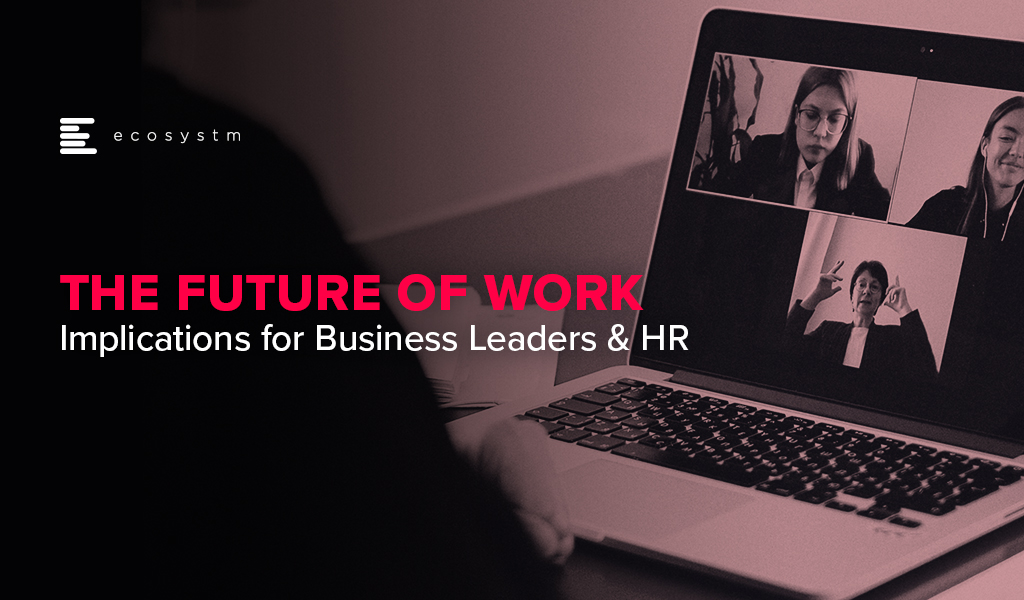 The COVID-19 crisis has required major resets in how organisations function – across industries and economies. In this environment of intense changes, businesses that have been agile in their operations and were better digitally enabled have thrived, while others have struggled. Irrespective of whether an organisation has been able to pivot fast to thrive or struggled to cope, it is very clear that the Future of Work is here now. Every organisation has had to make some changes to their People and work practices. It is time to (re) focus on employee experience holistically so that organisations can be ready for whatever model of work becomes prevalent in the future. I have recently published a report offering guidance to business leaders and HR Teams on how to make holistic workplace shifts, with inputs from Ecosystm Principal Advisors, Tim Sheedy and Audrey William.
Employee Experience at the Core of Customer Strategies
It has become increasingly clear that customer experience (CX) is not just about good sales skills or customer service. It is about the overall experience of the customer from start to post-purchase. Customers are focused on not just what they are buying but also on how they are treated along their entire journey. Good CX has consistently shown to help increase price premium, impulse buying, and loyalty. Consequently, one bad experience can drive a customer away forever. Customers pay for your products or services, but it is your people who can really deliver the experience.
Audrey says, "As it becomes clear that we are headed for a hybrid/blended model of work, employee experience (EX) has to be a key focus area for organisations. Organisations will have to support remote work and simultaneously evolve their physical workplaces so that employees have the choice to come into work. But business leaders and HR will definitely have to come together to re-evaluate their policies around employees and improving EX – irrespective of where they choose to work from."
The Role of Productivity in the Digital Workplace
Productivity has been at the core of an organisation's desire to be a digital workplace. Tim says, "A digital workplace is one that has the capability to support any employee to access the process, information or system they need on their device of choice, in their moment and location of need. In the wake of the pandemic, the digital workplace went from being a 'good idea' to an 'absolute necessity' – and the seeds were sown to build true digital workplaces, years ahead of plan."
This is the time to retain that focus on productivity. A lot of energy is being spent in defining and measuring productivity. The focus seems to have shifted to how to get the best out of the remote/hybrid workforce. It is time for business leaders and HR to go back to the drawing board to re-define what productivity means to their organisations.
Tim says, "The focus should be on enabling productivity rather than on monitoring activity. Productivity is an outcome, not a process. So, measure the outcome, improve the process. Productivity will be driven at an organisational level through removing friction from overall operational processes, to make things more streamlined and effective to create more value."
The True Implication of Flexibility
There has been a rapid shift in practices around working from home and flexibility. But it is time now for organisations to create a framework (policy, performance expectation and management) to manage these practices. Many companies do not really understand the implications of flexible working to their business. In fact, they may be unaware of shifts in work patterns that have taken place in the last few months and the impact these shifts are having on the business.
Framework around flexible working should be backed by data and an understanding of the feasibility of such practices. If your employee has to work on her compulsory day off, then you do not have a truly flexible work practice. This will have a negative impact on employee experience and ultimately on your business.
The Evolution of Employee Engagement
Audrey says, "One of the areas that business leaders and HR will have to bear in mind is that despite flexible working hours, employees might be overworked – it is emerging as a common problem with working from home. It is common that many employees are working longer hours."
Ecosystm research finds that some organisations have been evolving their HR practices, since the start of this crisis (Figure 1).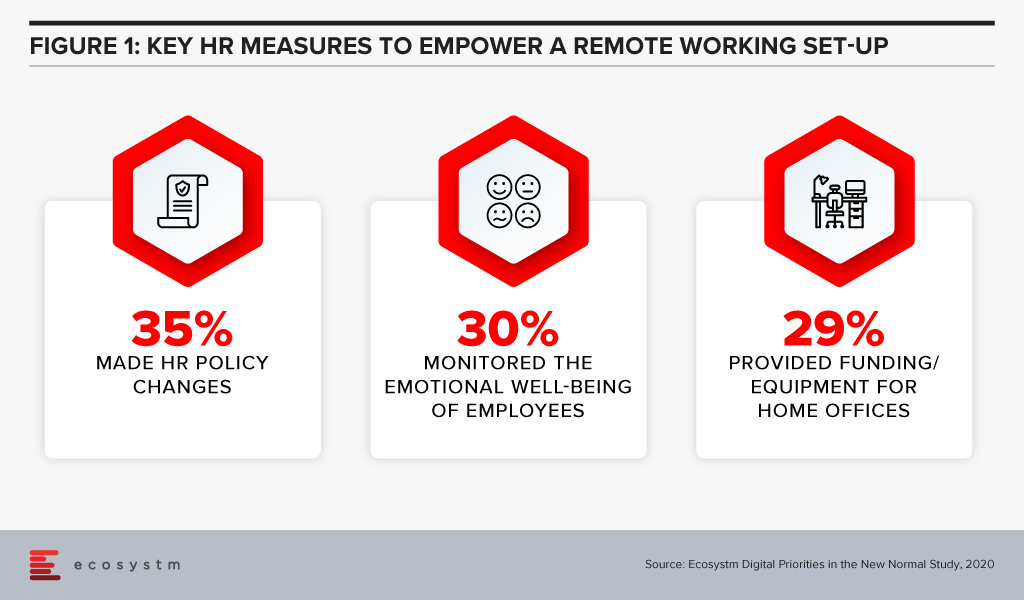 But more needs to be done. Organisations have to work really hard to replicate their employee engagement and social hours in the virtual world. It is critical that organisations design mechanisms of keeping employees connected – to each other, as well as to the organisation. "Virtual social groups" not only provide this connection, it can also be a rich source of input for HR and wellness teams to quickly adapt their programs to meet the changing needs of employees.
Shift in Managerial Styles
Performance management has been traditionally done through annual cycles, and by monitoring and tracking. In the Future of Work, organisations will have to increasingly give their employees the choice of working from home. Meetings, check-ins, 1:1 and team huddles for close monitoring will not work in this remote/hybrid model.
It is time to stop close monitoring and really focus on outcome-based management. And this will have to start with re-skilling people managers. Training should be provided on softer skills such as emotional intelligence, being able to sense across boundaries and digital spaces, and being able to be responsive to employees' needs. The people manager must evolve into being a coach and a mentor – internal coaching and mentoring networks will have to be established. Line managers, business leaders and HR teams will need to collaborate more to ensure that these skills are developed and that the right support system is in place.
---
For more insights on how organisations should evolve their Future of work Work practices to strengthen their agility and market competitiveness, read the report.
---