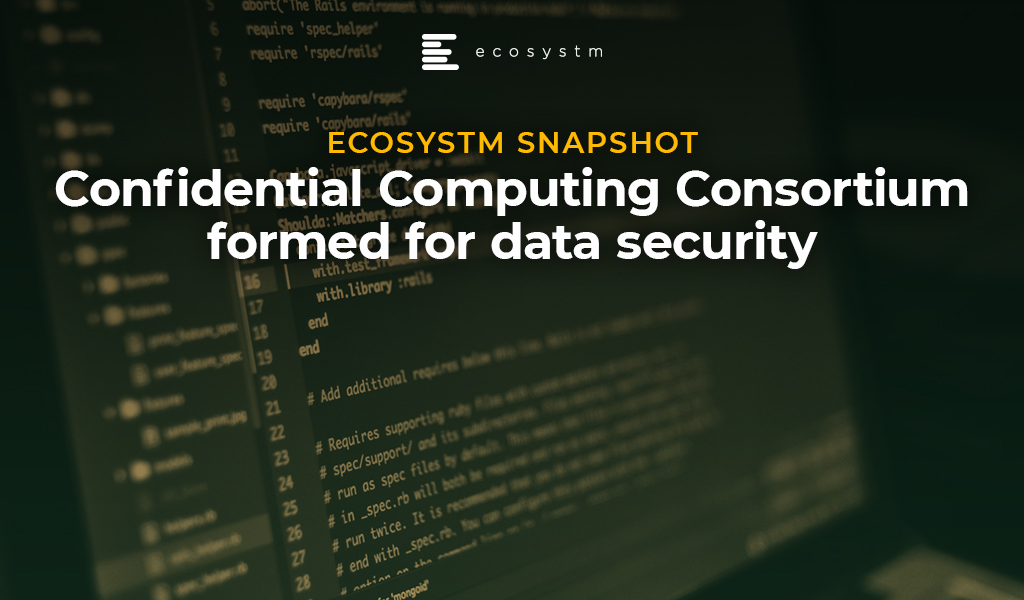 A group of some of the world's largest technology companies including Alibaba, ARM, Baidu, Google Cloud, IBM, Intel, Red Hat, Swisscom, and Tencent have come together to form "Confidential Computing Consortium", an association established by the Linux Foundation to improve the security of data while in use, and hosted by them at ConfidentialComputing.io.
Confidential Computing Consortium aims to define and accelerate the adoption of Confidential Computing by bringing together a community of open-source technologies and experts.
New Cross-Industry Effort
There are many government agencies, consortiums, and software and hardware vendors working on data security so a key question here is "who needs it?"
Commenting on CCC, Claus Mortensen, Principal Advisor at Ecosystm said, "whether this is really 'needed' is a matter of perspective though. Many would argue, that a project driven by technology giants is contrary to the grassroots approach of earlier open source projects. However, Confidential Computing is a complex area that involves both hardware and software. Also, the stakes have become high for businesses and consumers alike, as data privacy has become the focal point. Arguably, the big tech companies need this Open Source initiative more than anyone at the moment."
How CCC would benefit enterprises and business users?
With the increasing adoption of the cloud environments, on-premise servers, the edge, IoT and other technologies, it's crucial for enterprises to increase the security of the data. While there have been approaches to encrypt data at rest (storage) and in transit (network) it's quite challenging to fully encrypt the data life cycle and that's what Confidential Computing aims to solve.
Mortensen said, "when it comes to data security, the actual computing part of the data life-cycle is arguably the weakest link and with the recent increased focus on privacy among the public, this 'weakness' could possibly be a stumbling block in the further development and update of cloud computing." Mortensen added, "that doing it as part of an open-source initiative makes sense, not only because the open-source approach is a good development and collaboration environment – but, crucially, it also gives the initiative an air of openness and trustworthiness."
To drive the initiative, members have planned to make a series of open source project contributions to the Confidential Computing Consortium.
Intel will contribute Software Guard Extensions (SGX) SDK to the project. This is hardware-based memory level data protection, where data and operations are encrypted in the memory and isolated from the rest of the system resources and software components.
Microsoft will be sharing the Open Enclave SDK to develop broader industry collaboration and ensure a truly open development approach. The open-source framework allows developers to build a Trusted Execution Environment (TEE) applications.
Red Hat will provide its Enarx to the consortium. – an open-source project aimed at reducing the number of layers (application, kernel, container engine, bootloader) in a running workload environment.
Mortensen said, "like other open-source initiatives, this would allow businesses to contribute and further develop Confidential Computing. This, in turn, can ensure further uptake and the development of new use cases for the technology."
How Data Security Efforts will shape up
Confidential Computing is a part of a bigger approach to privacy and data and we may see other possible developments around AI, in distributed computing, and with Big Data analysis.
"Initiatives that can be seen as part of the same bucket include Google's "Federated Learning" where AI learning on data is distributed privately. This allows Google to apply AI to data on the users' devices without Google actually seeing the data. The data remains on the user's device and all that is sent back to Google is the input or learning that the data has provided" said Mortensen.
Consequently, Confidential Computing seems to ease matters for data security at this point and the collaboration expects the results will lead to greater control and transparency of data for users.
Let us know your opinion on the Confidential Computing Consortium in the comments.