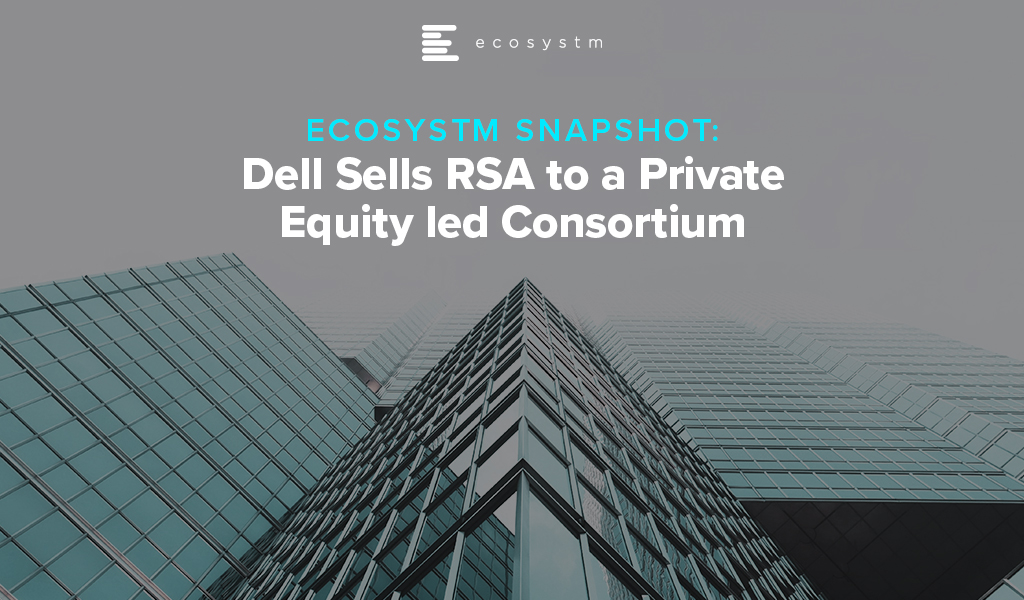 In the Top 5 Cybersecurity and Compliance Trends for 2020, Ecosystm predicted that 2020 will witness a significant uplift in mergers and acquisition (M&As) activities in the cybersecurity market. Like the consolidation activity in previous booms (such as digital media and web services in the early 2000s), the cybersecurity market is booming globally and creating opportunities for cashed up vendors and private equity firms. The fragmented security market has thousands of vendors and consultancies globally. Every day a swathe of new start-ups announces their ground-breaking new technology. Coupled with significant investments globally in tertiary education and industry certifications for a growing workforce, the next generation of cybersecurity entrepreneurs are entering with force.
Earlier this month, a consortium led by private equity firm Symphony Technology Group (STG) entered into an agreement with Dell Technologies to acquire RSA for an estimated amount of USD 2 billion. Dell Technologies had expressed interest in selling RSA in November 2019, and industry sources say that the deal will be finalised at more than their initial expectations.
Dell has been focusing on their partner program and on simplifying their product portfolio offerings. The Dell Technologies Partner Program announced last year, allows enterprises to seamlessly access partner products and solutions. Regardless of the partner, all solutions under the Dell portfolio count toward the tier status and tier revenue requirements for clients. Selling RSA allows them to streamline their product portfolio and by their own assertion, Dell has not lost focus on the significance of cybersecurity. They reinforced their commitment to build automated and intelligent security into infrastructure, platforms and devices. Claus Mortensen, Principal Analyst Ecosystm says, "Dell never really figured out what to do with RSA or how to position RSA's products relative to Dell's and VMWare's own products. For example, Dell has its own endpoint protection product with SecureWorks and this has a great deal of overlap with RSA."
RSA has been one of the pathbreakers in the cybersecurity market with their SecurID offering. They also host the largest security conference. RSA Conference gets together leading experts from across the industry to discuss the current trends and challenges, as well as shape the industry through innovations. Talking about the impact of the acquisition on RSA's brand image, Mortensen says, "It depends on what STG intends to do with the company going forward. Arguably, RSA has been a bit in the shadows of previous owners – EMC and Dell – but if the new owners have a distinct plan for RSA, the brand will benefit".
The members of the consortium acquiring RSA is interesting in its diversity. It includes the Ontario Teachers' Pension Plan Board (Ontario Teachers') and AlpInvest, another private equity firm. STG's recent acquisitions include RedSeal, a security risk management provider. Mortensen predicts that the key player in this consortium will be STG, who will bring the know-how as well as money to the table. "Ontario Teachers' and AlpInvest appear to primarily be financial backers. In fact, less involved these two partners are in the management of RSA, the easier it will be to secure a steady future focus for the company."
As Ecosystm has observed previously, private equity firms will play a role in consolidating the cybersecurity market. "RSA is an almost textbook candidate for an equity firm or an investment bank takeover – a company with a good line of products but with a lack of strategic focus or leadership," says Mortensen. "If STG can provide that focus – and from that USD 2 billion payment, one would assume that they can – they should have a good chance of increasing the value of RSA. If not, chances are that RSA's products will be sold off piecemeal in the years to come."
---
You can access the full Ecosystm Predicts report here
---