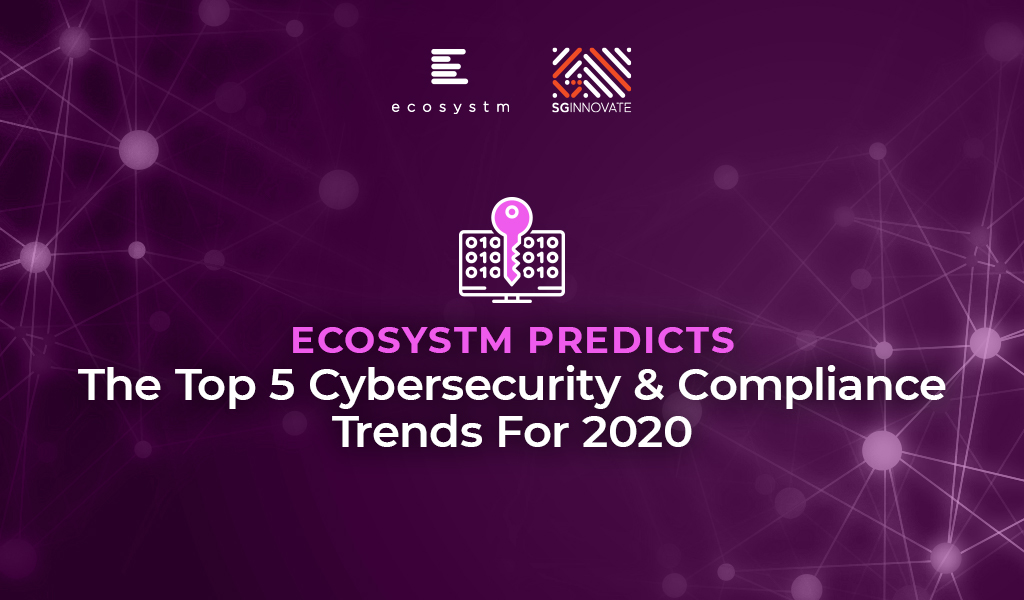 Cybersecurity will remain an important topic of discussion on the world forum. 2020 is predicted to see an increasing number of state-sponsored cyber-attacks especially on utilities and public infrastructure. In addition, the number of AI based devices will increase which will receive specific attention from regulators for data and cybersecurity. Finally, there will be opportunities for mergers and acquisitions and investments in established cybersecurity providers to remain innovative and growing.
Here are the Top 5 Cybersecurity Trends for 2020, that we believe, will impact both businesses and consumers in 2020.
The Top 5 Cybersecurity Trends for 2020
The Top 5 Cybersecurity Trends for 2020 are drawn from the findings of the global Ecosystm Cybersecurity Study and is also based on qualitative research by Ecosystm Principal Advisors Alex Woerndle, Carl Woerndle and Claus Mortensen.
API Vulnerabilities will Become a Main Hacker Target
APIs grant access and provide transparency for developers – providing access and insights from both internal and external data. But they are inherently insecure. We have already seen several high-profile API breaches and announced API bugs. For example, in October 2018, Google had to shut down Google+ after an API bug exposed details for over 500,000 users.
We believe the problem will get significantly worse in 2020, with API attacks quickly becoming one of – if not the most – frequent target for hackers.
Operational Technology Security will Continue to Lag in 2020
Operational Technology (OT) refers to the hardware and software used to monitor and manage how devices that run on an organisation's infrastructure perform. These devices have become smarter, remotely accessible and increasingly connected to networks. However, they were never designed with this in mind.
With organisations continuing to focus on data breaches – the investment in OT security will continue to lag. This will create a 'security debt' over coming years for those that do not invest in preventative controls now.
AI Training will Receive Attention from Regulators and the Public as a Possible Infringement of Privacy
News that Amazon's Alexa was eavesdropping on its users, and that Apple's Siri and Google's Assistant, also kept recordings to help train their AI raised many concerns about how data to train AI is collected and stored. Apart from the initial consternation in the press and on social media, nothing much seems to have happened from a regulatory perspective.
2020 will be the year when AI training relying on consumer data will start to become regulated.
Major GDPR Fines in 2020 will Force MNCs to Invest in Security Compliance
GDPR came into effect in May 2018, but we still have not seen huge amounts of fines being issued in the EU. Only two fines were issued in 2018, while at least 17 were known to be issued in the first half of 2019, totalling about EUR 52 million. In the third quarter of 2019, at least 12 fines were issued totalling about EUR 328 million.
The trend is clear: Expect to see a magnitude of companies across EU be penalised in 2020. We also expect several fines above EUR 100 million and GDPR impacting countries outside the EU.
Mergers & Acquisitions will Ratchet up Significantly in 2020
The fragmented global security market consists of thousands of vendors and consultancies. Every day a swathe of new start-ups announces their ground-breaking new technology. Coupled with significant investments in tertiary education and industry certifications for a growing workforce, the next generation of cybersecurity entrepreneurs are entering with force.
We believe that this creates both threats and opportunities for established cybersecurity providers that need to remain innovative and growing. Similarly, this presents smaller or more niche cybersecurity start-ups with an avenue for funding or acquisition.
Ecosystm in partnership with SGInnovate, the government-backed organisation that promotes Deep Tech in Singapore, released a series of four reports covering areas of mutual interest: Cybersecurity, Artificial Intelligence, Cities of the Future and Healthtech. 'Ecosystm Predicts: The Top 5 Cybersecurity Trends for 2020' report is a part of this collaboration and is available for download from Ecosystm and SGInnovate websites.
---
Download Report: The top 5 Cybersecurity trends for 2020
The full findings and implications of the report 'Ecosystm Predicts: The Top 5 Cybersecurity Trends for 2020' are available for download from the Ecosystm platform. Signup for Free to download the report and gain insight into 'the top 5 Cybersecurity trends for 2020', implications for tech buyers, implications for tech vendors, insights, and more resources. Download Link Below ?
---