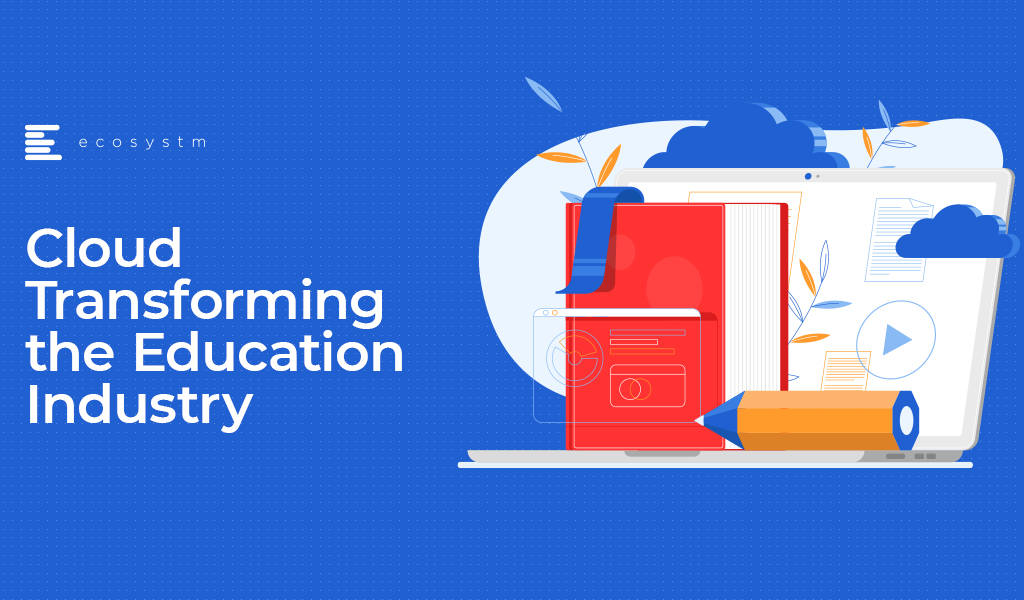 Over the last few years, there has been a noticeable increase in the number of educational institutions adopting technology to deliver solutions such as learning management, collaboration and support activities. The ubiquity of cloud solutions allows institutions to focus on enhancing the educational experience for students, teachers and administration through emerging teaching methods such as online platforms, interactive systems, and remote management of mission-critical projects and research.
Drivers of Transformation in Education
Education systems, depending on the country, face several problems ranging from achieving universal education goals, limited access to resources, student retention, student recruitment, to conducting cutting-edge research. Moreover, today's students are millennials and post-millennials, who are digital natives – pushing educational institutions to adopt technology to attract the right cohort and provide an education that equips the students for the workplace of the future. The industry is being driven to transform to keep up with student expectations on delivery, access to the resource, and how they choose to communicate with their educators and peers. Cloud-based offerings are helping educational institutions to overcome these challenges. The top drivers of Education are:
Personalised Learning. Modern pedagogy encourages personalised learning, where students can choose their own learning path. With the growth of virtual learning environments and eLearning technologies, institutions are able to change the ways they teach, tailoring the curriculum to individual needs, monitoring an individual's learning journey and providing just-in-time feedback.
Collaborative Education. Collaborative education principles are based on the premise that many students learn better by communicating with their peer network and not in silos. Also, increasingly, especially at the primary and secondary levels, parents are regarded as a significant stakeholder in a child's education.
Efficient Delivery. Most educational institutions are focused on efficient delivery, not only to be more financially sustaining but also so that students, teachers and administration have the ability to access information, including content and learning management systems, anytime and anywhere. The focus is on creating more a flexible work environment and increasing practicality and ease of use for students and educators.
The global Ecosystm AI study reveals the top priorities for educational institutions focused on adopting emerging technologies.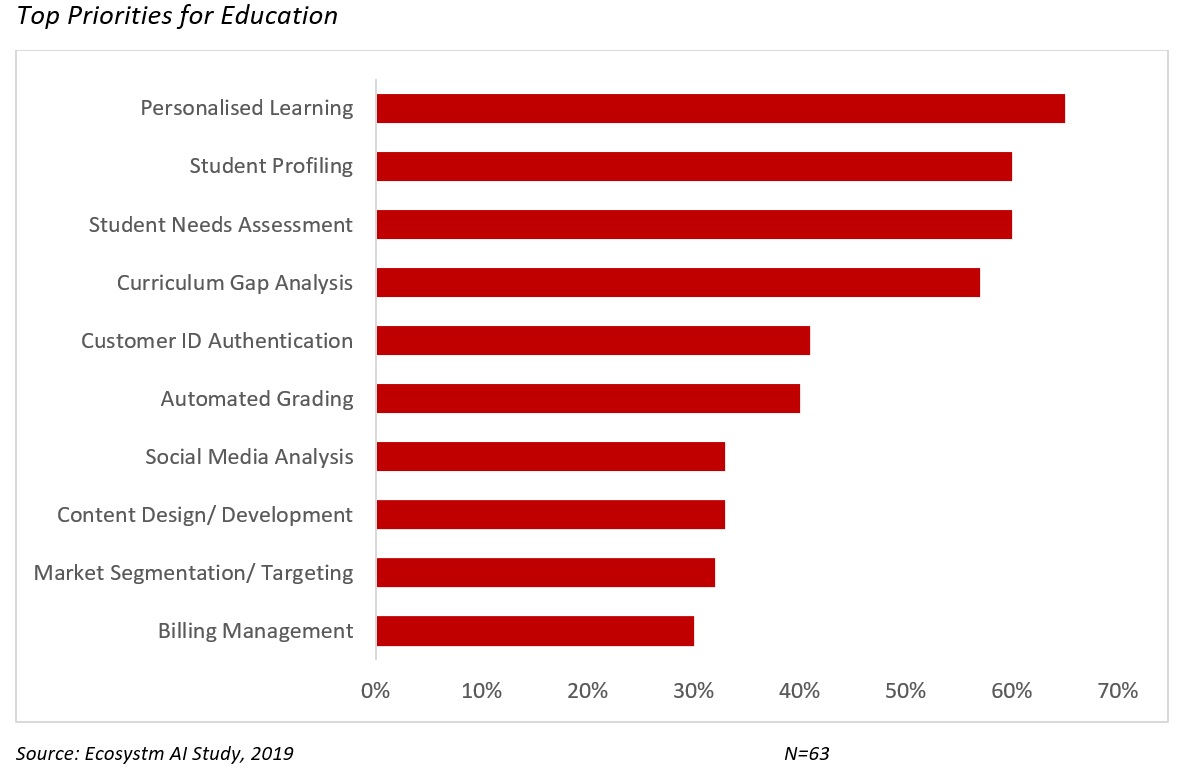 Cloud as an Enabler of Transformation
Cloud gives access to an immense knowledge base that students, educators, and institutions as a whole can leverage. The reach and availability of connectivity has increased the number of users of cloud-based education solutions for remote learning, which helps in the goal of personalised learning. Cloud solutions can also fulfil the demand for collaborative education with reliable and scalable infrastructure. It enables a more collaborative teaching and learning approach, with easy maintenance and management of monitoring and control solutions. Moreover, it promotes efficient delivery as educational institutions look to migrate legacy systems onto the cloud, and increasingly procure SaaS solutions. Cloud not only reduces the burden on an institution's CapEx but is increasingly being seen as an essential enabler of digital transformation (DX).
In fact, the key benefits that educational institutions are realising from cloud adoption, according to the global Ecosystm Cloud study, are:
Increased work process efficiency. As the industry becomes more complicated with the advances in pedagogy and technology, cloud is helping institutions to streamline workflows and enabling the participation of multiple stakeholders, some on campus and some remote. One must not forget that education requires an immense amount of administrative work, by both teachers and allied workforce.
Improved service levels and business agility. The scalability that Cloud provides, especially during high-volume periods such as admissions and examinations, gives educational institutions the ability to be agile. Also, back-up and disaster recovery are key in education, and many institutions start their Cloud journey with storage and back up.
Simplified sharing of systems/information across departments. Information sharing across different departments becomes easier with the rising penetration of mobile devices such as phones, tablets, and laptops in the classrooms for both students and teachers. Cloud technology ensures that the data shared between devices occurs safely and efficiently.
Examples of Transformation in Education
Virtual Classrooms and Schools
Unlike traditional methods of teaching, virtual classrooms are enabling students to learn and access content without their presence in schools or universities and from anywhere across the globe. The benefit of virtual schools and classrooms is that they do not require any heavy infrastructure or technical equipment to run. In a virtual world, teachers and students can connect with each other in a fast, flexible, and cost-effective way. It enables teachers to host live chats, share lectures and videos, create interactive learning activities and receive instant student feedback.
For example, Florida Virtual School is a full-time online school providing virtual K-12 education to students all over the world. It is a recognised eLearning school and provides custom solutions to meet students' requirements. This model is being replicated globally especially in remote areas where an actual school premise may not be feasible or is too expensive.
Research & Experimentation
The remote handling of projects and experiments is enabling education institutions to overcome the challenge of carrying them out in a controlled and safe environment. ChemCollective, a project of the National Science Digital Library in the US, enables students to interact with a flexible learning environment in which students can access online chemistry labs to apply formulas, perform experiments and learn in realistic and engaging ways, like working scientists.
Open Education Resources
Cloud is enabling the development of open source content for schools and colleges. The challenge with the existing books and lectures is that they get dated. Cloud is enabling a wealth of content through open repositories and legal protocols to allow a community to collaborate and update the information. Open educational resources (OERs) are developed and can be modified by the creators and administrators. The community can contribute to maps, slides, worksheets, podcasts, syllabi or even textbooks. The copyright is associated via legal tools such as Creative Commons licenses, so others can freely access, reuse, translate, and modify them.
As textbooks and course material can now be updated in real-time and offered through a cloud-based subscription model, this now opens up new streams of revenue for publishers. However, this then raises the conversation that textbook prices are increasing while students have no option to purchase second-hand books or sell books once they are done with them.
MOOCs
Massive Open Online Courses (MOOCs) platforms both provide content to students in areas of personal interest and additional sources of revenue to renowned global institutions. A quick look at Coursera's website shows online courses from reputed institutions such as MIT and Johns Hopkins University. There are still providers such as the Khan Academy that do not actively monetise the material they provide, but increasingly institutions look at MOOC to generate more revenues, by offering remote learning options to individuals, as well as by collaborating with local universities to make their courses available to overseas students – a previously untapped market.
Cloud computing is transforming the classroom and learning experiences the way educators, curriculum leads, and specialists recommend. The technology has a huge role to play in enabling transformation in Education – for national education systems, for educational institutions, and ultimately for the students.
How else do you think Cloud can transform the education industry? Let us know in your comments below.