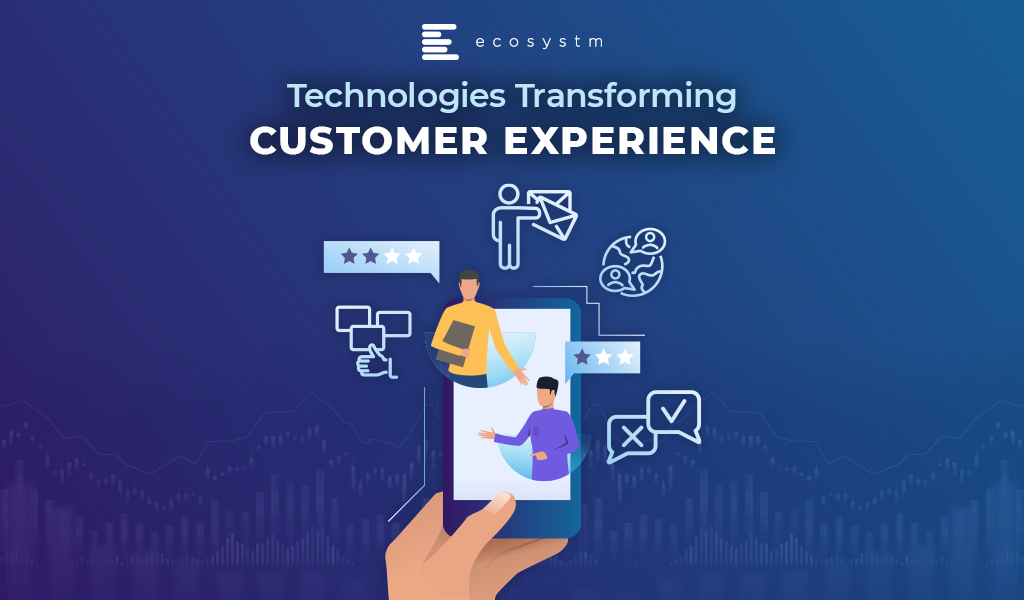 Brands are not built overnight, and today's customers tend to regard a brand's worth by the innovativeness of the products and services and by the customer experience (CX). CX is by no means a new concept but has gained significance and organisations focus on ways to stand out from the competition and drive deeper engagement with their customers. In today's 'Experience' economy CX is key to attracting new customers and retaining the ones the firms already have and cuts across the entire organisation – vertical marketing, strategy, product development or technology. Every business today needs to 'delight' its customers – offer a substandard experience and your brand might not survive long.
The global Ecosystm CX study discovered that improving CX is a key business priority for over 70% of organisations across industries – even in industries that are not considered customer-focused. These organisations were also asked why driving a consistent CX was challenging.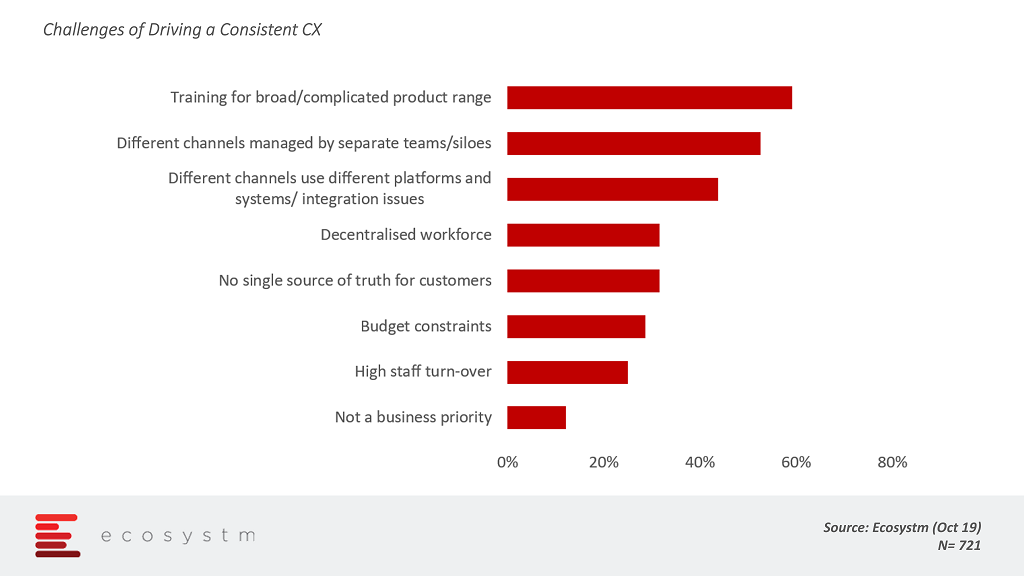 The key challenges boil down to managing the different stakeholders within the organisation – giving visibility and knowledge on all product offerings; managing the siloes created by each department and; in the end not being able to provide customers with one single source of truth. While many of these challenges are business-related, technology can be a key contributor to enhancing CX.
Technologies that can help you improve CX
There are many technologies that allow organisations to provide better CX, but the key to these technologies is how they collect, classify and provide actions on customer data. This is where AI comes into the picture, and why AI is at the heart of many CX offerings, making sense and aiding in the decision making around customer data.
AI-Enabled IoT
AI-enabled IoT devices are helping to enhance Customer Experience. The sensors in IoT devices such as wearables or personal assistants produce data which can be processed to derive useful insights, activity patterns and develop personalised communication. AI is improving the ability to take IoT generated data to personalise and customise actions and communication. For example, customers in gyms and fitness clubs can share their wearables data with their fitness trainers to customise their exercise routine and provide dietary recommendations.
Similarly, cars can be embedded with sensors which assess the users' driving habits. This can then be used to suggest improvements to driving style or adjust insurance premiums based on how they drive.
Progressive Insurance, for instance, offers its customers discounts based on their driving through its "Snapshot" program. Progressive is using its usage-based-insurance (UBI) telematics programme to monitor how its car insurance customers drive. Using an ODB telematics dongle and machine learning, the insurer is able to judge how a driver is performing on each journey.
Location-Based Targeting
With location-based tracking technology and GPS systems on smartphones and devices, more businesses are working to enable and provide geo-location services to customers. This presents opportunities to offer personalised shopping experiences and customised promotions and offers to the customers. Businesses are already using geo-location services to extend offers to customers – such as cinemas and theatres pushing notifications on movie timings and available discounts when customers are in the vicinity.
Location-based services also help to enhance the actual shopping experience. Lowe's has an app which allows their customers to navigate the large warehouse-like stores, helping them find products faster and easier. The app called The Lowe's Vision: In-Store Navigation app works using a combination of VR and location-based services.
Customer-Centric AR and VR
AR and VR technologies are enhancing the way customers engage with businesses. Companies adopting AR/VR can distinguish themselves from the competition by introducing higher touchpoints and deeply personalised experiences designed specifically for their customer journey. The retail industry has been at the forefront when it comes to experimenting with AR and VR technologies, in the customer space. Retailers have rolled out applications and services that lets consumers virtually try makeup, clothing, accessories and seek out the best look for them.
Financial institutions are also leveraging AR and VR to build customer-centric solutions for self-service and user training. Citibank worked with a mixed reality technology company to develop a trading platform combining 2D and 3D working environment to extrapolate insights from data. Traders work with hundreds of financial instruments, and with the mixed reality workstation, they can quickly identify market hotspots that they should be focusing on. The consequences – better trades!
The hospitality industry is also leveraging AR to improve CX, AR-based menus is a good example. Various fine dining restaurants have started offering AR based food menus which can display virtual food items and live 3D models of food to accurately represent both the appearance and the serving portion.
Obviously, the entertainment industry will leverage mixed reality to the fullest. For instance, The New York Times leverages VR for storytelling where readers can visualise the events described in some editions of the newspaper. The technology thus allows the description of the setup of a story making the viewers witness an emotional connect with the characters.
Voice capabilities for a seamless experience
With the advent of digital voice assistants and voice recognition AI, voice recognition has opened up avenues and opportunities for businesses to enhance the way customers interact with them whether through mobile apps or their call centres.
Nowadays, voice-capable apps enable customers to interact with services very easily. A good example is Starbuck's My Barista app, which allows customers to order via voice command or messaging. The coffee chain expanded its application by incorporating voice features to boost speed and convenience for placing and processing orders.
In conclusion, implementing technologies in a business could help businesses change the way the customers see and respond to a business. In addition to this, Improving customer service and using technologies can significantly reduce human inaccuracy, improve employee confidence and rapidly improve the character of a brand. By bridging the gap between a company and its client's, businesses are becoming CX oriented and are dedicating themselves to enhance CX.
Besides the above, which technologies do you think are beneficial in enhancing your CX?
Let us know in your comments below.