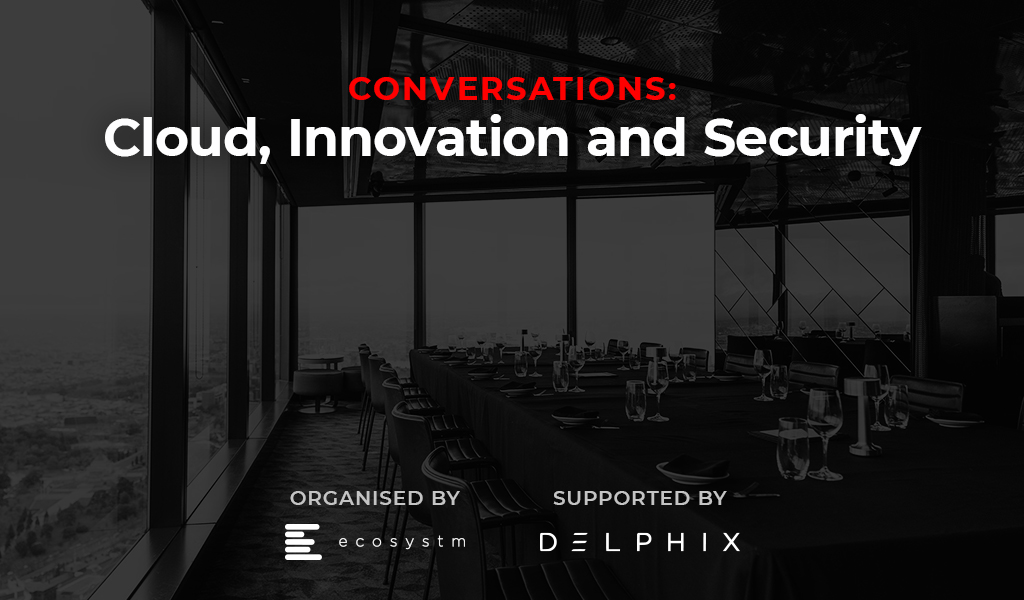 In June 2019, Ecosystm conducted Roundtables in Sydney and Melbourne supported by our partner Delphix. IT and business executives from data-intensive industries in Australia came together to discuss how to overcome data-driven constraints and enable innovation by effectively managing and distributing data in a secure environment within organisations. These are the salient points that emerged from the sessions.
In the course of my facilitation, I realised that the key focus of the discussions was on how organisations today handle their biggest asset – data – and manage all the moving parts in large and diverse settings and in very traditional enterprises that are transitioning into data-driven "New Age" businesses.
The Impossible Tech Triangle
Data has never been so prolific or strategic as it is today. Multiple sources of data generation and technologically savvy customers have seen a data explosion. Simultaneously, personalised services and data insights have seen a drive toward using the data for increased intelligence in most industries. The biggest risk organisations face and what CSOs and business leaders spend sleepless nights on, is significant disruption due to compromise. Moreover, the complexity of the technology platforms means that no organisation is 100% certain that they have it right and that they are managing the risk effectively.
Does this give rise to a similar situation as in Marketing and Advertising where the triangle of price, quality and speed appear to be unattainable by many organisations?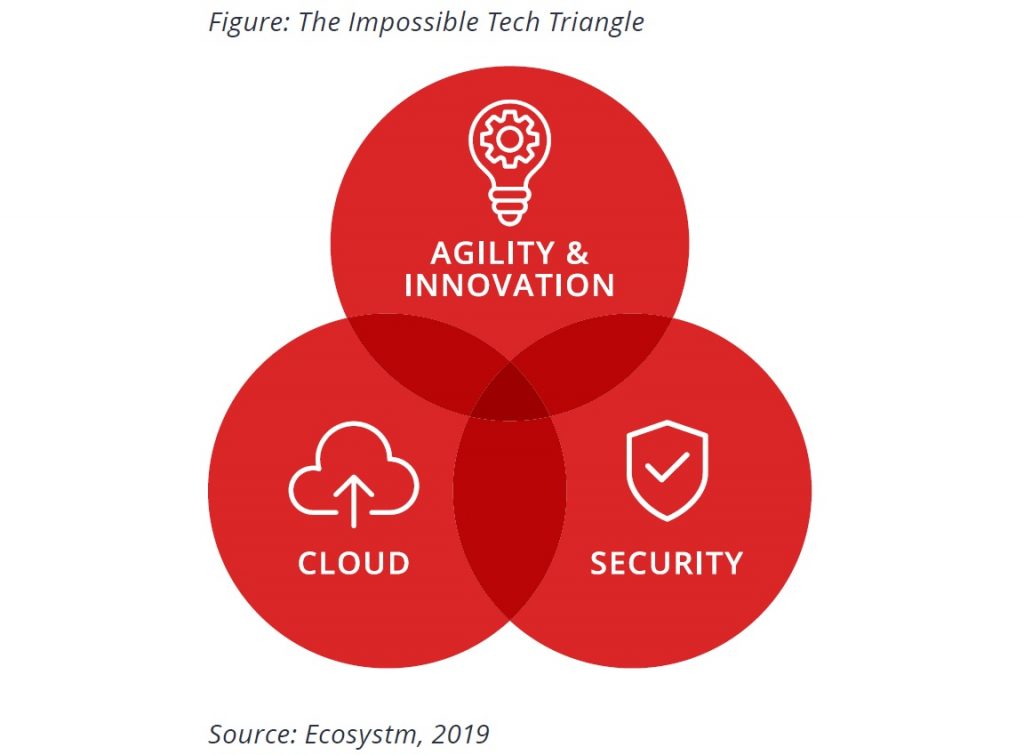 Key takeaways from the sessions
#1 Drivers & Challenges of Cloud adoption
The fact that discussions around agility and innovation can happen with the intensity it does today, is because organisations have embraced Cloud infrastructure and application development platforms and SaaS solutions.Every organisation's Cloud journey is unique, driven by its discrete set of requirements. Organisations choosing cloud may not have the resources to build in-house systems – or may choose to migrate to the cloud for various reasons such as cost, productivity, cross-border collaboration or for compliance.
When embarking on a Cloud journey it is important to have a clear roadmap that involves instilling a Cloud-First culture and training the IT organisation in the right skills for the environment. Concerns around costs, security, and data ownership are still synonymous with Cloud, therefore, organisations can distill the workload from a cost angle before jumping on Cloud. It is important for organisations to appreciate when a Cloud option will not work out from a cost angle and to have the right cost considerations in place, because organisations that do a straight resource swapover on Cloud are likely to end up paying more.
Data ownership and data residency can also be challenging, especially from a compliance standpoint. For some, the biggest challenge is to know the status of their data residency. The challenges are not just around legacy systems but also in terms of defining a data strategy that can deliver the desired outcomes and managing risk effectively without ruining the opportunities and rewards that data utilisation can bring. Cloud transformation projects bring in data from multiple and disparate sources. A clear data strategy should manage the data through its entire lifecycle and consider aspects such as how the data is captured, stored, shared, and governed.
#2 Perception on Public Cloud Security
While security remains a key concern when it comes to Cloud adoption, Cloud is often regarded as a more secure option than on-premise. Cloud providers have dedicated security focus, constantly upgrade their security capabilities in response to newer threats and evolve their partner ecosystem. There is also better traceability with Cloud as every virtual activity can be tracked, monitored, and is loggable.
However, the Cloud is as secure as an organisation makes it. The Cloud infrastructure may be secure, but the responsibility of securing applications lies with the organisation. The perception that there is no need to supplement public Cloud security features can have disastrous outcomes. It is important to supplement the Cloud provider's security with event-driven security measures within an organisation's applications and cloud infrastructure. As developers increasingly leverage APIs, this need to focus on security, along with functionality and agility should be emphasised on. Organisations should be aware that security is a shared responsibility between the Cloud provider and the organisation.
#3 Viewing Security as a Business Risk – not IT Risk
The Executive Management and the Board may be involved in the Security strategy and GRC policies of an organisation. But a consistent challenge Security teams face is convincing the Board and Senior Management on the need for ongoing focus and investments on cybersecurity measures. Often, these investments are isolated from the organisation's KPIs and are harder to quantify. But Security breaches do have financial and reputational impact on organisations. Mature organisations are beginning to view Security as a business risk requirement and not a matter of IT risk alone. One of the reasons why Senior Management and Boards do not understand the full potential of data breaches is because CISOs do not translate the implications in business terms. It is their responsibility to find ways to procure senior management buy-in, so that Security becomes part of the Strategy and the costs associated gets written into the cost of doing business.
Training sessions that educate the stakeholders on the basics of the risks associated with using knowledge systems can help. Simulation of actual cybersecurity events and scenario testing can bring home the operational issues around recovery, assessment and containment and it is important to involve senior stakeholders in these exercises. However, eventually the role of the CSO will evolve. It will become a business role and traverse Security across the entire organisation – physical as well as cybersecurity. This is when organisations will truly recognise investment in Security as a business requirement.
#4 Moving away from Compliance-driven Security Practices
Several organisations look at Security as part of their compliance exercise, and compliance is built into their organisational risk management programmes. Often, security practices are portrayed as a product differentiator and used as a marketing tool. An organisation's Security strategy should be more robust than that and should not only be focused on ticking the right compliance boxes.
A focus on compliance often means that Security teams continually create policies and call out non-compliance rather than proactively contribute to a secure environment. Applications teams do not always have the right skills to manage Security. The focus of the Security team should not be on telling Applications teams what they are doing wrong and writing copious policies, procedures and standards, expecting others to execute on the recommendations. There should be a focus on automated policy-driven remediation that does not restrict the Applications team per se but focuses on unsafe practices, when they are detected. Their role is to work on the implementation and set up Security practices to help the Applications team do what they do best.
#5 Formulating the Right Incident Response Policy
In the Ecosystm Cybersecurity study, 73% of global organisations think that a data breach is inevitable – so organisations largely believe that "it is not about if, but when". About 50% of global organisations have a cyber insurance policy or are evaluating one. This trend will only rise. Policy-driven incident response measures are an absolute requirement in all enterprises today. However, to a large extent even their incident response policies are compliance driven. 65% of the organisations appear to be satisfied with their current breach handling processes. It is important to keep evolving the process in the face of new threats.
Organisations should also be aware of the need for people management during an incident. Policies might be clear and adhered to, but it is substantially harder to train the stakeholders involved on how they will handle the breach emotionally. It extends to how an organisation manages their welfare both during an incident and long after the incident response has been closed off.
Over the two sessions, we explored how to achieve the 'unattainable triangle' of Cloud, Agility and Security. What I found interesting – yet unsurprising – is that discussions were heavily focussed on the role of Security. On the one hand, there is the challenge of the current threat landscape. On the other hand, Security teams are required to deliver a Cloud and an agile development strategy in tandem. This disconnect ultimately highlights the need for Security and data management to be embedded and managed from the very start, and not as an afterthought.
Here are some of the moments from the session –