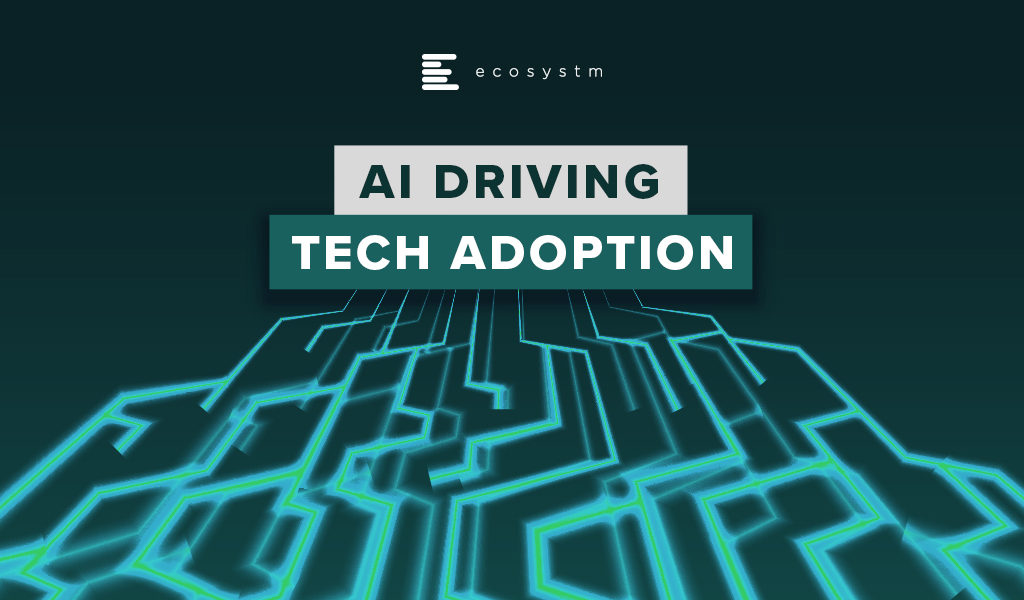 In our blog, Artificial Intelligence – Hype vs Reality, published last month we explored why the buzz around AI and machine learning have got senior management excited about future possibilities of what technology can do for their business. AI – starting with automation – is being evaluated by organisations across industries. Several functions within an organisation can leverage AI and the technology is set to become part of enterprise solutions in the next few years. AI is fast becoming the tool which empowers business leaders to transform their organisations. However, it also requires a rethink on data integration and analysis, and the use of the intelligence generated. For a successful AI implementation, an organisation will have to leverage other enabling technologies.
Technologies Enabling AI
IoT
Organisations have been evaluating IoT – especially for Industry 4.0 – for the better part of the last decade. Many organisations, however, have found IoT implementations daunting for various reasons – concerns around security, technology integration challenges, customisation to meet organisational and system requirements and so on. As the hype around what AI can do for the organisation increases, they are being forced to re-look at their IoT investments. AI algorithms derive intelligence from real-time data collected from sensors, remote inputs, connected things, and other sources. No surprise then that IoT Sensor Analytics is the AI solution that is seeing most uptake (Figure 1).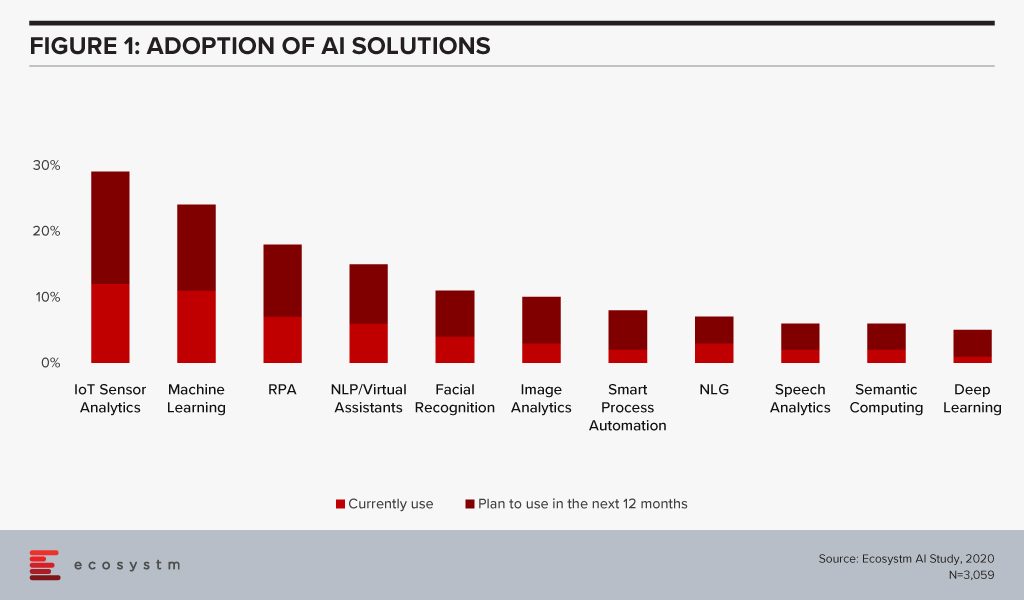 This is especially true for asset and logistics-driven industries such as Resource & Primary, Energy & Utilities, Manufacturing and Retail. Of the AI solutions, the biggest growth in 2020 will also come from IoT Analytics – with Healthcare and Transportation ramping up their IoT spend. And industries will also look at different ways they can leverage the IoT data for operational efficiency and improved customer experience (CX). For instance, in Transportation, AI can use IoT sensor data from a fleet to help improve time, cost and fuel efficiency – suggesting less congested routes with minimal stops through GPS systems, maintaining speeds with automated speed limiters – and also in predictive fleet maintenance.
IoT sensors are already creating – and will continue to create large amounts of data. As organisations look to AI-enabled IoT devices, there will be a shift from one-way transactions (i.e. collecting and analysing data) to bi-directional transactions (i.e. sensing and responding). Eventually, IoT as a separate technology will cease to exist and will become subsumed by AI.
Cloud
AI is changing the way organisations need to store, process and analyse the data to derive useful insights and decision-making practices. This is pushing the adoption of cloud, even in the most conservative organisations. Cloud is no longer only required for infrastructure and back-up – but actually improving business processes, by enabling real-time data and systems access.
Over the next decades, IoT devices will grow exponentially. Today, data is already going into the cloud and data centres on a real-time basis from sensors and automated devices. However, as these devices become bi-directional, decisions will need to be made in real-time as well. This has required cloud environments to evolve as the current cloud environments are unable to support this. Edge Computing will be essential in this intelligent and automated world. Tech vendors are building on their edge solutions and tech buyers are increasingly getting interested in the Edge allowing better decision-making through machine learning and AI. Not only will AI drive cloud adoption, but it will also drive cloud providers to evolve their offerings.
The global Ecosystm AI study finds that four of the top five vendors that organisations are using for their AI solutions (across data mining, computer vision, speech recognition and synthesis, and automation solutions) today, are also leading cloud platform providers (Figure 2).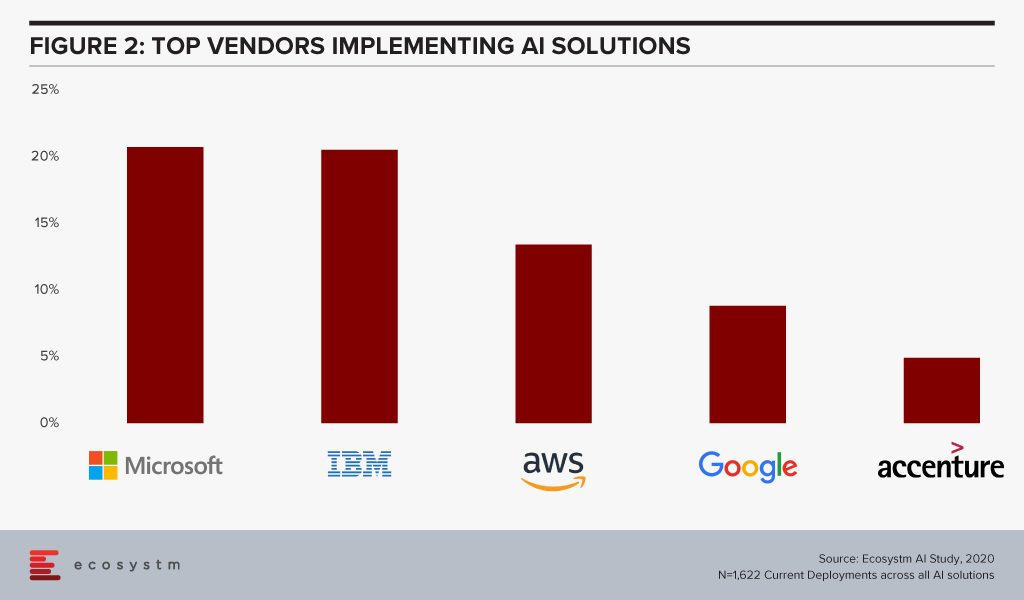 The fact that intelligent solutions are often composed of multiple AI algorithms gives the major cloud platforms an edge – if they reside on the same cloud environment, they are more likely to work seamlessly and without much integration or security issues. Cloud platform providers are also working hard on their AI capabilities.
Cybersecurity & AI
The technology area that is getting impacted by AI most is arguably Cybersecurity. Security Teams are both struggling with cybersecurity initiatives as a result of AI projects – and at the same time are being empowered by AI to provide more secure solutions for their organisations.
The global Ecosystm Cybersecurity study finds that one of the key drivers that is forcing Security Teams to keep an eye on their cybersecurity measures is the organisations' needs to handle security requirements for their Digital Transformation (DX) projects involving AI and IoT deployments (Figure 3).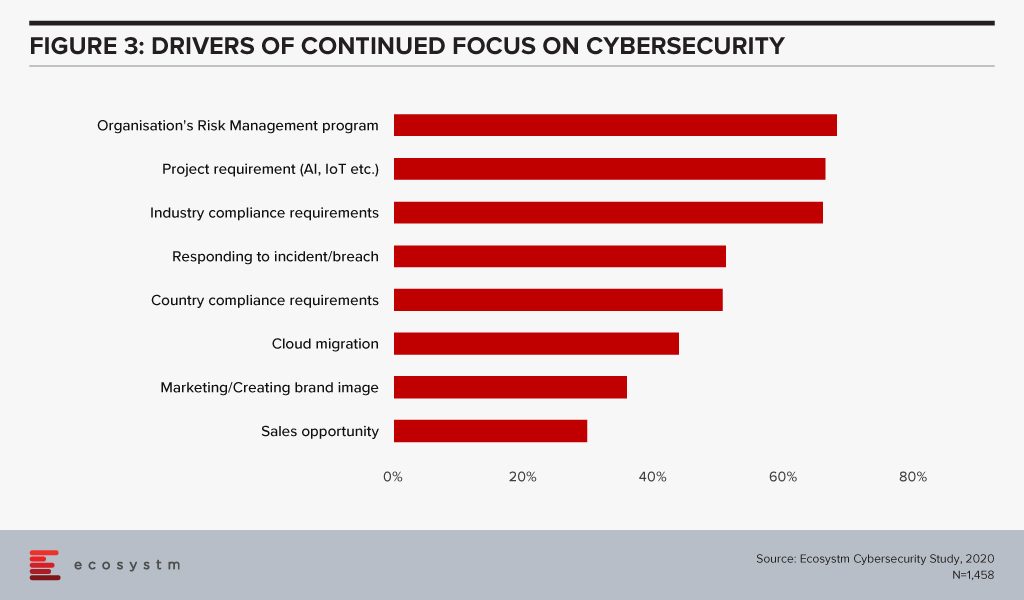 While AI deployments keep challenging Security Teams, AI is also helping cybersecurity professionals. Many businesses and industries are increasingly leveraging AI in their Security Operations (SecOps) solutions. AI analyses the inflow and outflow of data in a system and analyses threats based on the learnings. The trained AI systems and algorithms help businesses to curate and fight thousands of daily breaches, unsafe codes and enable proactive security and quick incident response. As organisations focus their attention on Data Security, SecOps & Incident Response and Threat Analysis & Intelligence, they will evaluate solutions with embedded AI.
AI and the Experience Economy
AI has an immense role to play in improving CX and employee experience (EX) by giving access to real-time data and bringing better decision-making capabilities.
Enterprise mobility was a key area of focus when smartphones were introduced to the modern workplace. Since then enterprise mobility has evolved as business-as-usual for IT Teams. However, with the introduction of AI, organisations are being forced to re-evaluate and revamp their enterprise mobility solutions. As an example, it has made mobile app testing easier for tech teams. Mobile automation will help automate testing of a mobile app – across operating systems (Figure 4). While more organisations tend to outsource their app development functions today, mobile automation reduces the testing time cycle, allowing faster app deployments – both for internal apps (increasing employee productivity and agility) and for consumer apps (improving CX).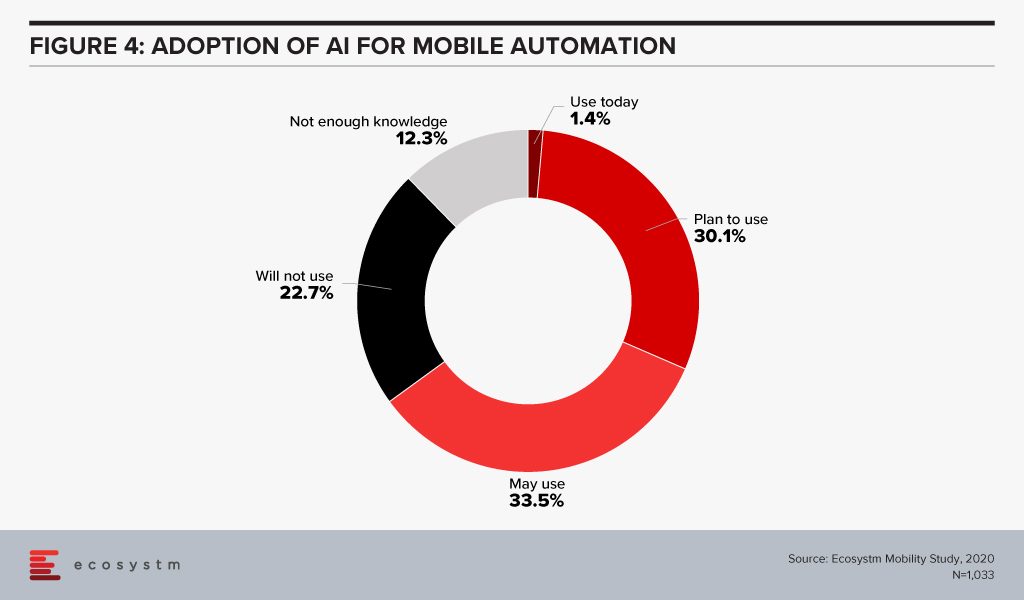 CX Teams within organisations are especially evaluating AI technologies. Visual and voice engagement technologies such as NLP, virtual assistants and chatbots enable efficient services, real-time delivery and better customer engagement. AI also allows organisations to offer personalised services to customers providing spot offers, self-service solutions and custom recommendations. Customer centres are re-evaluating their solutions to incorporate more AI-based solutions (Figure 5).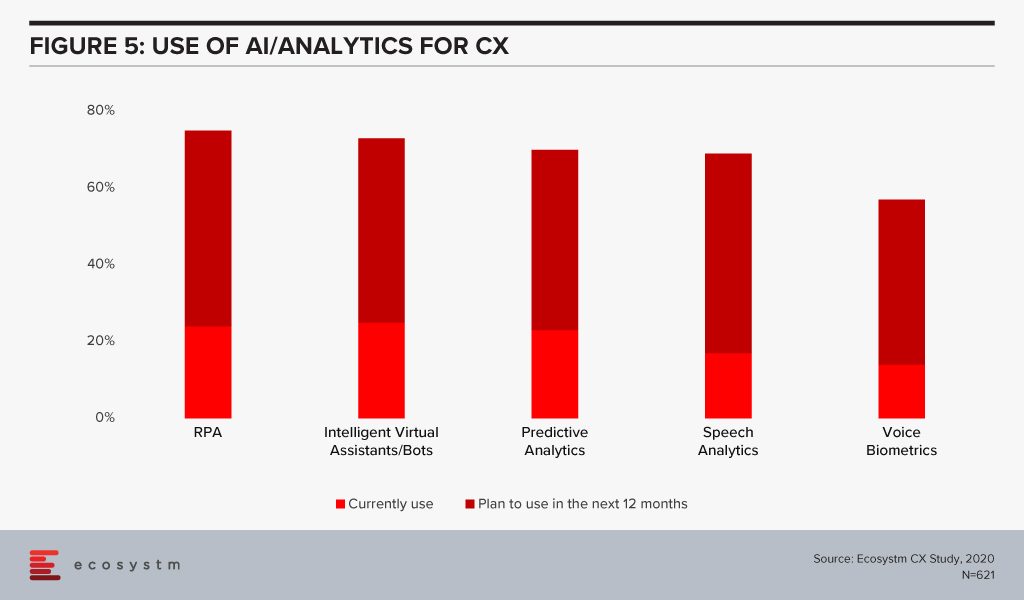 The buzz around AI is forcing tech teams to evaluate how AI can be leveraged in their enterprise solutions and at enabling technologies that will make AI adoption seamless. Has your organisation started re-evaluating other tech areas because of your AI requirements? Let us know in the comments below.
---
For more insights from our AI Research, click below
---