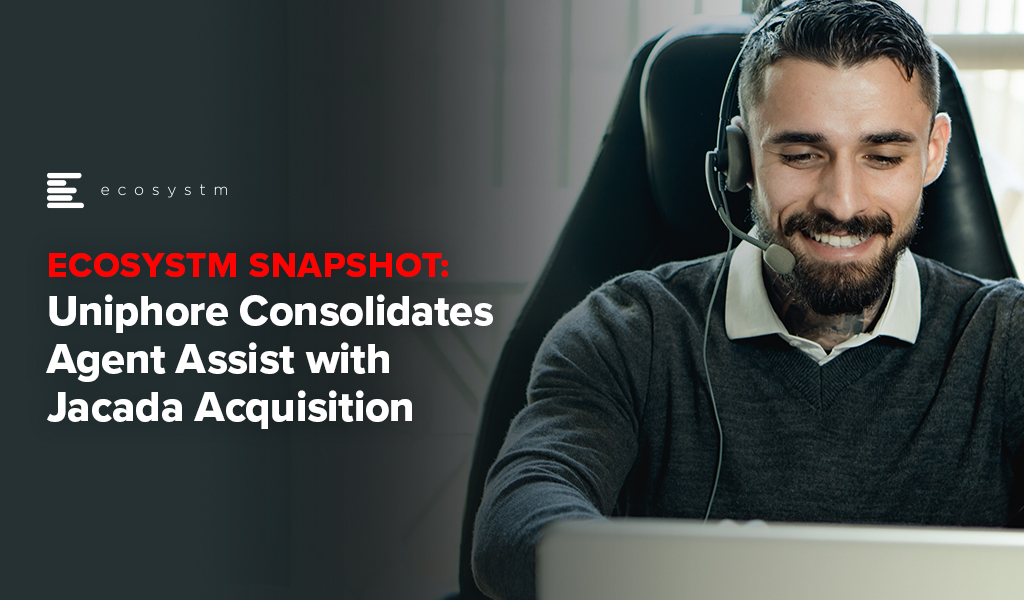 Uniphore, a provider of Conversational Automation solutions, has announced their intention to acquire Jacada, an Israel-based autonomous customer experience solution provider. Jacada's low-code/no-code platform will help Uniphore solve complex contact centre challenges using AI and automation. Jacada's strengths include a low-code optimised interface and AI-enabled contact centre capabilities leading to automation across agent and customer engagements, enhanced knowledge-based guidance for agents and end-to-end analytics and insights.
Jacada has been in the market for around three decades and over time they have built various unified desktop and process optimisation products including RPA for customer service and support.
The acquisition follows Uniphore's USD 140 million Series D funding round led by Sorenson Capital Partners in March 2021. Earlier this year, Uniphore acquired Emotion Research Lab to add AI and machine learning video capabilities that identify the emotion and engagement levels over video-based communications.
Growing Importance of Agent Assist Solutions
With agents facing pressure in offering customers satisfactory outcomes and at the same time having to manage the high volume of inbound transactions, Agent Assist solutions are high on the agenda for organisations. Remote working has made things even more complex where agents are cut off from their supervisors and not able to walk up to them to seek guidance. These "immediate challenges" have not yet been addressed in every contact centre even a year after the crisis. This presents a good opportunity for Uniphore to own the front and back-office integration piece. The back-office integration segment has become increasingly important as there is a need to fulfill customer requests by ensuring the conversation thread with back-office systems is followed through and communicated back to the agent. This need was heightened during the pandemic due to delays in product arrivals, in shipments, and other delays and miscommunication.
The big challenge also lies in making Agent Assist help the agent perform better and not make their lives more stressful! The design element of Agent Assist is critical. The solution must fit well into the other systems and applications such as CRM, Knowledge Management, and Speech Analytics. You don't want another solution being pushed on to the agents when they are under pressure to meet customer demands during a 15-minute call.
Conversational Automation and Agent Assist must be evaluated carefully as you are integrating the solution into multiple environments with the clear objective of ensuring that agents only get the right information, in a manner that makes sense for them and at appropriate intervals.
The Growing Importance of Low-code No-code (LCNC)
As contact centres focus on business agility and pivoting fast to cope with sudden market shifts, organisations will benefit from moving programming closer to the contact centre – requiring very little assistance from IT teams.
Having a LCNC platform will now allow Uniphore to build front and back-office experiences in a multi-vendor environment. The need to use intelligent APIs to build workflows is high on the agenda and it helps eradicate the costly efforts and time spent on developers to further extract and build new capabilities at speed.
Jacada has been pushing their value proposition on RPA and Conversational Automation for some time now and this blends well with where Uniphore is going with AI and Automation in the contact centre space. The acquisition will also give Uniphore access to other contact centre technologies that will help them to compete better with a wider range of solutions. With the challenges in managing the agent experience, we can also expect the Workforce Experience Management (WEM) segment to play an important role and intersect with Agent Assist to manage and elevate the agent experience.