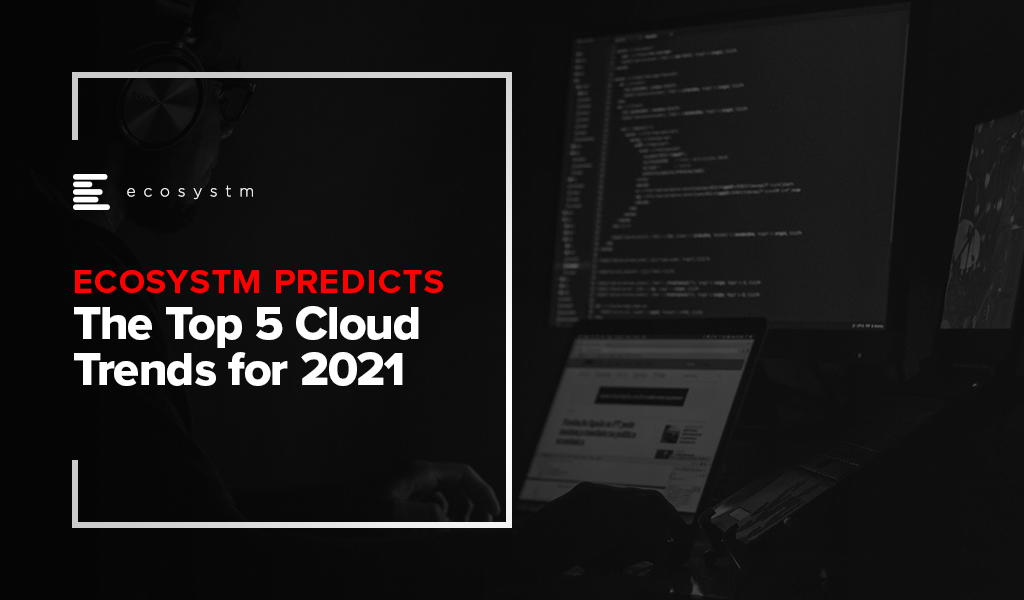 As organisations stride towards digitalisation, re-evaluating their business continuity plans and defining how the Future of Work will look for them, cloud adoption is expected to surge. Almost all technologies being evaluated by organisations today have cloud as their pillar. Cloud will the key enabler for ease of doing business, real-time data access for productivity increase, and process automation.
Ecosystm Advisors Claus Mortensen, Darian Bird and Tim Sheedy present the top 5 Ecosystm predictions for Cloud Trends in 2021. This is a summary of our cloud predictions – the full report (including the implications) is available to download for free on the Ecosystm platform here.
The Top 5 Cloud Trends for 2021
2021 Will be All About SaaS
2020 was a breakout year for SaaS providers – and a tough one for a lot of on-premises software vendors. SaaS (or mainly SaaS) providers like Salesforce, Zoom, Microsoft had record growth and some of the best quarters in their history, while other mainly on-premises software providers have had poor quarters. SAP is even accelerating the transition to a 100% cloud-based business as their revenue suffers. The race to deploy SaaS tools and platforms is well and truly happening. Many of the usual ROI models and business cases have been abandoned as the need for agility – to drive business change at pace trumps most other business needs. Ecosystm data validates this
This trend will continue in 2021 – in fact, we expect it to accelerate. Most SaaS solutions (such as CRM, ERP, SCM, HRM etc.) are implemented by less than 30% of businesses today – which means the upside for the SaaS providers is huge.
Hybrid Cloud Will Finally Become Mainstream
The sudden move to remote working in 2020 forced most organisations to increase their use and reliance on cloud-based applications. Employees have relied on collaborative tools such as Zoom, Microsoft Teams and WebEx to conduct virtual meetings, call centre workers had to respond to calls from home – most if not all relying on cloud-based apps and platforms. This trend is set to continue going forward. Ecosystm research finds that 44% of organisations will spend more on cloud-based collaboration tools in the next 6-12 months.
But the forced adoption of these tools has also prompted many – especially larger organisations – to worry about losing control of their IT resources, including worries related to security and compliance, cost, and reliability. As for the latter, both Microsoft Azure and Zoom experienced outages after the pandemic hit and this has made many organisations wary of relying too much on a single public cloud platform. Ecosystm therefore expects a sharp increase in focus on hybrid cloud platforms in 2021 as IT Teams seek to regain control of the apps and services their employees rely the most upon.
Carrier Investment in 5G Will Give Edge Computing a Boost
The gap between the hype around edge computing and the actual capabilities it offers will narrow in 2021 as 5G networks are built out. One of the most promising methods of deploying edge computing involves carriers embedding cloud capacity in their own data centres connected to their 5G networks. This ensures data does not unnecessarily leave the network, reducing latency and preserving bandwidth. This combination of 5G and the Edge will be of particular benefit to applications that until now have faced a trade-off between mobility and connectivity. Over the last twelve months, the major hyperscalers announced their 5G edge computing offerings, and some of the major global telecom providers have served as test cases by partnering with at least one hyperscaler and will likely add more over the next year. Expect this ecosystem to expand greatly in 2021.
Cloud environments can benefit from pushing computing-heavy workloads to the Edge in much the same way as IoT and provides a great platform for managing the edge computing endpoints. The flipside of pushing containers to the Edge will be the increased complexity and the fact that the number of attack surfaces will increase. Containerisation must therefore be deployed with security at its core.
Stateful Applications Will Move to the Cloud with Containers and Orchestration
As organisations seek to migrate workloads and applications between platforms in an increasingly hybrid cloud environment, the need for "lifting and shifting", refactoring and partitioning applications will increase. These approaches all have their shortcomings, however. Lifting and shifting an application may limit its functionality now or in the future; refactoring may take too long or be too costly; and partitioning is often not feasible or possible. A better approach to this task is to modernise the applications to make use of application containers like Docker, Windows Server Containers, Linux VServer and so on, to enable a faster and more seamless way to migrate applications between platforms. We also see container orchestration environments like Kubernetes and containerised development and deployment platforms like IBM's Cloud Paks.
How these technologies are used to deploy stateful applications in multicloud environments will evolve. A raft of container management platforms, based on Kubernetes, are being released to simplify what was once a complex DIY process. New entrants will look to challenge the cloud hyperscalers, virtualisation giants, and Kubernetes specialists. The emerging features that previously required cobbling together third-party tools, like service mesh, data fabric, and machine learning, will speed up containerisation of stateful core applications. The deployment of containers on bare metal rather than in virtualised environments will also gather pace. The most challenging task will be delivering containerised applications at the Edge, forcing developers and platform providers to create inventive solutions.
Serverless will take us a step closer to NoOps
As the application lifecycle speeds up and the distinction between development and operations shrinks, the motivation to adopt serverless computing will grow in 2021. While NoOps, the concept that operations could become so automated that it fades into the background, is still a distant goal, serverless computing will make a stride in that direction by abstracting the application from the infrastructure. Having seen the agility benefits of a microservices architecture, many DevOps teams will experiment with breaking services down further into functions. Moreover, the pay-as-you-go model of serverless will appeal to OpEx driven organisations. Expect stories of bill shock, however, as were seen in the early days of cloud adoption. While AWS Lambda is currently considered the serverless industry standard, it is likely that in 2021, Microsoft, Google, and IBM will ramp up efforts in this space. Each of these providers will build out their offering in terms of languages supported, event triggers, consumption plans, machine learning/AI options, observability, and user experience.
---