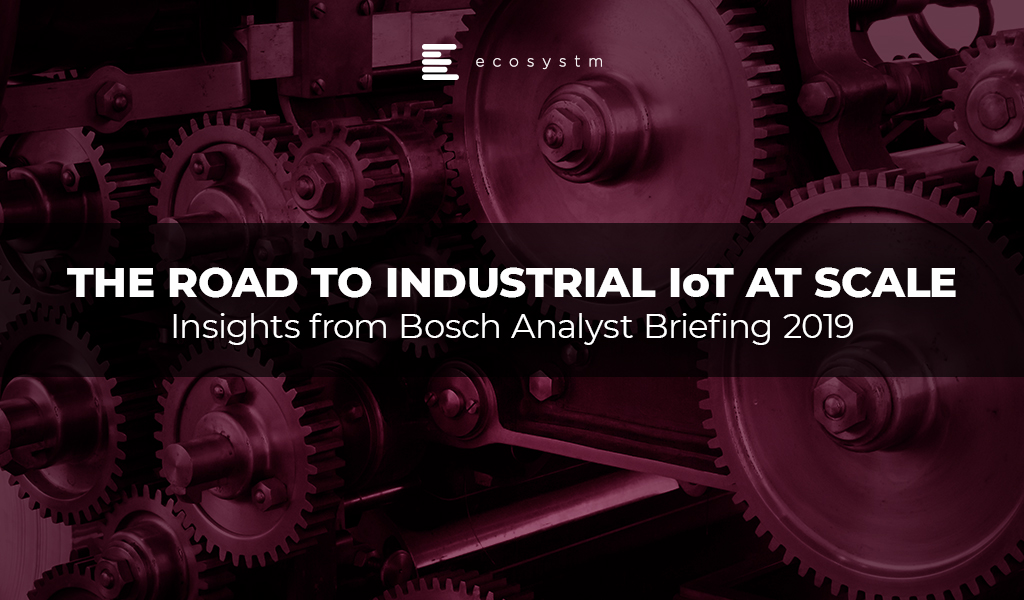 Authored by attending Ecosystm analysts, Ullrich Loeffler (Chief Operating Officer), Kaushik Ghatak (Principal Advisor, Digital Transformation and Supply Chain) and Liam Gunson (Director, Product and Solutions)
Bosch Software Innovation (Bosch SI) hosted its annual analyst briefing in Singapore on 6th December 2019 to provide an update on its business, strategy and solution portfolio in the APAC region.
Bosch has expanded its capability and reshaped its go-to-market approach in a bid to not only position itself as a world leading IoT company, but also help move the IoT market forward.
A number of new solutions were demonstrated through the day. From tenants asking their building management if the gym was busy, to smartphones detecting a manufacturing fingerprint so you could avoid buying a counterfeit.
At the heart of the business updates though was a new organisational approach to prove markets and integrate user perspectives into solution development. Bosch is looking to achieve this by setting up dedicated, cross-divisional entities which can focus on user needs to drive growth while collating requirements for the Bosch SI centres.
Bosch SI essentially will perform a role of an IoT business incubator within Bosch Group, and once a vertical within Bosch SI has reached a certain level of business, it is spun off into a separate company focusing on that area. There are three business units that have met the threshold and have spun off so far.
Broader challenges still remain for IoT adoption. Patchy connectivity, varied regulation, and a lack of standardisation will continue to hamper the IoT market. However, from a user perspective the timing is right. Ecosystm research shows that while IoT uptake is limited, intention is strong. Enterprises will be looking for partners with a willingness to understand their needs and design around them, in order to help get initial projects off the ground.
Bosch Business Update – From Innovation to Commercialisation
Bosch SI was created to build Internet of Things (IoT) solutions, leveraging Bosch's 133-year experience in developing and manufacturing products for the automotive, industrial and consumer segments. Founded in 2008, by 2019 Bosch SI has established 10 global offices, of which some have solution development capabilities, employing over 700 IoT experts. Four of the Bosch SI offices are located in Asia Pacific – Singapore, Nanjing, Shanghai and Tokyo.
Figure 1: Bosch Software Innovations in Numbers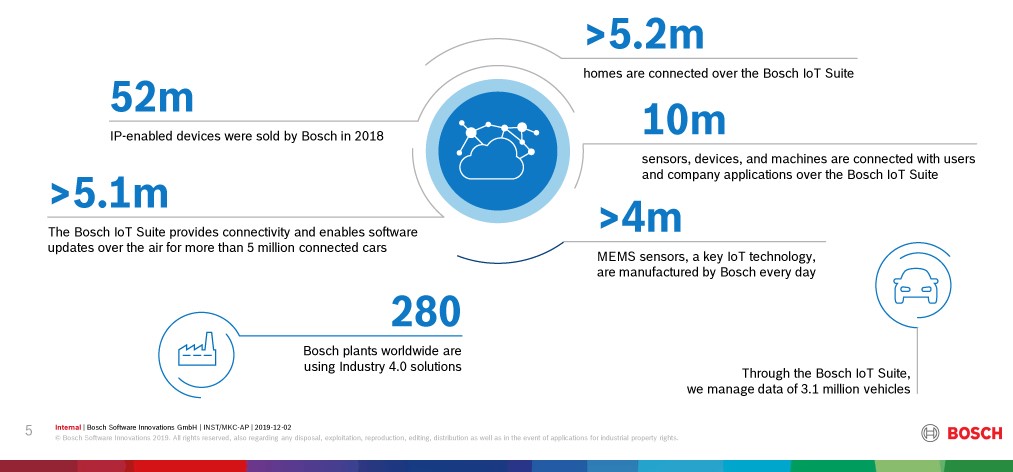 The Bosch IoT Vision and Strategy is not limited to Bosch SI's but spans across the full Bosch Group. An indication of the dedication to the IoT story is that Bosch is committed to enabling connectivity for all existing product portfolios ranging across its industrial, automotive, manufacturing and consumer product lines by 2021.
Another indication of Bosch's IoT business maturing is that in 2018 Bosch it formed 3 new subsidiaries, each being a dedicated entity to take targeted IoT Industry solutions to market. The new business entities focus on
Connected Industry
Connected Mobility
Residential IoT
with other areas such as Agriculture, Retail, Energy, Mobility, Manufacturing and Home & Building as potential future spin-offs. The announcement is significant as it separates the innovation and commercialisation functions. Bosch SI becomes the dedicated R&D and incubation engine to take new industry solutions to a defined threshold before a dedicated entity is formed to achieve commercial scale.
Despite the fact that IoT has been greatly overhyped since the term was coined by Kevin Ashton in 1999, Ecosystm research shows evidence that adoption is accelerating across the region. Figure 2 outlines the current and planned adoption of 'sensor-based analytics' within organisations. The research strongly supports Bosch's timing for investments in scaling the commercialisation of its solutions.
Figure 2: Industry Adoption of Sensor-Based Analytics
Market Pull over Technology Push is creating proven Industry Use Cases
The locations and specialisations of Bosch's Innovation Centres across Asia are no accident and result directly from engagements with local clients. Each innovation centre specialises in certain solutions that have arisen from the productisation of solutions developed for customers. This 'market pull' strategy is a clear differentiation to the commonly practiced 'technology push' approach which has seen many vendors struggle to gain traction for their IoT solutions. Key industry solutions developed by Bosch SI are:
Agriculture – Bosch Plantect: (Japan). Plantect is a sensor-based monitoring system for early detection and prevention of plant diseases in greenhouses. The current solution targets greenhouse farmers for tomatoes, cucumber and strawberries.
Smart Building – Bosch Lift Manager (Singapore). Lift Manager is an AI-supported solution that can be retrofitted in existing lifts with set algorithms to monitor and predict lift malfunctions and enable predictive maintenance.
Smart Building – Connected Buildings (Singapore). Bosch Connected Building leverages cameras and sensors to optimise business operations such as Air Quality, Light Monitoring & Control, Lift Monitoring, Occupancy Tracking, Asset Tracking, Carpark Monitoring, and Object Tracking.
Manufacturing – Secure Product Fingerprint Solutions (China). Secure Product Fingerprint captures a unique fingerprint for products to combat counterfeits and connect manufacturers with their users.
The Bosch IoT Ecosystem – Open Source and API enabled Platform
Bosch has realised that IoT is a concept that cannot be owned and delivered by a single entity. As such Bosch aims to establish its Bosch IoT Suite as the platform to connect any Bosch or third party "things" to deliver targeted industry services and solutions.
Bosch IoT Suite can be deployed on Bosch's own IoT Cloud or through Cloud partners such as AWS, Microsoft or Huawei (for China only). It is a PaaS offering that packages unified device APIs to connect things with device management, software updates over the air, data management and security capabilities. An inbuilt analytics engine assists with business logic tools to drive business value out of the data collected. The open source and open standards architecture promote the development of in-house or third-party industry applications as platform add-ons and use cases.
Bosch and Market Outlook
IoT has been one of the most hyped 'buzz words' for the last few years but true market adoption is yet to follow suit. Ecosystm research shows that market intention is positive with more industry-focused uses cases and simpler 'plug and play' style solutions available that require less CapEx and shorter time to value.
Bosch is well positioned to capitalise on this trend. Its focus on developing proven use cases for targeted industry sectors and then working with anchor customers and testing the solutions internally within Bosch, is a clear differentiator in the market. Commercially scaling these solutions will remain the key challenge as decision stakeholders may not be the key beneficiary of the solution. In the connected building example, tenants will be the key beneficiary of finding quiet gym slots or having better air quality but it remains questionable whether this will convince the building owner or operator to put pen to paper and sign-off on relevant IoT investments. An area that Bosch needs to focus on, is the articulation of its business proposition and more importantly connect this to the business value to prospects and customers. As solutions scale in the market, broader sales and partner teams will need to be enabled to bring this message to the relevant stakeholders. The fact that these stakeholders may sit outside Bosch's traditional comfort zone will not make this endeavor easier.
Bosch will also face varying market regulations that could create road bumps in scaling its solutions. The Bosch Lift Manager solution as an example provides sensor diagnostics for predictive maintenance scheduling. Many existing lift maintenance contracts however follow local regulations that require ongoing scheduled servicing of elevators which reduces the cost savings potential.
The decision to establish standalone IoT entities is seen as a strong commitment and the right move to take advantage of the presented IoT opportunity. The high degree of customer advocacy and industry experience further makes Bosch a strong contender of the Industry 4.0 revolution.