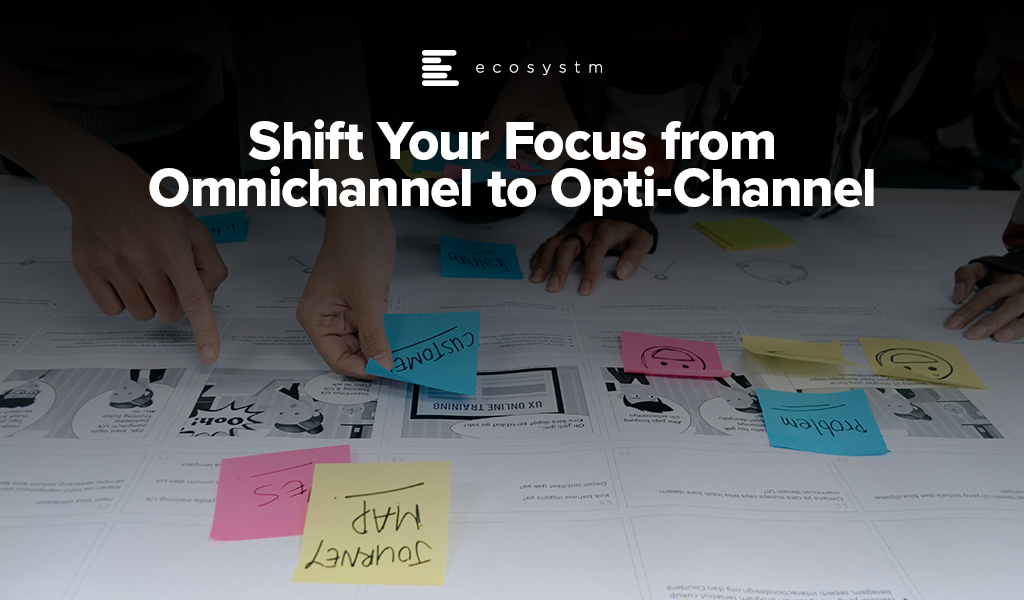 Customer Experience teams are focused on creating a great omnichannel experience for their customers – allowing customers to choose their preferred channel or touchpoint. And many of these teams are aware of the challenges of omnichannel – often trying to prise the experience from one channel into another. Too often we create sub-optimal experiences, forcing customers to work harder for the outcome than if they were using other channels.
I know there have been times when I have found it easier to jump in the car and drive to a store or service centre, rather than filling in a convoluted online form or navigating a complex online buying process. I constantly crave larger screens as full web experiences are often better than mobile web experiences (although perhaps that is my ageing eyes!).
One of the factors that came out in a study conducted by Ecosystm and Sitecore is that customers don't just want personalised experiences – they want optimised experiences. They want to have the right experience on the right device or touchpoint. It is not about the same experience everywhere – the focus should be on optimising experiences for each channel.
We call this "opti-channel".
Use an Opti-Channel Strategy to Guide Investment and Effort
This is what you are probably doing already – but by accident. I suggest you formalise that strategy. Design customer experiences that are optimised for the right channel or touchpoint – and personalised for each customer. Stop forcing customers into sub-optimal experiences because you were told to make every customer experience an omnichannel one.
The move towards opti-channel accelerates your ability to provide the best experience for each customer, as you ask the important question "Does this channel suit this experience for this customer?" before the fact – not after the experience has been designed. It also eliminates the rework of existing experiences for new channels and provides clear guidance on the next-best action for each employee.
There Will be Conflict Between Opti-Channel and Personalisation
The challenge for opti-channel strategies will be to align them to your personalisation strategy. How will it work when you have analytics driving your personalisation strategy that say customer X wants a fully digital experience but your opti-channel strategy says part of the digital experience is sub-standard? And the answer to this lies in understanding the scope of your experience creation – are you trying to improve the existing experience or are you looking to create a new improved experience?
If you are improving the existing experience, then you have less license to shift transactions and customer between channels – even if it is a better experience.
If you are creating a new experience, you have the opportunity to start again with the overall experience and prove to customers that the new experience is actually a better one.
For example, when airlines moved away from in-person check-in to self-check-in kiosks, there was an initial uproar from customers who had not yet experienced it – claiming that it was less personal and less human. But the reality is that the airlines took the check-in screen that the agents were using and made it customer-facing. Travellers can now see the seats and configuration and select what is best for them.
This experience was reinvented again when the check-in moved to web and mobile. By turning the screen around to the customer, the experience actually felt more human and personal – not less. And by scattering agents around the screens and including a human check-in desk for the "exceptions", the airlines could continue to optimise AND personalise the experience as required.
Opti-Channel Opens Many New Business Opportunities
Your end-state experience should consider what is the best channel or touchpoint for each step in a journey – then determine the logic or ability to shift channels. Pushing customers from a chatbot to web chat is easy. Moving from in-store to online might be harder, but there are currently some retailers looking to merge the in-store and digital experience – from endless aisle solutions to nearly 100% digital in-store. Some shoe and clothing stores offer digital foot and body scans in-store that help customers choose the right size when they shop online. And we are beginning to see the rollout of "magic mirrors" – such as one retailer who has installed them in fitting rooms and you can virtually try different colours of the same item without actually getting them off the shelf.
Businesses are trying to change customer behaviour – whether it is getting them into stores or mainly shopping online or encouraging them to call the contact centre or to even visit a service centre. Creating reasons for why that might be a better option, while also providing scaled-back omnichannel options is a great way to meet the needs of existing customers, create brand loyalty and attract new customers to your company or brand.