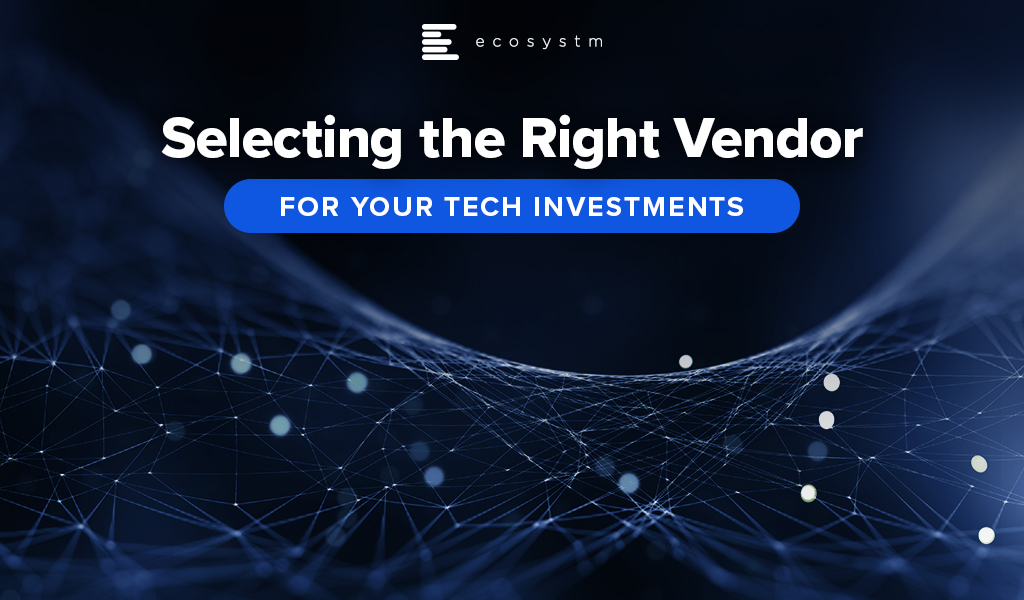 With the advancements in the technology landscape, the CIO's role has become increasingly complex. One of the key challenges they face is in emerging and newer technology implementations, which require them to identify and partner with newer tech vendors. The common challenges that tech buyers face today include:
The emergence of newer technologies that are catching the fancy of the C-suite and they are expected to adopt and deliver
Getting management buy-in for IT investments (increasingly including discussions on ROI)
Need to involve business stakeholders in tech decision-making
Lack of sufficiently skilled internal IT
Engagement with multiple tech vendors (including newer vendors that they have to establish a relationship with)
Digital transformation projects that might require an overhaul (or at least a re-think) of IT systems
Backdrop of compliance and risk management mandates
Many of these challenges will require the sourcing of new technology or a new tech partner and rethinking their vendor selection criteria. And selecting a tech vendor can be hard. The mere fact that there is an industry whose sole purpose is to help businesses select tech vendors goes to show the massive gap between what these providers sell and what businesses want. If there was easy alignment, the Tech Sourcing professionals and businesses would not have existed.
But over my time working with Tech Sourcing professionals, CIOs and business leaders, I have picked up on a few key factors that you should incorporate in your vendor selection process best practices. First and foremost, you are looking for a partner – someone who will be with you through the good and bad. Someone whose skills, products, services – and most importantly – culture, match your business and its needs.
I believe that the technology ecosystem is not really as competitive as we think. Yes, in practice Google competes with Microsoft in the office productivity space. But I often hear about companies moving from one to the other not for features, function or even price – but for a cultural match. Some traditional businesses were hoping Google can help them become more innovative, but in reality, their business culture smothered Google and meant they could not benefit from the difference in the ways of working. And I am not suggesting Microsoft is not innovative – more that Office represents the traditional ways of working – and perhaps can help a business take a more stepwise approach to change its own culture.
And I regularly hear about IT services deals (managed services, systems integration, consulting etc) going to the company that made the most sense from a cultural fit – where they were willing to take on the culture of their customer and embrace that way of working. In fact, I have been brought into many deals where a company hired a strategic consultant to create a new digital strategy or AI strategy, only to receive a document that is unworkable in their business and their culture.
So, I believe every strategic technology relationship should start and end with a cultural match. This company is a partner – not just a provider. How do you determine if they are a partner and measure cultural match? Well, that is the topic of an upcoming report of mine, so watch this space!
Questions You Should Ask Before Stepping in the Ring
There are also a number of questions that you should ask along with the partnership discussion:
How will this solution change the organisation?
What are the risks either way (of implementing or not implementing the solution)?
Does the solution solve a key business problem?
Is it likely to have more impact than the solution it is replacing?
Where will the funding for the implementation come from?
Have you calculated the ROI and the time to deployment?
Have you baselined the current scenario so that you can measure improvement?
These can inform you of the business impact of the solution – and what you need to do to prepare for successful implementation (if you plan for success, you are more likely to be able to get faster benefits than if you do not plan for the change!)
Engagement Criteria for Your Shortlisting Process
In order to determine vendor selection process best practices, Ecosystm research tries to unearth the top criteria that organisations employ when shortlisting the vendors that they want to engage, across multiple technologies.
There is still a skills gap in internal IT and organisations want technical guidance from their Cloud and IoT vendors. With the plethora of options available in these tech areas, CIOs and IT teams also tend to look at the brand reputation when engaging with the vendor. Very often, organisations looking to migrate their on-prem solutions on the cloud engage with existing infrastructure providers or systems integrators for guidance, and existing relationships are significant. IoT solutions tend to be very industry-specific and a portfolio of specific industry use cases (actual deployments – not proofs of concept) can be impactful when selecting a vendor for planned deployments.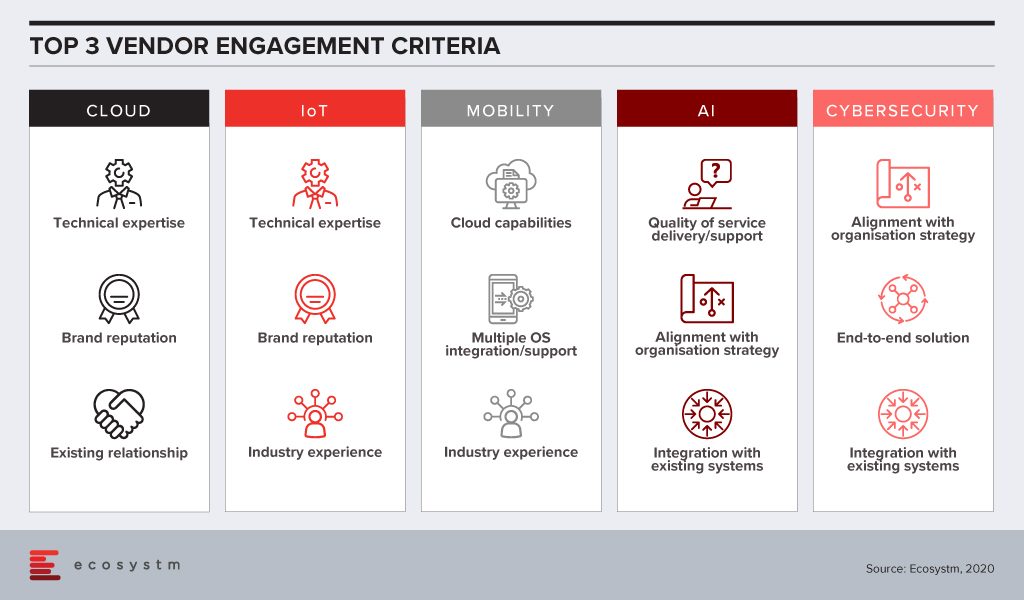 Artificial intelligence (AI) deployments are often linked with digital transformation (DX). Organisations look for a vendor that can understand the organisational strategy and customise the AI solutions to help the organisation achieve its goal. Adoption of AI is still at a nascent stage globally across all industries. Many organisations do not have the right skills, such as data scientists, yet. They appreciate that integration with internal systems will be key to reap the full benefits of the solutions, especially if the entire organisation has to benefit from the deployments. They also anticipate that they would have to have a continuous period of engagement with their vendors, right from identifying the right data set, data cleaning to the right algorithms that keep learning. Organisations will look at vendor partners who are known for delivering better customer experience.
This is true for cybersecurity solutions as well, as organisations are driven to continue their investments to adhere to the internal risk management requirements. Given how fragmented the cybersecurity landscape has become, organisations will also wish to engage with vendors that have an end-to-end offering, especially a managed security service provider (MSSP). Cybersecurity vendors are increasingly strengthening their partner ecosystem so that they can provide their client with the single-point-of-contact that they want.
Of the technologies mentioned in the figure, mobility is arguably the most mature. As organisations revisit their enterprise mobility solution as they go increasingly 'Mobile First', their requirements from their mobility vendors are more specific. They have decided over the years which OSs they want to support their enterprise applications and are looking for vendors with robust cloud offerings.
The vendor selection criteria will likely be different for each technology area. And as your knowledge and understanding of the technology increases, you should be able to drill the requirements down to the solution level, while making sure you engage with a vendor with the right culture.
Tim Sheedy's upcoming report, 'Best Practices for Vendor Evaluation and Selection' is due to be published in February 2020.