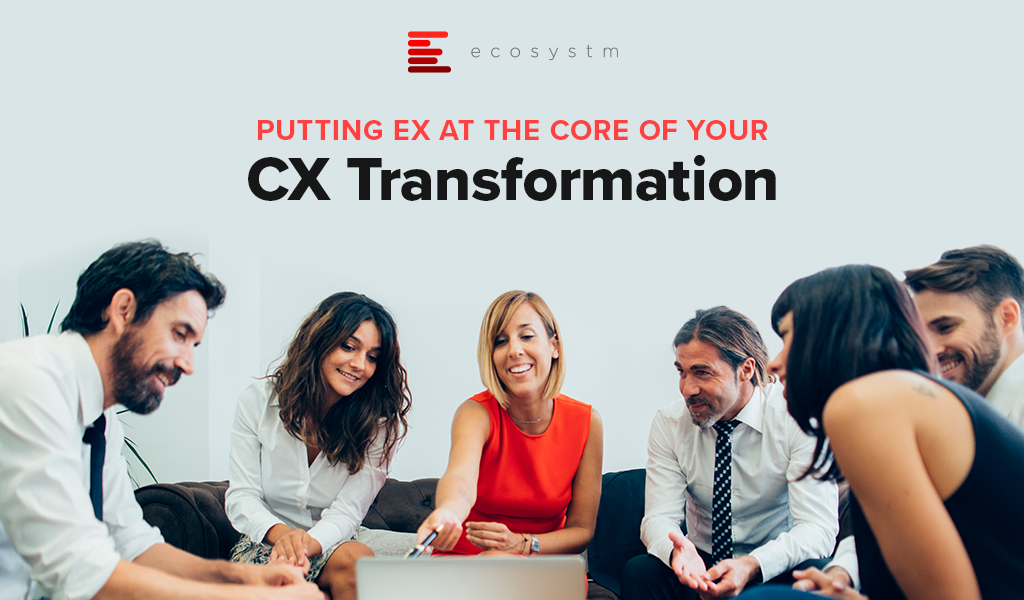 The COVID-19 pandemic has presented us with a set of circumstances that we have never seen before – health, safety, and economic livelihoods are being affected. Companies are being asked to take on roles that they are not familiar with. The global situation continues to evolve rapidly, and we are all having to adapt as we go. During this time, the expectations of customers and employees are evolving in tandem. Companies should look at understanding this evolution and take fuller advantage of the opportunity this evolution will present.
CX at the Centre Stage
Customers have always been the top priority for businesses. In the last few years, we have seen the transition that organisations are making from selling to creating; evolving from selling products to solutions to experiences. This has led to reframing of the selling methodology and, consequently, the technology and people skills needed to make that happen.
While companies have been able to understand the need to make this shift intellectually, it needs to be backed by the right investments in their people and customers. However, industry estimates find that only about 10% of organisations put money where their mouth is. Those that have been able to do so, have been consistently able to meet and exceed their goals.
As such, investments in customer experience (CX) technology is taking centre stage. Ecosystm research finds that improving CX has been the top business priority for organisations, before COVID-19 (Figure 1).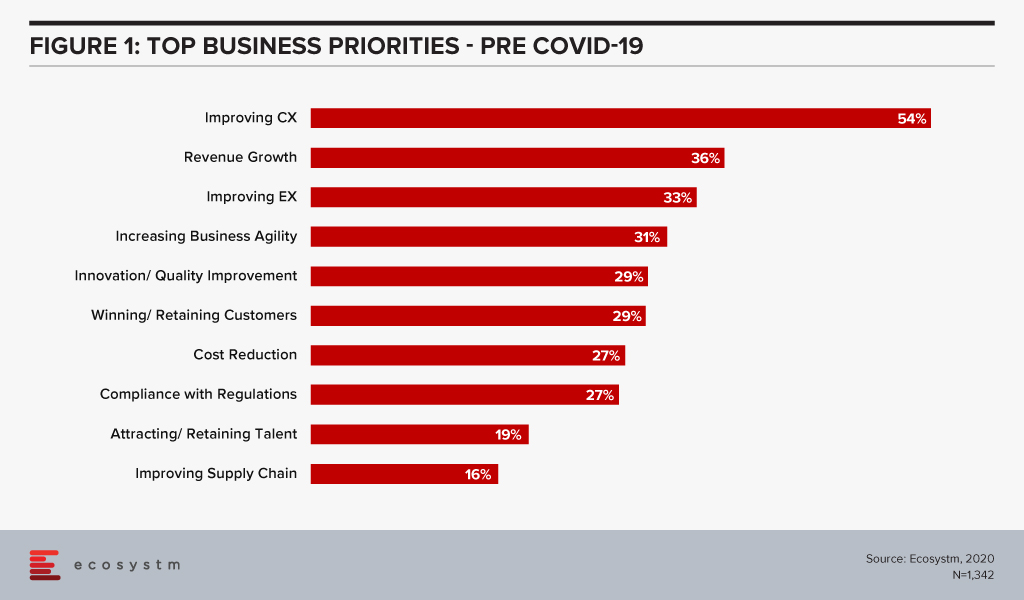 If we take a deeper dive into CX, it becomes clear that CX is not just about good sales skills or customer service. It is about the overall experience of the customer from start to post-purchase. Customers are focussed on not just what they are buying but also on how they are treated along their entire journey. Good CX has consistently shown to help increase price premium, impulse buying and loyalty. Consequently, one bad experience can drive a customer away forever.
So, what does improving CX look like? A vast majority would think technology. That is only part of the story; the key component of making your CX strategy come to life is your people. Customers pay for your products or services, but it is your people who can really deliver the experience. Glassdoor research shows that there is a clear link between employee and customer satisfaction. On an average, a 1-point increase in company rating on Glassdoor is associated with a 1.3-point increase in customer satisfaction, measured by the American Customer Satisfaction Index (ACSI).
So, the fact that only 33% prioritise employee experience (EX) (Figure 1) shows a gap in understanding how to achieve excellent CX. In this gap lies the true opportunity of gaining sustainable competitive advantage.
Reset During COVID-19
Due to COVID-19 all of us have had to re look at who we are and how we operate. It has really changed the world of work and business, almost overnight. Companies have invested a significant amount of time on just enabling their employees to stay safe and work from home. Overnight, access to physical offices was gone and everyone was transitioned to digital workspaces.
The Ecosystm Digital Priorities in the New Normal study, that was initiated to gauge the immediate and longer term impact of the pandemic finds that during the crisis, the focus on employees increased drastically, with 75% of organisations introducing measures to manage their employees, while 30% focused more on their customers.
This is a complete reversal in the focus of the organisations. Employees have come into sharper focus. This should be good news. Yes, it is – but partly so.
Initial focus has been rightly on safety and on employees being able to work from home. This was an "adapt" mode, focussed on services like payroll, handling employee queries and onboarding without disruption. After the initial crisis-handling, organisations have been able to focus on digital learning and skills enhancement, while others have been trying to increase productivity (predominantly through giving access to collaboration tools).
The Journey Ahead
As we continue to work in the new normal, one thing comes out even stronger: the new experience needs to be seamlessly connected between all channels – and be agile and more human. It is now even more evident that organisations and people – that are its lifeblood – need to constantly adapt and pivot to meet these changing landscapes.
Customer expectations have evolved in the last few months from a cost and product view, to being loyal to companies that show more empathy and are able to solve their problems. Employee expectations have also evolved, simultaneously – and it now goes beyond a good pantry and an engaging, fun-loving environment. Employees today value connectedness, and expect the organisation to show more care (so they can do their work effectively), and create opportunities for them to grow (job security) as they continue to grapple with the situation.
Thus, the more relevant the EX product and the faster it can adapt to the evolving situation, the better it translates into better engagement and loyalty. But what will definitely be required of organisations, is a continued focus on their employees. If we compare the business priorities before and after COVID-19, we get an indication that EX might once again be left behind in organisations' obsession about their customers (Figure 2).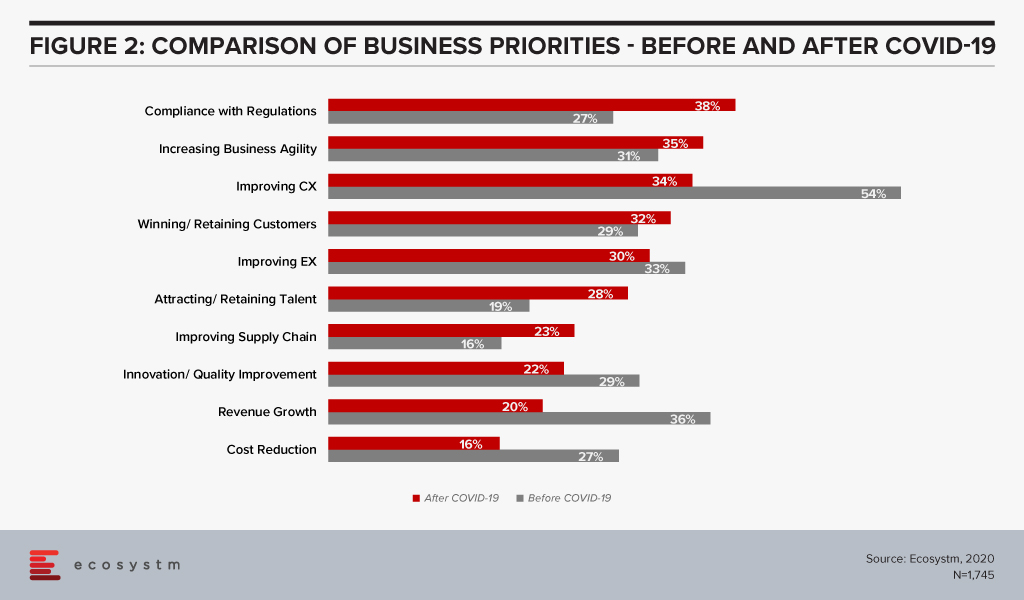 The gap is not as wide as before COVID-19 hit us – but there appears to be a shift towards a customer focus. This is evolving differently from our expectations and can potentially cause a misalignment.
Opportunity to Reshape
The reset has pushed EX and CX expectations closer to each other when it comes to designing experience with the company. The opportunity lies in taking a more holistic view of the company business – bringing HR, IT, Customer Success and Marketing teams together into agile tribes and guilds – to design a consistent CX by improving EX.
This would help to increase the speed of prototyping new experiences, and consequently drive greater visibility of what is needed – from skills to IT systems. Overall, it will drive a greater degree of connectedness between the employee and customer worlds; resulting in better engagement and loyalty.
---
More insights on the impact of the COVID-19 pandemic and technology areas that will see transformation as organisations get into the recovery phase can be found in the Digital Priorities in the New Normal Study
---