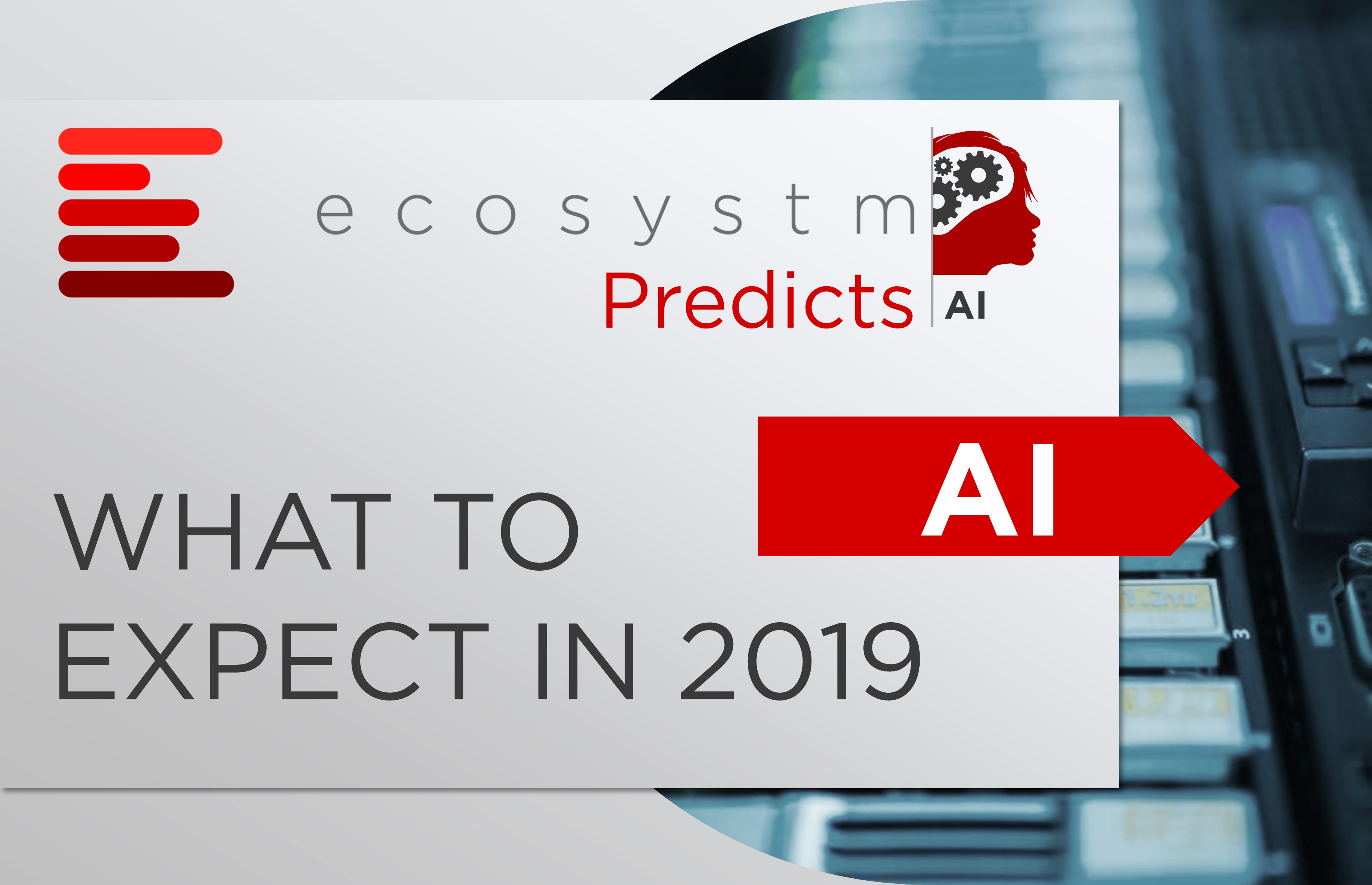 Artificial Intelligence (AI) will change the way businesses operate, and the way customers interact with your company or brands. It will also create new markets and eradicate existing ones. 2019 will be the year that some AI technologies approach mass-market adoption. It will also be the year that businesses start to sort out their data requirements for AI, amid a complex data privacy regulatory environment. But most of all, 2019 will be the year that AI starts to impact employee and customer experiences – from the board room to the living room. Our top five predictions for 2019 are:
Machine Learning and IoT Sensor Analytics Will Drive AI Growth In 2019
The Global Ecosystm AI Study shows that the growth in AI over the next 12 months will come from Machine Learning (ML), as this capability is applied to a plethora of problems and challenges across the business. IoT Sensor Analytics will also see strong growth – due to the growth in IoT implementations and subsequent exponential growth of the data coming off these sensors and the desire to do something intelligent/different with this data.
The Growth in IoT Will Fuel the Growth in AI
Today, many organisations are deploying IoT solutions. These sensors are already creating – and will continue to create large amounts of data. While these sensors today are, for the most part, one-way (i.e. collect and analyse data), we are getting closer to the point where many of these sensors will be bi-directional (i.e. sense and respond). Businesses will look to AI tools – particularly IoT Sensor Analytics and ML – to help them learn from that data and respond accordingly. In many ways the future success of IoT and AI are interdependent.
In the Short Term, AI Will Create More Jobs than it Removes
Much of the media focus on AI has been around the jobs that will disappear in economies driven by AI and the automation that it will enable. But in 2019 (and over the next few years), AI will create more jobs than it removes. How is this? Firstly, we are seeing AI do a lot of jobs that are not even done today – analysing images for trends that humans did not see, looking for correlations in data sets that we did not know existed. Secondly, even where automation and AI are driving productivity, the vast majority of organisations are taking the opportunity to reskill those people. AI-driven profit will be ploughed back into businesses and create more employment opportunities – some of which we can imagine today and some we cannot. Thirdly, there is the vast hiring that organisations have started to undertake to bring on board the skills they will need to make their business smarter with AI. Many of these jobs today are in addition to, not replacing existing resources.
Bimodal IT Departments Will Slow Down AI Implementations
Many of the digital capabilities that businesses have been building over the past five or so years have not required active participation by the IT team. What started as "shadow IT" initiatives became the standard way to deliver customer and business value as smart organisations pushed their technology resources into the product and customer teams, so they could drive innovation at pace. But AI initiatives involve training algorithms with data – the more data the better the algorithms. Business leaders will need to work with IT to get access to this data – that typically resides in "back-end" systems – to train their models. At this step, many bimodal IT departments will kick the project into slow mode, because the data sits in "slow mode" back-end systems. The project will be managed with "slow mode" processes, using heavy-handed governance and processes to turn what could have been a six-week project into a six month one.
A Merger of Massive Scale Will be Driven by AI Assets
According to the Global Ecosystm AI Study, Microsoft, IBM, AWS and Google account for 62% of current and planned AI implementations – and that dominance is set to continue for the foreseeable future. This means a lot of other big companies miss out. SAP, Oracle and Salesforce are hoping that AI will help them get deeper within their existing customers and also expand beyond their current client base. Therefore, we expect a massive merger (in USD billions) driven by the AI customers and assets of the technology vendor. Technology companies that are used to dominating their industries – Cisco, HPE, Dell EMC, SAS and others could be left behind if they do not get scale quickly in the AI space – so a major merger is on the cards.
For access to the full report, please follow this link.