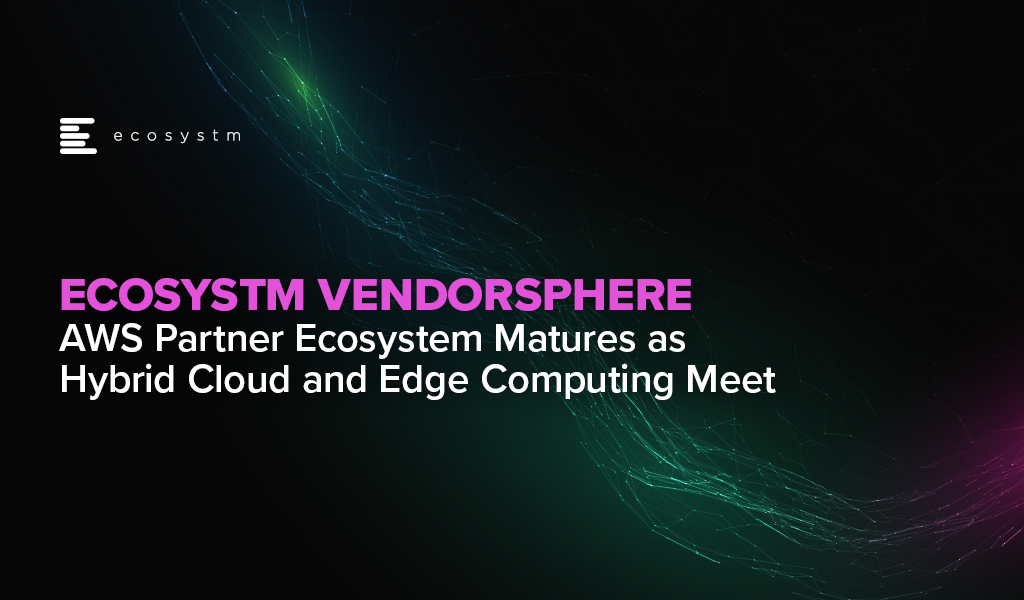 AWS has been busy this year moving beyond its stronghold of public cloud to bring infrastructure closer to the enterprise and ultimately to where the end user needs computing most. The global availability of AWS Outposts, essentially AWS on prem, the launch of AWS Wavelength, edge computing embedded in 5G networks, and the extension of the AWS Snow Family of edge devices, have all combined to create a compelling hybrid cloud story. This evolution in AWS' strategy has required a maturing of its partner ecosystem, building alliances with telcos, co-location providers, and integrators that are all still trying to cement their roles in the hybrid cloud space.
Outposts: The AWS Vision of Hybrid Could
Outposts launched late last year with availability extended to many mature countries in January 2020, in addition to India, Malaysia, New Zealand, Taiwan, Thailand, Israel, Brazil, and Mexico in June. The plug and play system delivers AWS compute and storage from the organisation's own data centre with a rack that requires only power and network access. The system is managed with the same tools and APIs used in public AWS regions, providing a single hybrid cloud management console. Outposts is targeted primarily at the enterprise space, with the cheapest development and testing units coming in at $7-8k monthly or around $250-280k upfront, depending on the country. Other higher-end configurations include general purpose, compute optimised, graphics optimised, memory optimised, and storage optimised. Monthly installments attract a 10-15% premium over upfront payments.
The launch of hybrid cloud solutions by the major cloud providers and containerised services that allow workloads to be deployed in public and private environments will ensure enterprises are willing to continue their cloud journeys. Security concerns and data residency regulations have prevented many organisations from shifting sensitive workloads to the cloud. Moreover, as industries launch new customer-facing digital services or transform their manufacturing systems, latency will become a concern for some workloads. Hybrid cloud addresses each of these issues by employing either public or private resources depending on the data, location, or capacity needs.
AWS Outposts has two variants, namely Native AWS and VMware Cloud on AWS. Organisations already heavily invested in the AWS ecosystem will likely choose Native AWS and use Outposts as a means of migrating further workloads that require an on-prem environment over to a hybrid cloud environment. More traditional organisations, such as banks, may select the VMware Cloud on AWS variant as a means of retaining the same operational experience that they are accustomed to in their existing VMware environments today.
AWS will rely heavily on its network of enterprise partners for sales, management, and maintenance services for Outposts. AWS partners like Accenture, HCL, TCS, Deloitte, DXC, NTT Data, and Rackspace have all shifted in recent years to deliver the full stack from infrastructure to application services and now have a ready-made hybrid cloud platform to migrate on to. AWS is also in the process of recruiting co-location partners to serve Outposts from third-party data centres, providing another option that enterprises are familiar with. This will likely come as welcomed news for co-location providers that have been fighting uphill against AWS.
Wavelength: Embedding Cloud in 5G Networks
Another major announcement in AWS's drive towards hybrid cloud and edge computing was the general availability of Wavelength in August. This service embeds AWS into the data centres of 5G network operators to reduce latency and bandwidth transmission. Data for applications residing in Wavelength Zones is not required to leave the 5G network. AWS is looking to attract mobile operators, who previously might have viewed it as a competitor while the public cloud space was more fragmented and open to telcos. These partnerships are another example of AWS expanding its ecosystem. Current Wavelength partners are Verizon, Vodafone Business, KDDI, and SK Telecom. With their own take on edge services, Microsoft has signed up the likes of Telstra and NTT Communications, while Google has enlisted AT&T and Telefónica. Edge computing in 5G networks will be the next battleground for cloud supremacy.
On a smaller scale, AWS has released new additions to its Snow Family of edge computing devices. AWS Snowcone is a compact, rugged computing device designed to process data on the network edge where cloud services may be insufficient. The processed data can then be uploaded to the cloud either through a network connection or by physically shipping the device to AWS. The convergence of IT and OT will drive the need for these edge devices in remote locations, such as mines and farms and in mobile environments for the healthcare and transportation industries.
Competitive Strategies
Openness will become a critical difference between how cloud platform providers approach hybrid cloud and edge computing. While AWS is certainly extending its ecosystem to include partners that it previously would have viewed as rivals, as the dominant player, it will be less compelled to open up to its largest competitors. If it can control the full system from ultraportable device, to $1M server rack, to cloud management console, it can potentially deliver a better experience for clients. Conversely, the likes of Microsoft, Google, and IBM, all need to be willing to provide whichever service the client desires, whether that is an end-to-end solution, management of a competitor's cloud service, or an OEM's hardware.
---
This report aims to give you an overview of the cloud landscape in Asia Pacific
For more information on "Ecosystm Cloud Study: Market Demand and Competitive Insights ", report please contact us at info@ecosystm360.com
---