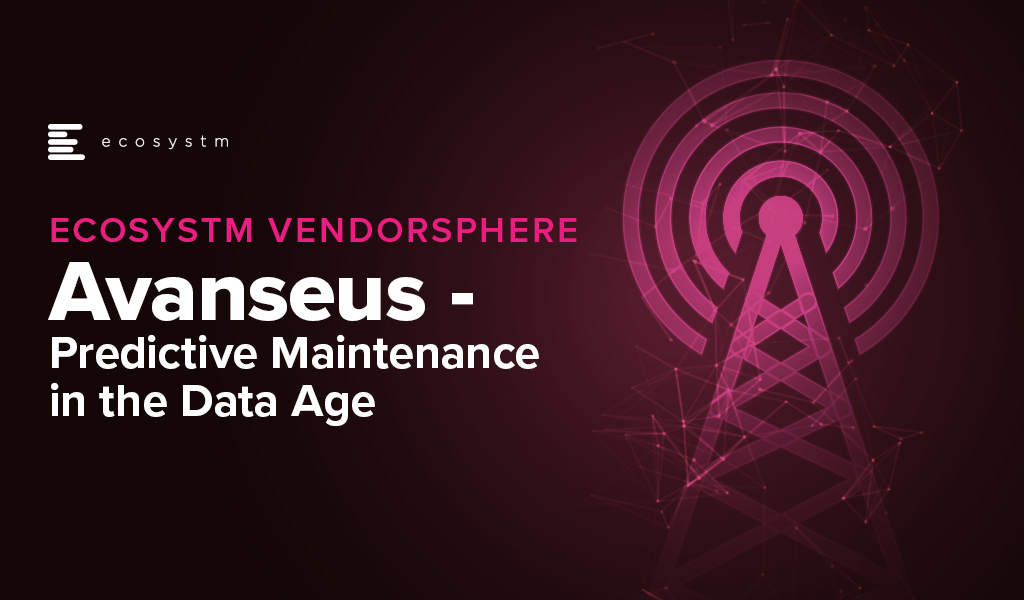 Authored by Ullrich Loeffler and Kaushik Ghatak
Technology has been identified as a key enabler of innovation and transformation with great potential to disrupt and reshape entire industries. At the same time, the technology industry itself has been at the forefront of disruption with thousands of promising start-ups emerging in areas such as artificial intelligence (AI), Blockchain, cloud and cybersecurity to name a few.
In February 2020, Ecosystm had the opportunity to meet the executive team of Avanseus, an AI solution provider that promises to reshape traditional maintenance processes by leveraging AI-based algorithms for predictive maintenance and failure detection.
Avanseus is not the newest kid on the block having been launched in June 2015 with headquarters in Singapore. The founding team has extensive experience in the telecommunications sector from executive careers in both the operator and the network provider segments. The problem statement and value proposition that Avanseus was founded on is to support telecom companies to tackle the costly challenge of maintaining their increasingly complex networks and to ensure network performance and customer satisfaction. Ecosystm research finds that predictive maintenance is a key priority for telecom providers looking to invest in newer technologies (Figure 1).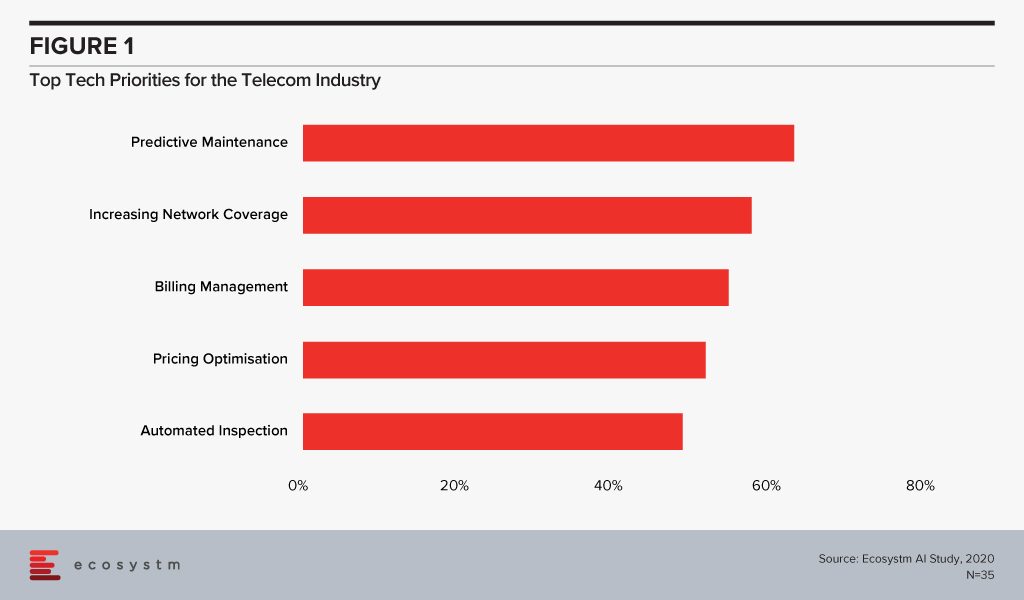 The solution Avanseus offers aims to be simple in the way that its proprietary AI-enabled algorithms can assess and predict network performance and network failures with as little as 6 months of network data history to achieve a high degree of prediction accuracy across telecom networks. The simplicity of the solution further allows cost-effective proofs of concept (PoCs) which lets telecom prospects experience first-hand its potential to drive down maintenance cost and ensure network performance.
Avanseus had secured seed capital of US$2.5 million till the middle of 2017. At the end of 2018, Avanseus secured funding via convertible notes of US$1.3m – main noteholders being TNB Spring and SEEDS Capital (Enterprise Singapore). A global network equipment manufacturer and managed services provider became its first commercial customer in 2016. From there Avanseus has demonstrated steady growth achieving revenue of US$1 million in 2018 and US$2.3 million in 2019. 2020 is forecast to be a milestone year with predictions to become cash-flow positive and to achieve revenue growth of 150% over 2019.
As of February 2020, Avanseus employs 41 staff across multiple international locations including its headquarters in Singapore, its development centre in Bangalore and sales offices in Delhi, North and Latin America and Italy to grow its global presence. The team is complemented by 8 part-time consultants and a growing partner ecosystem which includes major consulting firms as well as technology partners such as Dell, Splunk and Siemens. Expanding its partnerships globally is a key part of its strategy in order to scale up on the opportunities it can contest.
Avanseus' Potential Growth Path
Considering its young history, Avanseus has shown an impressive growth path which can be credited to staying true to its game plan and its original value proposition and solution design. A new fund-raising round had been kicked off at the end of 2019 with the aim to secure sufficient capital to accelerate growth over the coming years. Half of the anticipated funding will be invested into on-site consultants and sales teams while the other half will be invested in R&D to expand automation into APIs and other machine learning technologies. R&D has been a key focus from its early days which has led to the filing of 8 patents, 2 of which have been granted.
In order to accelerate growth further, Avanseus is also re-assessing the industries that could benefit from its predictive maintenance solutions. As with many startups and growth companies, innovation is often not a straight path and new opportunities and ideas arise as the market and customers are engaged. Several industries face similar challenges and benefit from reduced maintenance cost, reduced downtime, extended equipment lifecycles and improved services quality. To transfer the value proposition across use cases and industry applications Avanseus is looking to leverage approximately 80% of its existing solution and apply 20% of industry-specific domain expertise. This has opened up new growth opportunities in a number of areas such as Industrial IoT, Utilities, Manufacturing and supply chain. There are also opportunities in customer-focused industries such as Banking in niche areas such as maintenance of data centre operations.
Ecosystm Comments
As companies collect and manage an exploding amount of data assets within their operations or from their customers, there is an increasing opportunity for innovative technology vendors to support these companies in driving value from their data assets. Avanseus has demonstrated a clear vision and execution in addressing one of these opportunities by focusing on a clear problem statement and offering a 'simple' solution that presents a strong business case. As with every growth company, the challenge is to leverage this opportunity and secure the right funding and resources to scale up as quickly as possible.
Partnerships will be critical in its growth path but signing up partners alone may not translate to creating value. The challenge for Avanseus will be to achieve partner commitment and enablement across different geographies. This will require time and a dedicated channel strategy beyond opportunistic partnerships that are born out of specific client engagements.
Another opportunity that could turn into a challenge is the new range of solution applications that Avanseus has identified. Being a high growth company, the greater challenge is often to decide what not to do rather than what can be done. Avanseus is well advised to carefully select which industries it wants to expand into and focus on. Each new solution set will present a magnet for additional resources and funding and may well be a distraction.