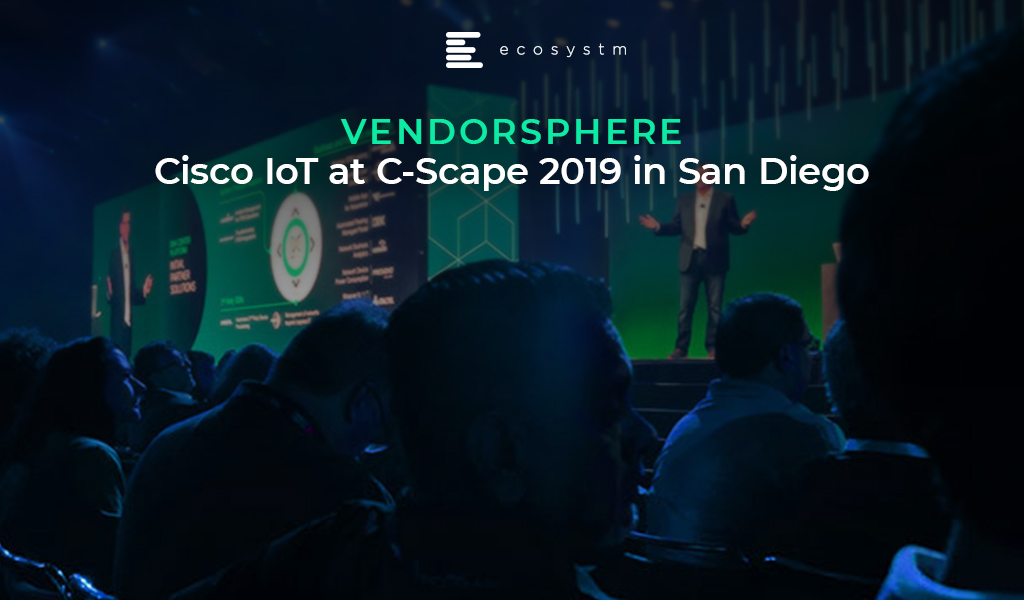 During the past 12 months, Cisco has worked hard at refining and relaunching their IoT strategy. Initial overall impressions of the progress are good with strong alignment with both Cisco and their customer needs. Launching IoT to three different audiences at Cisco Live Barcelona, Hanover Messe and Cisco Live San Diego was critical as it enabled Cisco to talk to network, industry and enterprise audiences in a focused and personalised manner. However, there are other market dynamics at play that will challenge Cisco's IoT Edge strategy and ecosystem play. Both the progress and challenges are discussed in this review.
Overall Rating B+
Much of the 2018-2019 efforts may be collated under three main categories.
Hardware. Establish a hardware foundation from which any IoT device or customer can reap the benefits of Cisco's larger corporate strategy built around initiatives such as Cisco DNA Center, Intent Based Networking, ACI and Security. With the acquisition of Sentryo and the refresh and launch of their routers, Cisco is now well placed to have legitimate discussions with Industrial IoT or IIoT customers and prospects. Bringing IBN functions to the edge of the network will enable Cisco's customers to begin to develop richer business outcomes from the network. Rating: A-
Developers: Raise the availability of IoT-based applications through Cisco's DevNet developer community. Cisco has a significant advantage over their competitors by having over 500,000 developers who understand how to write apps for Cisco's product line and who now have access to new types of data that can enrich traditional network outcomes. Over time this advantage will become more and more valuable as data becomes utilised across markets as well as within markets thus creating wealth in a much larger ecosystem. Rating: B+
Partners: Transform their partner management through the Customer Experience (CX) program. Much of Cisco's business is conducted through partners. It is a critical success factor for Cisco to enable the partners to be IoT-data savy. IoT will enable Cisco to accelerate the transition from product sales to higher value subscription services. However, based on discussions with customers, partners and Cisco management, we believe that there is much more work to integrate an IoT strategy in to CX. Rating: B-
The Industrial IoT (IIoT) and Cisco
Cisco identified the IIoT market as one where Cisco's strengths in hardware, software and partner ecosystem will play well with their customers and prospects. While having a strong foothold in the industrial space, we believe that Cisco's success will be much dependent on the customer's workloads and what they want to achieve with their data as it is reducing the complexity between IT and OT (Operations Technology) issues. Cisco has addressed the IoT connectivity and network security at the edge of the network through its ruggedized routers while their competitors are building distributed computing environments. Competitors who are adopting a full IT stack at the edge of the network aim to offer up more OT-based industrial services as well as emerging innovation services such as digital twin, augmented reality and robotic process automation. One key consequence of a customer choosing either approach will result in differing partner ecosystems to form and support the customer. These ecosystems will also be different in how they are managed and by who manages them.
Our recent IoT study shows that while security (a sweet spot for Cisco's strategy) remains extremely important to an organisation's solution, technology integration is equally important. When vendors are considering implementing an industrial solution, they need to be able to provide an end-to-end solution that encompasses both the IoT Edge and the IoT Enterprise while smoothly bringing together the OT and IT procedures.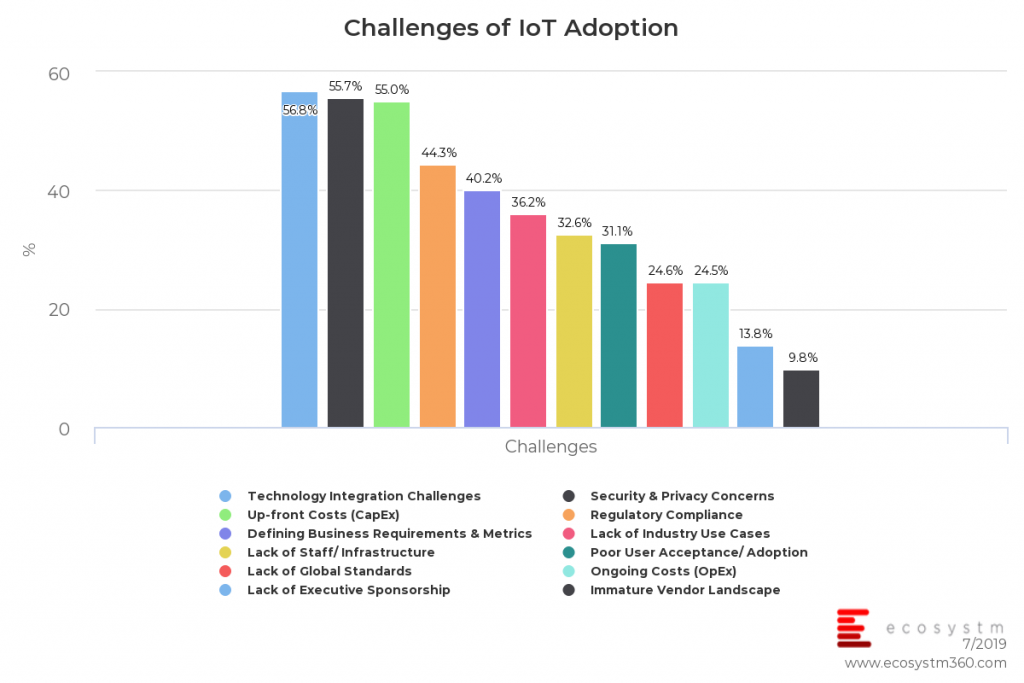 This all starts with an easy on-boarding of any IoT device that is secured and managed with confidence and reliability. The good news for Cisco is that these challenges are also a natural opportunity for Cisco's partner organisation and systems integrators by creating a new styled IoT ecosystem. However, despite which hardware path an end-user takes, we believe that Cisco and others do not have all of the necessary components of the full 'IoT' stack to fulfil a complete solution. To that end, everything will pivot to the vendor who either has the better systems integrations partnership, or, plays in the strongest ecosystem.
IoT Services
Most of Cisco's business is driven through partners and therefore any success for Cisco's IoT strategy is dependent on how well they execute it. IoT will accelerate the shift from product based solutions to subscription/as a Service deliverables as more information is generated from the connected devices. and as such the Cisco partner community should be trained/incentivised to offer up IoT. Cisco partners are already undergoing their own business transformation as Cisco's Customer Experience (CX) strategy is introduced to them. Having the IoT hardware align with the broader Cisco vision was critical to enabling any CX IoT strategy. However, partners may be in 'transformation' overload as they embrace the traditional Cisco customer needs and requirements and may be slower to take up the IoT opportunities.
Our IoT study shows that customers believe that the transition from products to services innovation is the highest scoring benefit from an IoT implementation.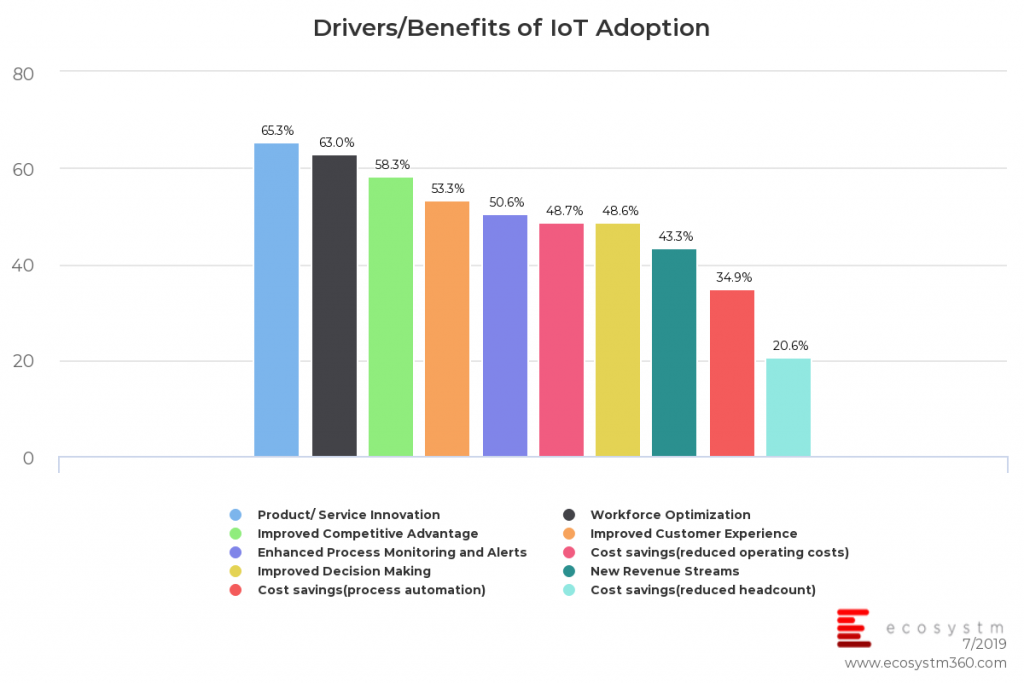 However, this is a difficult but critical part of any company aspiring to become a digitally driven business. An IoT strategy is a corner stone of this vision as it will provide the data to be able to run a services or subscription-based business model
Cisco is well positioned here but there is a maturity and readiness gap between Cisco and their customers. Patience will be a key asset as Cisco and their partners close technology gaps for their customers (e.g. adopting and implementing widespread analytics as part of the corporate digital strategy. Most customers are not ready to take advantage of IoT-based analytics outcomes and therefore the RoI case has not been fully articulated).
Finally, Cisco needs to address the mid-tier market with solutions that are compatible with budgets. While it is important to have an ecosystem of high calibre partners within systems integrators, we feel that there will be many customers who cannot afford Cisco's end-to-end solution. As a result of this Cisco partners are still not ready to address the mid-tier market. Cisco will need to promote offerings across all markets by participating in high-, mid-, and low-end ecosystems. This may mean acknowledging non-5G licensed spectrum/ non WiFi solutions for the most cost sensitive customers for the sake of broader market and industry share.
Recommendations For Cisco IoT
The following are our recommended actions for Cisco IoT based on C-Scape and the prior 12 months of strategy rollout:
Create stronger value proposition for network based IoT business outcomes. Customers are asking for end-to-end validation which means that Cisco needs to articulate a role with the likes of Salesforce, SAP and Microsoft to enhance customer's enterprise management systems. This is where Cisco's CX and partner organisation will also be challenged but can open up a lot of opportunity. Move the message up the value chain. More work has to be done with CX. More has to be done with developers.
Articulate a stronger comprehensive Industry 4.0 solution that gives customers all of the application qualifiers to run on Cisco's hardware. Cisco will be challenged by the IT-lead distributed IoT compute stack over its industrial strength routers. More marketing has to be invested in the IoT Edge campaigns.
Segment the IoT market by customer maturity/readiness/size and their IoT connected assets. Based on asset churn and customer size will dictate the type of new IoT ecosystem that Cisco will either build, manage or participate. For example, an IoT solution of Capex intensive assets with longevity is very different for agriculture supply chain management. Segmentation is critical for Cisco to be successful.