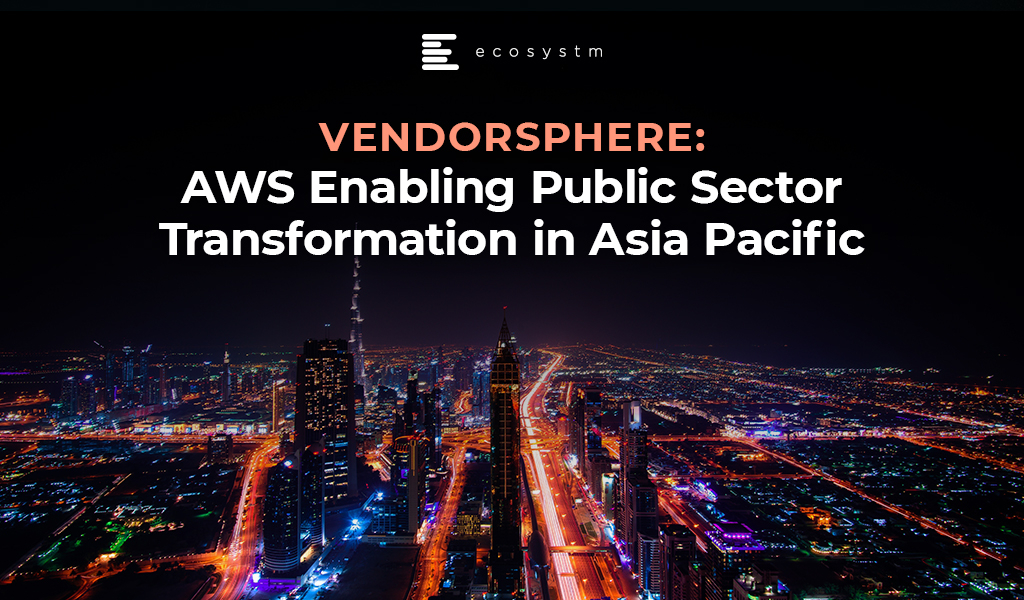 Authored by attending Ecosystm analysts, Sash Mukherjee (Principal Analyst, Government & Healthcare) and Sid Bhandari (Director, Consulting & Advisory Services)
The recently held AWS Public Sector Summit in Singapore showcased some of the regional AWS implementations, and how organisations are leveraging the Public Cloud differently.
In her keynote address, Teresa Carlson, Vice President, Worldwide Public Sector set the tone for the industry show cases by saying that a successful Digital Transformation (DX) starts from a radical rethinking of how an organisation uses cloud computing technology, people, and processes to fundamentally change business performance.
AWS Empowering the Public Sector
Carlson is clear on what Public Sector organisations must do and where AWS can help them:
Define what Cloud refers to in the organisation. The first step in bringing about a Cloud First transformation is to be clear on the true definition of cloud computing.
Create a "Cloud First" policy. To adopt a Cloud First policy, it is imperative to have leaders with a clear vision who really drive technology initiatives forward for all the right reasons like security, cost reduction, scalability, privacy and rapid acceleration of citizen services.
Focus on Security & Compliance. AWS has global compliance certifications with 200+ services and key features focused on security, compliance and governance. New services such as the use of AI for threat detection have been implemented and are quickly evolving into a mainstream feature.
Modify your Procurement vehicle. A formal cloud procurement model must be adopted instead of creating ad-hoc processes and a rush to adopt cloud to meet the specific needs of individual departments. AWS has the expertise to assist government IT leaders in selecting the right acquisition approach for their agency.
Do not ignore Skills Development. Investing in cloud skills development – whether at the central IT level or in the individual business units in the Public Sector – is imperative, as roles evolve and new roles emerge. AWS has over the years offered free courses and industry certifications to Public Sector employees interested in learning the foundations of cloud computing, storage, and networking on AWS to advanced skills courses in emerging technologies such as AI.
Ecosystm Comment:
While cloud may have started off as a means of offsetting CapEx, its role has since evolved into being a major vehicle for DX. Several governments across the world have adopted Cloud First policies to spearhead innovation, increase agility, and improve citizen services. Cloud is increasingly seen as a foundation for many emerging technologies that governments are experimenting with and implementing such as AI, automation, Big Data analytics and Smart Nation initiatives.
The skepticism around Public Cloud security seems to have diminished over the years, with the perception that cloud providers use state-of-the-art technologies to protect their environment and continue to upgrade their security features in the face of new and evolving threats. However, the Ecosystm Cybersecurity study finds that nearly 53% of Public Sector and allied organisations that use Public Cloud feel that the security measures offered are sufficient. Leading cloud providers such as AWS should make it clear that essentially it is a shared responsibility and impress on organisations that the responsibility to secure their own applications and the interface with the Public Cloud ultimately lies with the deploying organisations.
Industry Use Cases
There were several industry use cases presented over the 2 days and it was heartening to see so many Asia Pacific examples of transformation. Tan Kok Yam, Deputy Secretary, Smart Nation & Digital Government Office shared that the key to a successful Smart Nation initiative is to build user-centric services rather than having an agency-centric approach, in his presentation on Singapore's "The Moments of Life" app. Edwin H. Chaidir, IT Manager at WWF Indonesia presented on how AWS's machine learning capabilities has helped the organisation to automate identification of specific orangutans in the wild, freeing up resources (money and time) to reinvest in other wildlife protection initiatives.
One of the implementation stories that impressed the Ecosystm analysts was the one shared by Rookie Nagtalon, Consultant for Digital Transformation at the Chinese General Hospital and Medical Center (CGHMC) in the Philippines, where he spoke about how they were able to bring about transformation in their patient life-cycle management. Healthcare in Asia Pacific is a diverse and disparate market with organisations at different levels of IT and business maturity – against a backdrop of different country-level goals and healthcare policies. It was encouraging to hear about a transformation project in a not-for-profit organisation from an emerging economy.
The challenges that healthcare organisations face are unique in many ways:
Legacy systems that still work and hence there is no business case for replacing them
Approximately 2/3rd of the IT budget going into running the basics, leaving limited resources for emerging technology adoption and transformation projects
The shift to value-based healthcare and the need for data-driven insights to support it
The unpredictability of the workload and the need for an agile IT infrastructure
Security and compliance mandates that protect patient data and require storage of records over extended periods
Working with these challenges, how does a healthcare organisation bring about Digital Transformation?
Nagtalon's team was assigned the task to bring about this transformation within a 10-month timeframe.
The key challenge. An awareness that no one vendor can provide the entire gamut of functionalities required for patient lifecycle management. In spite of recent trends of multi-capability vendors, hospitals need multiple vendors for the hospital information system (HIS), ERP, HR system, document management systems, auxiliary department systems and so on. Each of these vendors have their own development team and infrastructure requirement, which stresses the internal IT resources. DX involving multiple legacy systems requires a step-by-step approach. The challenge is to identify the right systems to start the journey with.
Vendor selection criteria. The need to find one solution that would enable seamless data sharing across the disparate systems. The vendor selection criteria that were used focused on ease of use and speed especially when working with multiple data sources. In keeping with the industry, the ability of the vendor to support mission-critical applications was put through the filter of what was referred to as 'Code Blue'.
The solution choice. A cloud solution that can empower teams and remove worries about the infrastructure. The hospital chose AWS as their transformation partner, who used a system interface blueprint to integrate data from their SAP ERP system, Medcurial's MeRx HIS, 128 HR system, Canon's documentation system and multiple diagnostics systems.
The future roadmap. Enabling the organisation to be a Digital Hospital. The solution was implemented in 7 months and hit the right ROI requirements, reducing billing time and impacting the bottom line in terms of both recovery and revenue. It has created the base foundation for future plans such as device integration and the provider is well set on its journey of Cloud, IoT and Robotics.
Ecosystm Comment:
Nagtalon raised an important point when he was asked the key reason for the success of the project – executive buy-in. Transformation projects work best when it is enterprise-wide and senior management sponsorship is a must to enable that. However, he also mentioned humorously that he had become extremely unpopular during the implementation. This is where a centre-of-excellence with 'champions to the cause' from each key department helps. Organisations should look to engaging with the stakeholders early and to get their buy-in as well as the executive's.
AWS's marketing message to healthcare providers includes allowing them to focus on their mission and create their differentiation, and enabling them to incorporate new and emerging technologies. This implementation certainly ticked those boxes. What was particularly positive was the big thumbs up the AWS implementation team received. Organisations will increasingly partner with platform providers in their transformation journeys and implementation capabilities and best practice guidance will be the key differentiators for vendors.