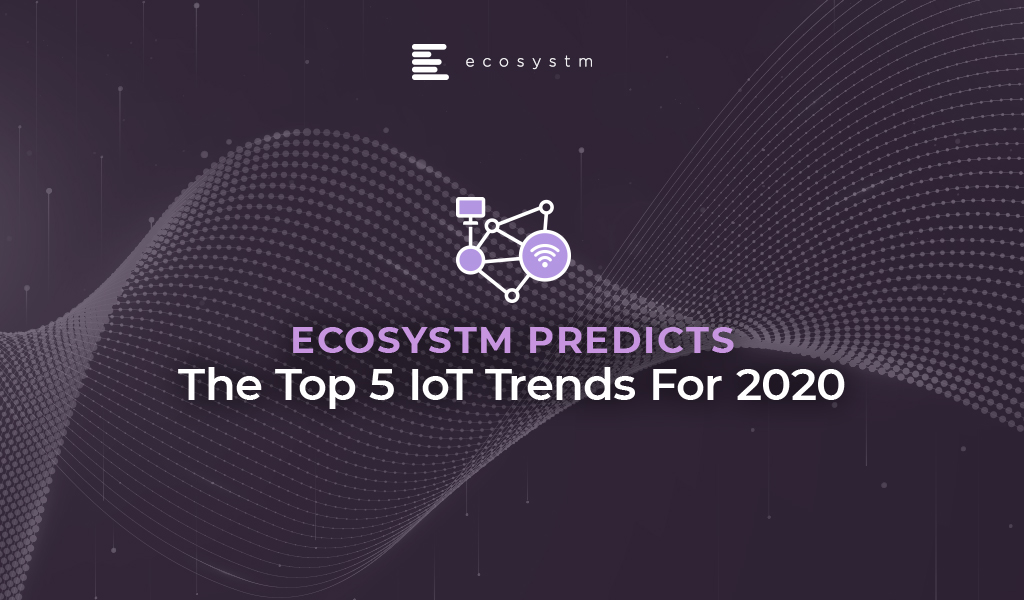 The industry has been enthusiastic about the number of devices and sensors that are expected to increase exponentially in 2020 and beyond. The role of the Internet in Things (IoT) in delivering 'Smart' solutions is seeing unprecedented interest in technology. However, 2020 will be the year when IoT adoption will see a sharp increase in uptake as 5G rollouts gather steam and governments across the world focus on Smart City initiatives.
Here are our predictions on the Top 5 IoT Trends for 2020, that we think, will shape the Internet of Things landscape over the next 12 months.
The Top 5 IoT Trends for 2020
The Top 5 IoT Trends for 2020 are based on the findings of the global Ecosystm IoT and AI studies, and is also based on qualitative research by Ecosystm Principal Advisors Francisco Maroto and Kaushik Ghatak.
5G Providers Will Be Forced to Operate Outside their Comfort Zone
Network and communications equipment providers have much to gain and more to lose as organisations look to leverage 5G for their IoT use cases. Each industry will have their different and distinct use cases – the use cases for Oil & Gas will be different from Retail use cases, which will be different from Healthcare industry requirements.
Telecommunications providers will find themselves depending on systems integrators (SIs) with relevant industry experience, to translate the value proposition of what they are offering. However, the telecommunications providers are not companies with actual skin in the game. If 5G uptake does not take off, the bigger losers will be the network and communications equipment providers – the real investors in the technology.
Satellite IoT Connectivity Solutions Will Start to Compete Against and Work with LPWANs
Current satellite communications technologies have not been designed specifically for IoT and may fail to meet the specific requirements of the IoT market, especially when it comes to price and ease of use.
This is set to change as both incumbents and new entrants in the satellite space seek to grow their IoT markets in 2020. Satellite communications companies are designing a spectrum strategy and a go-to-market strategy that include collaboration with Low Power WAN (LPWAN) vendors.
IoT Sensor Analytics Will Become the Fastest Growing AI Workload
Many organisations will actually start their digital journey and their investments in AI even before they invest in automation – when they start to analyse the data from their IoT sensors and make sense of the 'data sprawl' that is created as the number of data collection points proliferate. Organisations' desire to transform, starting with automation, will further drive the adoption of IoT. The global Ecosystm AI study reveals that organisations investing in IoT sensor analytics also look to invest in computer vision and automation solutions. IoT adoption will enable organisations to focus on incorporating AI/machine learning to make automation smart and intelligent.
Construction Will Become the Unsuspecting Influencers for IoT Adoption
The construction industry is fast emerging as the arena for end-to-end IoT-driven services especially as new-age companies link architects with contractors with building managers with facilities management to create a new meaning of 'Smart Buildings'. Realtors become unsuspecting influencers as they establish Smart Building ecosystems. According to the findings of the global Ecosystm IoT study, the top solutions that construction companies have implemented and are evaluating, are primarily aimed at ensuring operational and employee safety. However, the industry will also see an uptake of customer management IoT solutions aimed at providing better customer experience (CX).
The Edge Will No Longer Be at the Edge
2020 will mark the end of the hype around the Edge and the way we think about it. Real-time analytics will be performed at so many places along with the network and infrastructure that IT management will be forced to rethink their distributed and enterprise computing strategies. The main industries that will see a growth in Edge uptake in 2020 will be Manufacturing, Retail, Energy, Healthcare, Transportation and Logistics.
As the Edge technology develops, the application of AI will steadily move away from centralised servers (on-premise or cloud) to the edge devices themselves. There are two important benefits to this – Firstly, it minimises time lag between data acquisition and secondly, any targeted hacking attempt can be immediately identified and mitigated, rather than being at the mercy of the security systems implemented by the cloud provider.While AI-enabled edge devices tend to be costlier than
their "dumb" counterparts, the value they can bring in terms of being able to immediately act upon the data, and the additional security they can potentially provide, can be significant factors that offset the high initial cost of deployment.
---
Download Report: The Top 5 IoT Trends For 2020
The full findings and implications of the report 'Ecosystm Predicts: The Top 5 IoT Trends For 2020' are available for download from the Ecosystm website. Signup for Free to download the report and gain insight into 'the top 5 IoT trends for 2020', implications for tech buyers, implications for tech vendors, insights, and more resources. Download Link Below ?
---