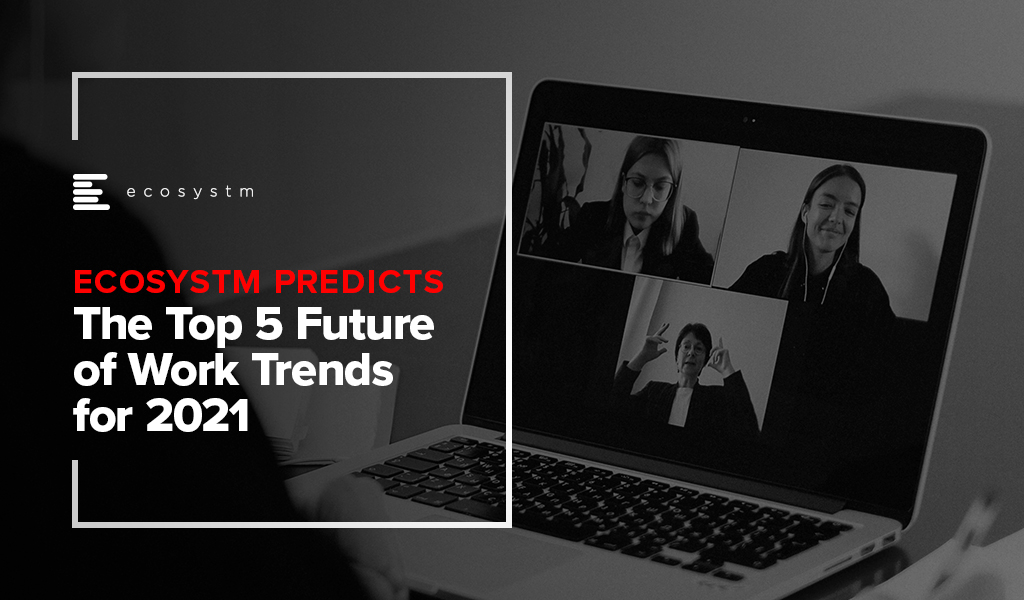 2020 has been a watershed year for Future of Work policies and technologies. Organisations are still evaluating their workplace strategies and 2021 is likely to see experiments in work models – every organisation will choose the model that works for their nature of work and their organisational culture. Against this backdrop of disruption and change, Ecosystm's 360o Future of Work team – Audrey William, Mike Zamora, Ravi Bhogaraju and Tim Sheedy – present the top 5 Ecosystm predictions for the Future of Work in 2021.
This is a summary of the predictions, the full report (including the implications) is available to download for free on the Ecosystm platform here.
The Top 5 Future of Work Trends For 2021
Human-centricity Will be Front and Centre of Organisational Priorities
2020 saw immense humanitarian disruption. Enabling remote work was a key component of business continuity. Both organisations and their employees have a better understanding now of the implications of remote working and how it can be made to work. They are also aware of the challenges of remote working. Monitoring productivity, maintaining the right work-life balance and ensuring employee emotional well-being have been challenging. Despite the challenges, hybrid/blended working is definitely here to stay. Employees will expect more options on the location of their work, often choosing to work where they are most productive.
All decisions related to the organisation, filtered through the lens of human-centricity, will drive better employee engagement – and engaged employees provide better customer experience. Organisations that will operationalise this at scale and across cultures will emerge as success stories.
Technology Will Bond with Facilities and Operations – Connecting with HR Will be a Challenge
There has to be an alignment between the Business, People, Work Environment and Technology to make an organisation truly empowered to handle sudden pivots that will be required in 2021 as well (Figure 1).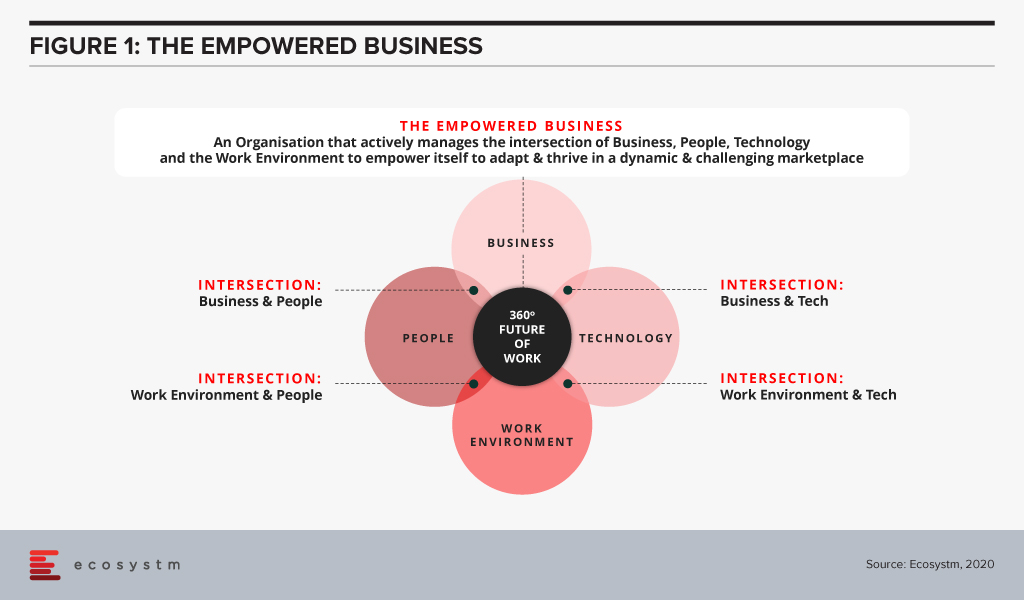 This will require cross-departmental coordination and synergy. Tech teams have traditionally driven the Digital Workplace strategy; now they will have to work closely with Operations and Facilities Management teams on "Smart and Safe Office" strategies. That may not be the real challenge given that there are overlaps between these three teams – they have a shared language and similar KPIs. The real challenge will be the need for Tech teams and HR to work more closely to improve the overall employee experience, including a focus on employee productivity and wellness. Human-centricity makes the role of HR even more important – IT will find it challenging to find common grounds as there have traditionally been few shared KPIs between these two departments.
Office Spaces Will Become Truly Digital
The hybrid/blended workplace model means that the physical workplace is not disappearing soon. Even as the model evolves for each organisation, what becomes clear is that employee expectations have changed drastically in the last year, and the traditional employee experience expectations of Salary, Recognition, and Job Satisfaction may not be enough. Employees will now expect flexibility, social cohesion, and effective communication. If they are to return to the physical office, they will expect the same benefits as working from home.
This will drive the adoption of digital tech to ensure the office space is safer, more effective and a productive environment for the employees and the business. Two key areas of focus will be on seamless access to information and employee control over work environment.
Providers Will Deepen Digital Workplace Offerings, but the Market Will Not Consolidate
Key tech providers in the digital workspace space (such as Microsoft, Google, Zoom, Cisco, AWS and so on) will broaden their capabilities and make it easier to procure and use solutions. It will no longer be a "tool-centric" approach (chat, video, document sharing, online meetings, whiteboards and so on) – it will become a platform play. Information workers will be able to choose the approach that best fits the problem they are trying to resolve, without being limited by the capabilities of the tool. E.g. documents will be sharable and editable within chats; whiteboards will be integrated into all other communication services and so on.
Tech providers will deepen and strengthen their capabilities organically and acquisitions will mostly be about buying market share, customers and not the technology.
Industry-centric Digital Workplace Services Will Emerge and Witness Rapid Growth
The Services industry has been leading in the adoption of digital workplaces – but blue-collar roles and front-line employees will also start benefiting from these technologies. In 2021, new digital workplace capabilities will extend beyond the employee base to systems that drive better connectivity and communication with customers. This will open the market up for smaller, niche players (and this may well run counter to the previous trend). Tech teams will focus on employees and a platform-based approach to collaboration, while Customer teams and others will implement tools and platforms to better communicate outside of the business. The next few years will bring the traditional "employee-centric" collaboration players into direct competition with the "customer-centric" ones. Those that play across both today (such as Google) will be better positioned to win the enterprise-wide "Future of Work" style deals.
---