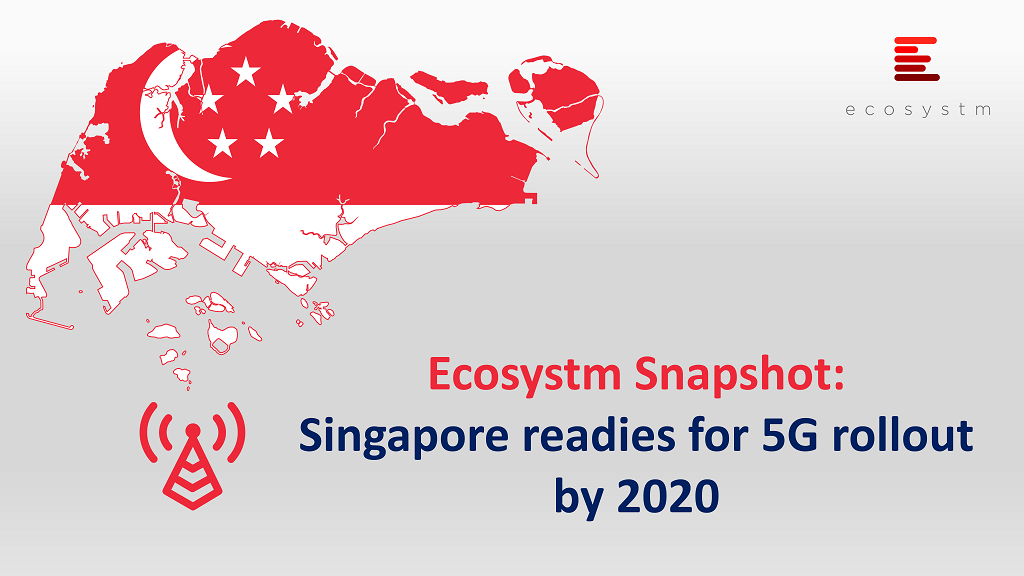 Singapore's digital economy vision where every citizen tech and business is connected by a world-class infrastructure will be empowered by the introduction of 5G in 2020. In June this year, Singapore's telecommunication regulator, Infocomm Media Development Authority (IMDA) unveiled plans to set aside SG$40 million to build up the supporting ecosystem to fuel 5G innovation, focusing on six key verticals including smart estates, urban mobility, and maritime.
Gearing up for 5G and in order to deliver the greatest value to the economy, (IMDA) recently called for 5G proposals from Singapore's Mobile Network Operators.
Commenting on the rollout of 5G, Ecosystm Principal Advisor – Telecommunication, Peter Wise said "5G promises much faster, more reliable wireless connectivity that will bring applications such as augmented reality, higher quality video and eventually smart cars, to life. Moreover, IoT will also be enriched by the increased data carrying capacity that 5G enables."
Singapore pushing for four 5G networks instead of two
Instead of the two initially planned networks for 5G, there are now four networks proposed to be rolled out. Two networks will be used for full-fledged 5G networks whereas the other two will be smaller ones that will provide limited coverage. The two smaller networks of 800MHz will leverage on Millimetre Airwaves and will be used in small ports and factories and be Singapore's most immediate use of 5G technology. "More networks would likely bring more competition and deeper coverage. The designation of some spectrum for port usage appears to enable applications to get up and running quickly and not have to wait for a wider rollout" said Wise.
The IMDA has called for proposals from the interested operators rather than going for an airwave auction. Proposals will be assessed on telcos' financial capability, as well as network security design.
The introduction of 5G will be a costly and time-consuming activity in order to set up the infrastructure and provide customers with sufficient coverage. "Some existing 4G cell sites will be able to be upgraded to 5G through software or card swap outs, which are comparatively cheaper than acquiring and building whole new cell sites. However, over time, 5G will require a denser network of smaller cell sites, and there may need to be infrastructure sharing arrangements between MNO's for acquiring these new sites for practical and economic reasons," said Wise.
Only half of Singapore will have 5G coverage initially
IMDA announced that at least 50% of Singapore will be covered with a standalone 5G network by the end of 2022 and full island-wide coverage by 2025. "Many users may not initially notice whether they are on 4G or 5G speeds. 4G is still more than adequate for most of today's applications, including video" said Wise. "However, over time as heavy data applications are introduced or very high definition video becomes more mainstream the benefits of 5G will become more apparent."
A standalone network will use 5G-specific technologies for developing newer applications around IoT, smart factories, and autonomous vehicles. "Another fascinating development will be whether any operators use 5G to compete with fibre" said Wise. "Singapore is well served by high-speed fibre broadband so while the Singapore population is high in density (making 5G economics better), it may be that having 5G as a competitor to fixed broadband is more successful in other countries where most fixed broadband is still provided over older, slower copper-based technology."
5G is still in the early phase of its lifecycle and is at the centre of an ongoing telco development, we are yet to see how it may become crucial to economic growth.