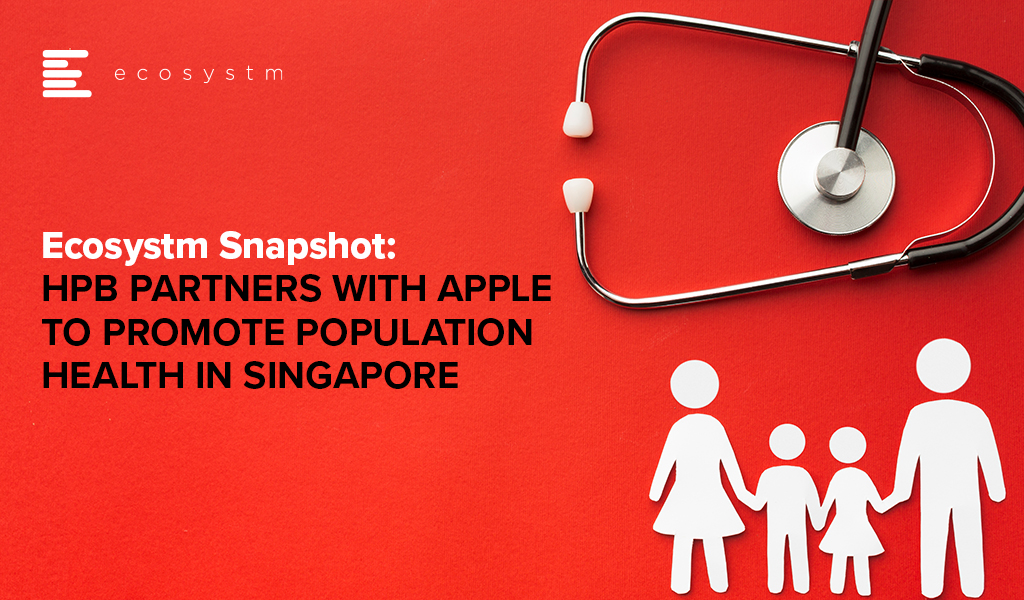 Singapore's Health Promotion Board (HPB) and Apple announced a partnership aimed at promoting a healthy lifestyle in Singapore through an application called LumiHealth. The HPB is a statutory board under the Ministry of Health (MOH) that implements programs and policies to promote healthy lifestyle in Singapore. The two-year health program – which will go live in late-October – is a part of Singapore's Smart Nation initiative, a national effort to harness technology for innovation, sustainability and support better living for citizens and businesses in Singapore.
Commenting on the news, Ecosystm Principal Analyst, Sash Mukherjee said that "Singapore's MOH has been making a concerted effort to improve health outcomes through digital technology for more than 10 years now. It is time for the nation-wide health record system to be leveraged for better population health management. The ultimate goal of all healthcare systems across the world is to be sustainable – and keep citizens out of the public healthcare systems by managing their health and wellness, outside of it. Singapore is geared up to deliver on their goals for 2025; technology-enabled population health; preventive health; and early diagnosis and intervention."
LumiHealth to promote Healthy Lifestyle
The LumiHealth app has been created and designed with a team of public health experts and physicians; and encourages users to complete wellness challenges through their Apple devices. To participate in the wellness program, users need to have an Apple Watch and the LumiHealth app. The app will provide participants with personalised coaching, and will prompt users on sleeping habits, food choices, activity goals, health screenings and relevant immunisations based on their demographic profile.
The application also has a feature called 'intergalactic explorer' which gamifies the experience through adventure-based tasks. The tasks are personalised based on a user's age, gender, and weight; and can be completed through walking, swimming, running, yoga, and other activities. Completing these challenges will enable users to earn rewards and vouchers worth up to SGD380 (USD 280). The eVouchers can be used at various establishments, including food and health outlets.
Creating a customised offering, and gamifying the experience should increase user engagement, "However, the products and offerings have to be more mass-market to promote universal adoption. Relying on citizens' personal devices and their own wellness goals will only be attractive to a certain segment – that was already focused on health and wellness to start with. In the end the success of such population health initiatives will depend on GPs and other primary care providers being able to prescribe devices and apps, being able to access the data, and being able to base their treatment protocols on that data," explains Mukherjee.
LumiHealth data privacy and security
To enroll in the program, users need to provide consent to share their information with LumiHealth to personalise their experience and they may opt-out any time. Singapore residents above 17 years and holding a SingPass account are eligible to participate in LumiHealth. The aim is to use insights from the captured data to enable betterment of future public health efforts, reduction in preventable deaths and disabilities and improve the quality of lives. The program is voluntary and guarantees data privacy and security through encryption and systems complying with Singapore's data privacy and security laws as the collected data will be coded, secured and stored in Singapore.
"This project took close to 2 years to come to fruition" Mukherjee said, "and will hopefully lead the way for more healthcare apps aimed at wellness and chronic disease management."
Singapore's Health Programs
LumiHealth will complement Singapore's other population health initiatives that are leveraging technology to enable wellness. The National Steps challenge program encourages Singaporeans to be physically active by engaging in various levels of challenges – involving activities ranging from brisk walking, stair climbing to doing sports.
The Singapore Government has also introduced other wearable tech and apps to promote a healthier lifestyle and emotional wellbeing of Singaporeans. For example, last year, the HPB collaborated with Fitbit to leverage their devices, services and apps.
The Singapore Government has also focused on wearables and TraceTogether tokens in curbing the spread of COVID-19. In June, the TraceTogether tokens were distributed to the elderly followed by a nationwide distribution of TraceTogether tokens that kicked off this month. "The Healthcare industry is at crossroads. It has had to pivot significantly from their transformation and technology roadmap to handle the COVID-19 crisis. However, there have been important learnings from the situation that the industry will carry forward. A lesson for Singapore was the real-life application of the C3 system (Command, Control and Communication). Singapore's response to the crisis shows how governments can use policies and technology to combat healthcare emergencies," Mukherjee concludes.