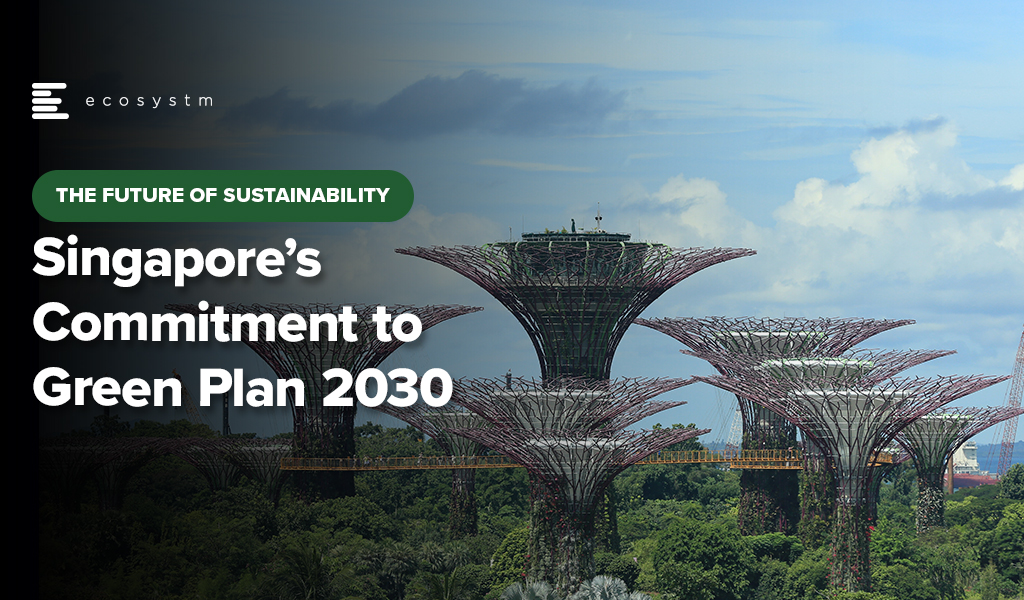 Innovation is at the core of Singapore's ethos. The country has perfected the art of 'structured innovation' where pilots and proof of concepts are introduced and the successful ones scaled up by recalibrating technology, delivery systems, legislation, and business models. The country has adopted a similar approach to achieving its sustainability goals.
The Singapore Green Plan 2030 outlines the strategies to become a sustainable nation. It is driven by five ministries: Education, National Development, Sustainability and the Environment, Trade and Industry, and Transport, and includes five key pillars: City in Nature, Sustainable Living, Energy Reset, Green Economy, and Resilient Future. We will see a slew of new programs and initiatives in green finance, sustainability, solar energy, electric vehicles (EVs), and innovation, in the next couple of years.
Singapore's Intentions of Becoming a Green Finance Leader
Singapore is serious about becoming a world leader in green finance. The Green Bonds Programme Office was set up last year, to work with statutory boards to develop a framework along with industry and investor stakeholders. We have seen a number of sustainable finance initiatives last year, such as the National Environment Agency (NEA) collaborating with DBS to raise USD 1.23 billion from its first green bond issuance. The proceeds will fund new and ongoing sustainable waste management initiatives. Temasek collaborated with HSBC for a USD 110 million debt financing platform for sustainable projects and Sembcorp issued sustainability bonds worth USD 490 million.
Building an Ecosystm of Sustainable Organisations
Sustainability has to be a collective goal that will require governments to work with enterprises, investors and consumers. To ensure that enterprises are focusing on Sustainability, governments have to keep in mind what drives these initiatives and the challenges organisations face in achieving their goals.
There are several reasons driving organisations in Singapore to adopt sustainability goals and ESG responsibilities (Figure 1)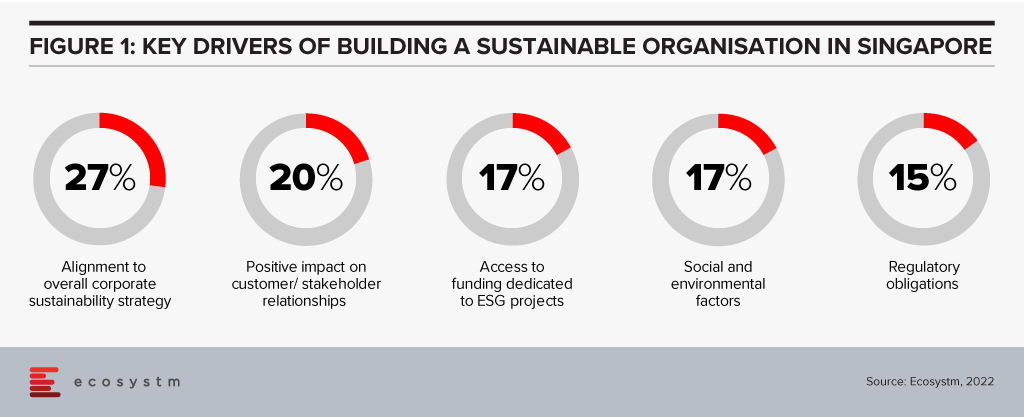 It is equally important to address organisations' challenges in building sustainability in their business processes. Last week, the Institute of Banking and Finance (IBF) and the Monetary Authority of Singapore (MAS) set out 12 Sustainable Finance Technical Skills and Competencies (SF TSCs) required by people in various roles in sustainable finance. This addresses the growing demand for sustainable finance talent in Singapore; and covers knowledge areas such as climate change policy developments, natural capital, green taxonomies, carbon markets and decarbonisation strategies. There are Financial Services related competencies as well, such as sustainability risk management, sustainability reporting, sustainable investment management, and sustainable insurance and reinsurance solutions. The SF TSCs are part of the IBF Skills Framework for Financial Services.
Sustainable Resources Initiatives
Singapore is not only focused on Sustainable Finance. If we look at NEA's Green Bonds, there are specific criteria that projects must satisfy in order to qualify, including a focus on sustainable waste management.
Last week the Government announced that the National Research Fund (NRF) will allocate around USD 160 million to drive new initiatives in water, reuse and recycling technologies, as part of the Research, Innovation and Enterprise 2025 plan (RIE2025). Part of the fund will be allocated to the Closing the Resource Loop (CTRL) initiative, administered by the NEA that will fund sustainable resource recovery solutions.  
Singapore faces severe resource constraints, and water security is not a new challenge for the country. The NRF funding will also be used partially for R&D in 3 water technology focus areas: desalination and water reuse; used water treatment; and waste reduction and resource recovery.
The Government is Leading the Way
The Government's concerted efforts to make the Singapore Green Plan 2030 a success is seeing corporate participation in the vision. In February, Shell started supplying sustainable aviation fuel (SAF) to customers such as SIA Engineering Company and the Singapore Air Force in Singapore. Shell has also upgraded their Singapore facility to blend SAF at multiple, key locations. Last week, Atlas announced their commitment to Web 3.0 technologies and "tech for good". They aim to increase their green energy use to 75% by 2022; 90% by 2023; and 100% by 2024. ESG consciousness is percolating down from the Government.
The success of Singapore's Sustainability strategies will depend on innovation, the Government's ongoing commitment, and the support provided to enterprises, investors, and consumers. The Singapore Government is poised to lead from the front in building a Sustainable Ecosystem.