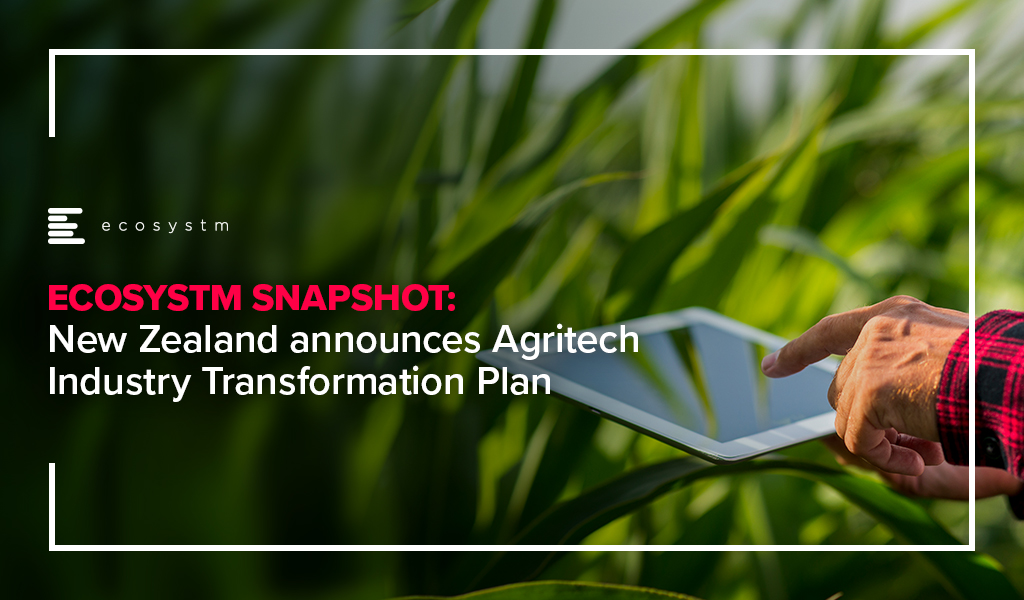 Agriculture is significant to New Zealand's economy and the Government aims to create more efficient land usage, better environmental outcomes, and to drive sustainability for food and supply chain across domestic and international markets.
In an effort to grow the agritech sector into an even stronger economic contributor, increase agritech exports and advance sustainable production in New Zealand and globally, the Government of New Zealand has committed to spend USD 7.6 million on the implementation of an Agritech Industry Transformation Plan as part of a strategy for the food and fibre industry. The plan is the culmination of views and insights representing a cross-section of more than 130 members of New Zealand's agritech ecosystem – the Government, industry, and the Māori and wider community – providing their collective vision to focus attention on the sector for a competitive edge.
Roadmap to Accelerate New Zealand's Agritech
To further boost the innovation in agritech and upscale the Sustainable Food & Fibre Futures (SFF Futures), an additional USD 56 million has been earmarked for smaller grassroots community projects to large-scale industry development. This will support the Government's Fit for a better world Roadmap – a 10-year roadmap for the primary industry; and add value across the agriculture, horticulture, fisheries and marine, and forestry sectors.
The Roadmap includes objectives such as:
Adding USD 29 billion in export earnings over the next decade (2020 to 2030) through a focus on creating value
Reducing the biogenic methane emissions to below 10% by 2030 and restoring New Zealand's freshwater environments
Employing 10% more New Zealanders in the food and fibres sector by 2030, and 10,000 more by 2024
Ecosystm Principal Advisor, Jannat Maqbool says, "In addition to the current environment with COVID-19, a new generation of consumers across the globe is becoming considerate that they buy what is good for the world in the face of climate change, biodiversity loss and the degradation of waterways. The ability to manage and assure quality and safety from 'farm to fork' is now more important than ever, leveraging technology for traceability, risk management, and rapid response capability to meet consumer demands and relevant legislative requirements."
Through this Industry Transformation Plan (ITP), the Government seeks to attract investments in New Zealand's agritech intellectual property (IP), develop the necessary infrastructure, focus on export opportunities, address current concerns related to connectivity and data, and ensure a skilled workforce that is able to both develop and effectively leverage agritech.
Maqbool says, "The success of the plan will depend on how well relevant stakeholders engage and ongoing support from government to help create the conditions required for the sector to realise its potential."
Key Milestones
The Government of New Zealand is working to retain competitiveness in global agriculture. Some key initiatives include:
Farm 2050 Country Partnership. New Zealand became the first country partner of Farm2050- a global agritech initiative that brings together farmers, researchers, the market and investors to collaborate effectively.
Western Growers partnership. Western Growers and New Zealand signed a partnership agreement to develop agritech. It also opened doors for New Zealand's agritech researchers and companies working in the robotics and automation space to enter the US Market.
The Australia New Zealand Agritech Council. The Australia New Zealand Agritech Council was launched to help the countries work closely on agricultural practices and to cooperate on agritech.
New Zealand is fast becoming an example of how technology providers and food producers can collaborate on improving yields, optimising production methods and reducing waste, predicting demand, and safeguarding supply chains.
---
Continuing the conversation around Agritech, we discussed the role of technology for improving yields, optimising production methods and reducing waste, predicting demand, and safeguarding supply chains.
👇
This virtual event was a part of Techweek NZ, and in partnership with the Singapore FinTech Festival.
---