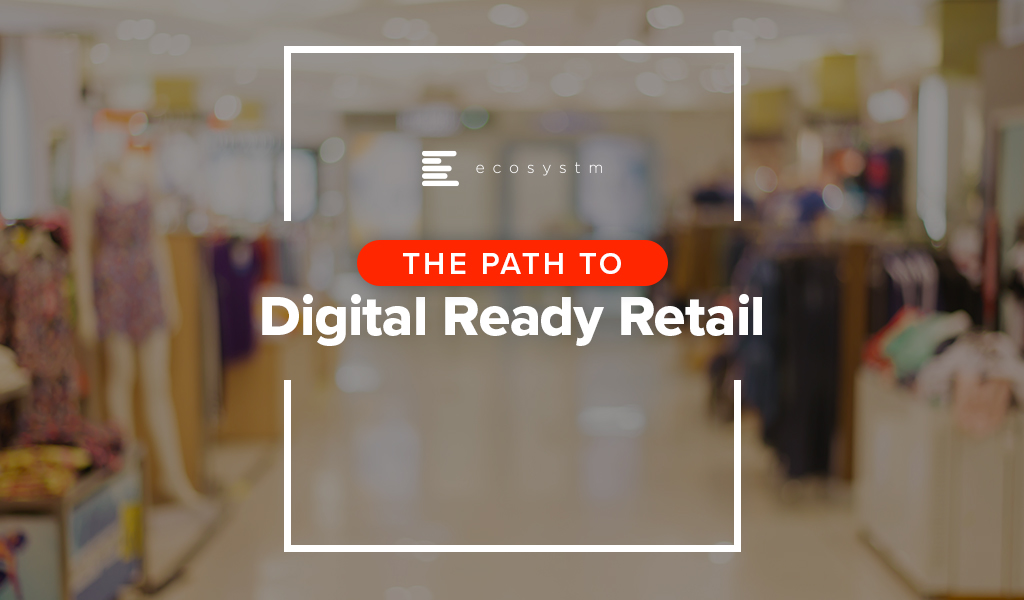 2020 has seen extreme disruption – and fast. The socio-economic impact will probably outlast the pandemic, but several industries have had to transform themselves to survive during these past months and to walk the path to recovery.
Against this backdrop, the Retail industry has been impacted early due to supply chain disruptions, measures such as lockdowns and social distancing, demand spikes in certain products (and diminished demands in others) and falling margins. Moreover, it is facing changed consumer buying behaviour. In the short-term consumers are focusing on essential retail and conservation of cash. The impact does not end there – in the medium and long term, the industry will face consumers who have acquired digital habits including buying directly from home through eCommerce platforms. They will expect a degree of digitalisation from retailers that the industry is not ready to provide at the moment. This raises the question on how they should transform to adapt to the New Normal and what could be a potential game-changer for them.
Translating Business Needs into Technology Capabilities
In his report, The Path to Retail's New Normal, Ecosystm Principal Advisor, Kaushik Ghatak says, "Satisfying their old consumers, now set in their new ways, should be the 'mantra' for the retailers in order to survive in the New Normal." To be able to do so they have to evaluate what their new business requirements are and translate them into technological requirements. Though it may sound simple, it may prove to be harder than usual to identify their evolving business requirements. This is especially difficult because even before the pandemic, the Retail industry was challenged with consumers who are becoming increasingly demanding, providing enhanced customer experience (CX), offering more choices and lowering prices. The market was already extremely competitive with large retailers fighting for market consolidation and smaller and more nimble retailers trying to carve out their niche.
In the New Normal, retailers will struggle to retain and grow their customer base. They will also have to focus aggressively on cost containment. A robust risk management process will become the new reality. But above all else, they will have to innovate – in their product range as well as in their processes. These are all areas where technology can help them. This can come in the form of technology partnerships, adopting hybrid models, increased usage of technology across all channels and investing in reskilling or upskilling the technology capabilities of employees.
Re-evaluating the Supply Chain
One of the first business operation to get disrupted by the current crisis was the supply chain. Ecosystm Principal Advisor, Alea Fairchild says, "Retailers are finding themselves at the front-end of the broken supply chain in the current situation and there is an enormous gap between suppliers and buyers. Retailers will have to aim to combine inventory with local sourcing and become agile and adopt change quickly. This will highlight to them the importance of transparency of information, traceability, and information flow of goods."
Ecosystm research shows that supply chain optimisation and demand forecasting among the top 5 business solutions that firms in Retail consider using AI for (Figure 1).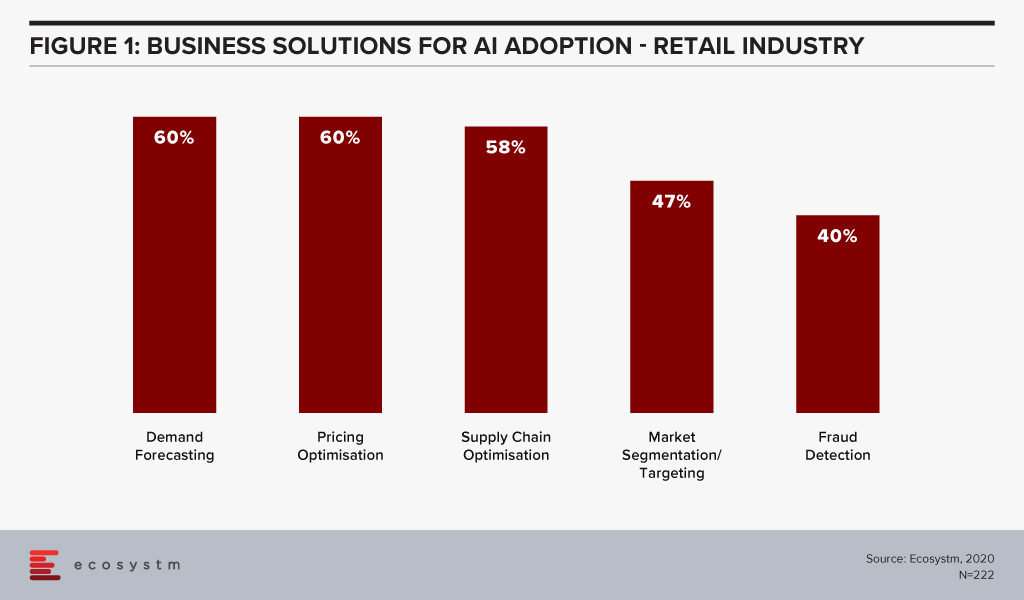 "In the New Normal, consumers are going to demand the same level of perfection that they have received and at the same cost. In order to make that possible, at the right time and at a lower cost, automation has to be implemented to improve the supply chain process, fulfill expectations and enhance visibility," says Ghatak. "Providing differentiated CX is intimately dependent upon an aligned, flexible and efficient supply chain. Retailers will not only need to innovate at the store (physical or online) level and offer more innovative products – they will also need to have a high level of innovation in their supply chain processes."
Digital Transformation in the Retail Industry
Ecosystm research reveals that only about 34% of global retailers had considered themselves to be digital-ready to face the challenges of the New Normal, before the pandemic. The vast majority of them admit that they still have a long way to go.
With COVID-19, the timeframes for digitalisation have imploded for most retailers. The study to evaluate the Digital Priorities in the New Normal reveals that in Asia Pacific nearly 83% of retailers have been forced to start, accelerate or refocus their Digital Transformation (DX) initiatives (Figure 2).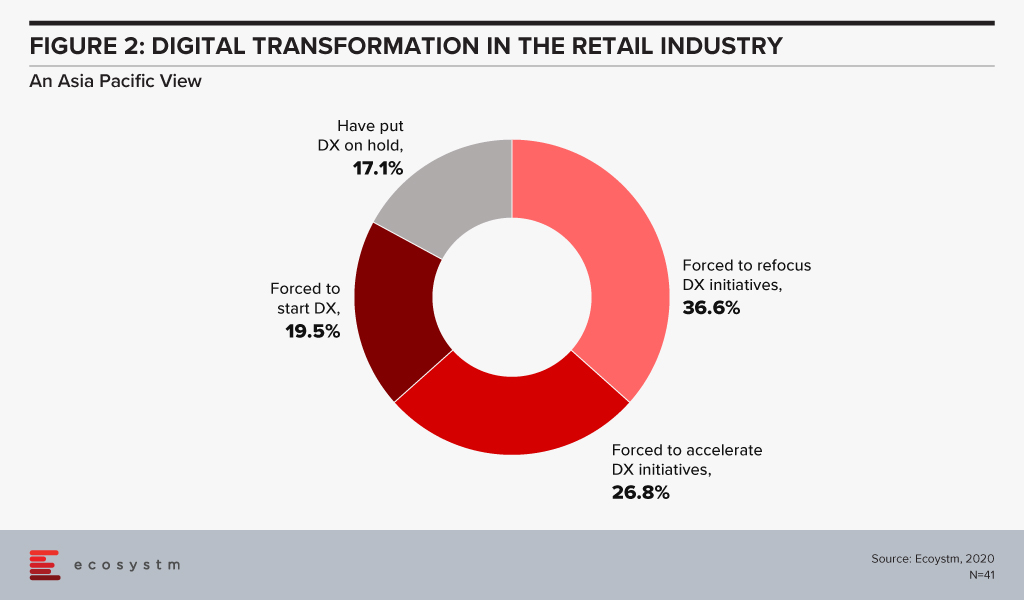 So, what technology areas will Retail see increased adoption oF?
Fairchild sees retailers adopt IoT, mobility, AI and solutions that deliver personalised experiences such as push notifications. What they are likely to do is blend different aspects of their physical and virtual environment to create a solution for customers. "To address in-store processing, hygiene, safety standards and compliance requirements, retailers will change their processes through a combination of resources, KPIs, automation, task management software and switching the information flow."
Ghatak thinks automation has a significant role to play in improving both CX and the supply chain. "This is also an opportunity for retailers – both online and in-store – to create a solution experience where technologies such as Augment/Virtual Reality (AR/VR) can help. While retailers are adopting these technologies, with 5G rollouts, there is potential that the adoption will implode in a short time-frame."
Those retailers that are not re-evaluating their business models and technology investments now will find themselves unprepared to handle the customer expectations when the global economy opens up.
Ecosystm Principal Advisors Kaushik Ghatak and Alea Fairchild were part of a conversation with Ecosystm CEO, Amit Gupta. Watch the video here ?