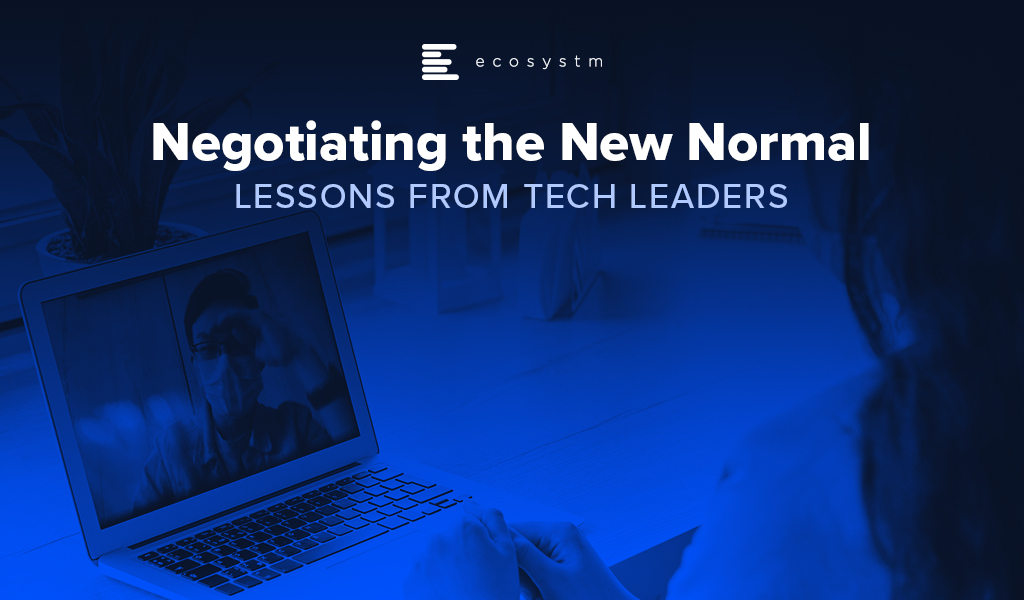 As organisations come to terms with the "new normal", technology companies are presenting unique offerings to help them tide over the situation and lead them towards economic and social recovery. These companies are also leading from the front and demonstrating how to transform with agility and pace – evolving their business and delivery models.
Organisations are dependent on digital technologies more than ever before. In 2020, we have already seen unprecedented and rapid adoption of technologies such as audio and video conferencing, collaboration tools to engage with employees and clients, contactless services, and AI/automation. This will have a wider impact on the technology industry, community, and redefining the workplace of the future.
Ecosystm Principal Advisor, Tim Sheedy hosted a virtual roundtable with business leaders from some of the world's largest technology service providers to discuss how they managed the challenges during the pandemic; and the measures they implemented to support not only their business operations and working environment, but also to help their customers negotiate these difficult times.
The Role of Technology During the COVID-19 Crisis
When the COVID-19 crisis hit, IT teams found themselves largely unprepared. Ecosystm research finds that only 9% of organisations considered their IT fully prepared for the changes that had to be implemented (Figure 1). More than a third did not have the right technology solutions and 41% were unprepared for the scale of the changes required and the capacity to extend the existing technology to meet client and employee needs.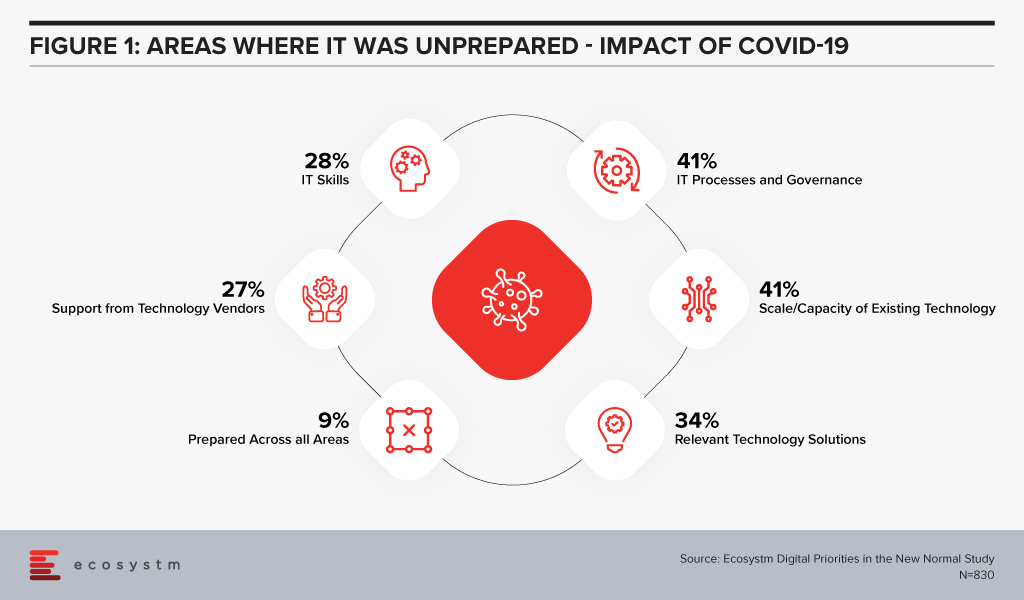 While 27% of organisations felt that they needed more support from their IT provider, further questioning reveals that only 4% switched technology providers for better support during these difficult times. Organisations are looking to their technology partners for guidance, as they negotiate the new normal.
Here are some of the discussion points that emerged in the conversation with the technology providers.
Business Continuity Planning is Still Evolving
One of the early impacts on businesses was due to their dependence on outsourced services and offshore models. Several concerns emerged – how could their provider continue to operate offsite; would they be able to access the network remotely; how should fully remote teams be managed and so on. In addition to this, there were other challenges such as supply chain disruptions and a sudden change in business. Even technology providers felt that they were navigating uncharted territory.
"Remote project delivery is not new, it's been going on for a few years; but I think that there's been a lot of non-believers out there. This experience has moved a lot of those non-believers to the believer category. A lot of our delivery can be done from home – think of the savings of time and money that can be realised through this." – Andrew Campbell, Partner Asia Pacific for Talent and Transformation, IBM
Moreover, the rising workload and client expectation has led businesses to move towards exploring automation and AI.
"The thing that is changing now is, when we approach a new opportunity or an existing customer with a new requirement, we look at using automation. Typically, when you go in to design a solution you always think of the human aspect. We're working very hard to move our thinking to automation first and then supplementing it with the human side as a backup." – Michael Horton, Executive VP, ANZ, HCL Technologies
Data has become paramount in this time of crisis. The right use of data is helping organisations fulfil customer requirements, enhance their experience, and optimise services and products.
"Those organisations that have a good understanding of the data within their business, and how that data can be used to understand the impact on their business, are starting to have much better clarity on future requirements." – Peter Lawther, Oceania Regional Technology Officer, Fujitsu
Organisations should take the learnings from managing this situation to keep evolving their business continuity plans – keeping in mind individual business needs and growth and business strategies.
Having the Right Infrastructure Means Employees are Productive
The lockdown and social distancing measures forced organisations to focus on the infrastructure that can support their remote and hybrid work environment.
"Before the pandemic around 20-30% of our staff logged on to a VPN, but with remote working, all of a sudden, we were at 90%." – Lawther
The adoption of digital tools and online infrastructure led businesses to re-think how they were delivering their services. While some organisations had the tools, governance and the protocols in place, there is still a long way to go for organisations to solve their infrastructure and networking challenges.
"It gets down to the quality of the equipment that the staff use – which ranges from decent laptops, phones, and network connections. If you don't have that now, people cannot work effectively." – Horton
Several of these organisations, focused on ergonomics as well, when evaluating their employees' infrastructural needs when working from home. This extra focus on infrastructural needs – with the employees firmly on their mind – ensured that there was minimal impact on delivery.
Caring for Your People is More Important than Ever
The pandemic has changed the way people work, socialise, and interact. While this appears to have become the new norm, adjusting to it can create emotional stress. Simultaneously, as organisations focus on survival and recovery, workloads have increased. Employees are working extended hours, without taking adequate hours. There is an immediate need to involve organisations' HR practices in evaluating the emotional well-being of employees and finding better ways to engage with remote staff, to reduce stress.
"A key aspect of handling the crisis has been empathy, transparency and engagement with employees. In a business environment, we have all sorts of teams, cultures, clients, and so on. The common thread in this model is that everyone's just become a lot friendlier, more empathic, more transparent." – Sumit Nurpuri, COO, SE Asia Hong Kong and Taiwan, Capgemini
Organisations will have to be innovative in the way they manage these people challenges. For example, a common problem that has emerged is employees attending meetings, with interruptions from family, especially children.
"One of the things that we did as a part of our team meetings is that we assigned tasks to children at the beginning of the call and in the last few minutes, the children presented back to the teams on what they've been up to. It was a mechanism for us to make sure that we were involving our staff and understanding their current situation – and trying to make it as easy for them to work, as possible." – Lawther
Taking the Opportunity to Drive Positive Outcomes
The other aspect businesses are trying to overcome is meeting the rising expectations of clients. This has led them to focus on skills training, mostly delivered through e-learning platforms. Organisations find that this has translated into increased employee performance and a future-ready workforce.
The crisis disrupted economies and societies across the globe, with business and industry coming to a standstill in most countries. Unexpected business benefits emerged from the necessity to comply with country regulations. By and large, employees have been more productive. Also, many organisations re-evaluated their commercial property requirements and many were able to reduce expenses on office rentals (for many this will not be immediate, but there is a future potentiality). Similarly, there were other areas where businesses saw reduced expenses – operational costs such as equipment maintenance and travel expenses.
"When you start global projects and global implementations, you typically do some kind of global design work and maybe fly in people from all over the world, typically to a centralised location. This has changed to virtual meetings and collaborative interactions on online global design. The amount of time and money that was saved – that would typically be spent on people traveling to manage these global design workshops – was great" – Campbell
Most organisations, across industries, will have to make considerable changes to their IT environment. The Ecosystm Digital Priorities in the New Normal study finds that 70% expect considerable to significant changes to their IT environment, going forward. Technology providers will remain a significant partner in organisations' journey to transformation, recovery and success.
---
Watch the replay of Ecosystm 'Digital Leaders Roundtable on the Future of Work' and hear from global technology leaders as we transition to the hybrid workplace.
---