As people continue to work remotely to cope with the effects of COVID-19, organisations are revamping their infrastructure, educational institutions are adopting eLearning, brick and mortar shops are going online, and businesses across the globe are focusing on enhancing customer and employee experience to ensure business continuity.
Evolving Cyber Threat Landscape
These digitalisation trends are here to stay. However, as organisations strengthen their digital transformation agenda, this will unfortunately also make organisations more susceptible to cyber incidents. While cyber-attacks were already on the rise pre COVID-19, we have seen a marked increase with several high-profile global incidents coming to light post COVID-19 – which includes attacks not only on financial services companies, healthcare providers, local and national government infrastructure but also on numerous SMEs, that may not be geared to respond to these incidents.
A recent Global CXO study conducted by Ecosystm on behalf of Asavie found that around 44% of organisations faced cyber-attacks during COVID-19. The Future of the Secure Office Anywhere study, with feedback from over 1,000 business and technology leaders globally, also finds that of the organisations that faced cyber-attacks, a staggering 87% acknowledged that their employee devices had been compromised.
The pandemic also exposed the shortcomings of existing security measures, requiring organisations to shift their focus on cybersecurity. Another Ecosystm study on Digital Priorities in the New Normal indicates that the top IT priority for organisations in the midst of COVID-19 has been to re-focus their efforts on managing cyber risks and measures.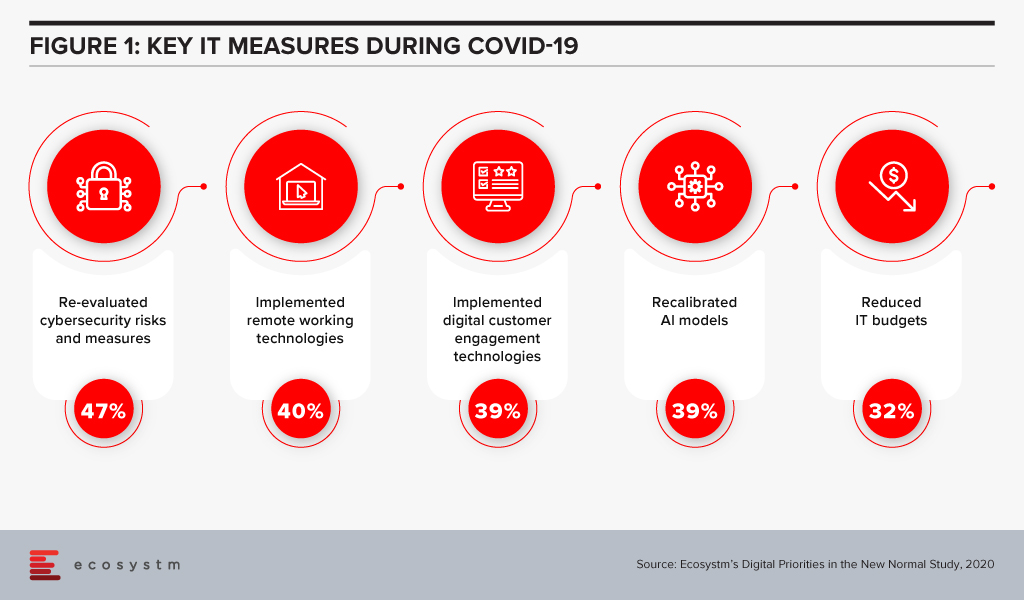 Need for Cyber Risk Insurance
Our research finds that 71% of organisations think that a data breach is inevitable, irrespective of how much IT and cybersecurity teams evolve their prevention, detection, and response plans; and educate their employees of the potential cyber risks. Organisations face immense risks around sensitive data loss, financial consequences, cyber extortions, and loss of reputation. Cyber risk cannot be treated and viewed in the same way as other traditional risks to the organisation.
While cybersecurity remains a key priority, Ecosystm's ongoing Cybersecurity and Data Privacy Research finds that only 45% of organisations globally have a Cyber Insurance policy. Given the strategic importance of Singapore as a regional hub, this figure is alarmingly low for the country. Perhaps Singapore's strong Cyber and Data Governance frameworks are making businesses complacent?

An inhibitor to Cyber Insurance adoption is that organisations consider the process of evaluating their risks, defining their policy requirements, and the conversations with their insurance providers complicated.
InsureTech Increasing Accessibility
Armed with innovations and leveraging data-driven intelligence, InsureTech companies are providing answers to some of the major customer issues. Cloud-based platforms make it easier to purchase on-demand policies and products. They are also able to provide more personalised products and services, taking into consideration organisations' business strategies and culture.
InsureTech companies are creating innovative solutions to address cyber risks, calculate business risk, and provide digital resilience to help companies prevent breaches. In addition to this, InsureTech is enabling corrective actions to protect risk-assets that could help vulnerable organisations prevent catastrophic losses.
InsureTech Innovations from New Zealand
As a Kiwi, and a NZTE Beachhead Advisor, one thing I know is that people look to New Zealand for the human-centric approach we bring to almost everything. So it's not surprising to see technology innovations that originate from 'Aotearoa' – 'the land of the long white cloud' – that exude simplicity and customer centricity. New Zealand has also seen an impressive growth in the number of FinTech and InsureTech start-ups that are expanding across international borders. What was once New Zealand's limitation on the global stage with the tyranny of distance, has now been nullified with the advent of the digital economy – and the country finds its footing as a key player in the new global 'Digital' order. The technology sector has become a significant contributor to the New Zealand economy, in terms of jobs, GDP and exports, and has also led to the creation of a strong technology innovation partner ecosystem for international growth.
One area that is seeing innovation and start-up participation in New Zealand is InsureTech with a focus on cybersecurity. The sector is starting to see the emergence of an impressive pool of promising high growth companies. We have seen a recent example of a note that demonstrates the focus on accelerating international expansion. The partnership between two of New Zealand's prominent InsureTech companies – the Delta Insurance Group and Sentro – is aimed to drive a global growth expansion agenda. Delta Insurance Group with its presence in Asia, UK and Europe have offerings in cyber risk security, data protection and cyber liability and recently introduced their group Personal Cyber insurance (PerCy) into the Singapore market. Their newly launched product will be powered by Sentro – another Kiwi startup – that has recently won significant acclaim for their cloud-based platform hosted on Microsoft Azure. Their SaaS solution works behind the scenes to provide digital dashboards and cloud capabilities to Delta Insurance customers. For me, it is always encouraging to see such examples of New Zealand companies collaborating to offer their innovations to the world and punching above their weight.
Leveraging InsureTech Innovation
The adoption of technology – analytics, automation and cloud platforms – is bringing innovation to Insurance and benefits by optimising tasks across the value chain. Insurance companies are starting to understand the need to become more focused on digital transformation, to offer flexibility and responsiveness for a better customer experience.
The post-COVID-19 world is an opportune time for Cyber Insurance companies, and they have immense market potential. All they need to do is to be visionary, be customer-centric and re-imagine the future through a digital lens to extend value to customers. With the greatest FinTech showcase – The Singapore FinTech Festival 2020 from 7th to 11th December 2020 – round the corner in Singapore, I am looking forward to what promises to be an exemplary show of some of the world's most resilient and innovative start-ups. And I am confident that New Zealand is going to find its spot front and centre! The Delta and Sentro partnership is just a preview of the innovation brewing in Middle Earth!
---
Click below to access more insights on organisations' Cyber risk insurance priorities and top figures, facts and 2020 cybersecurity statistics
---