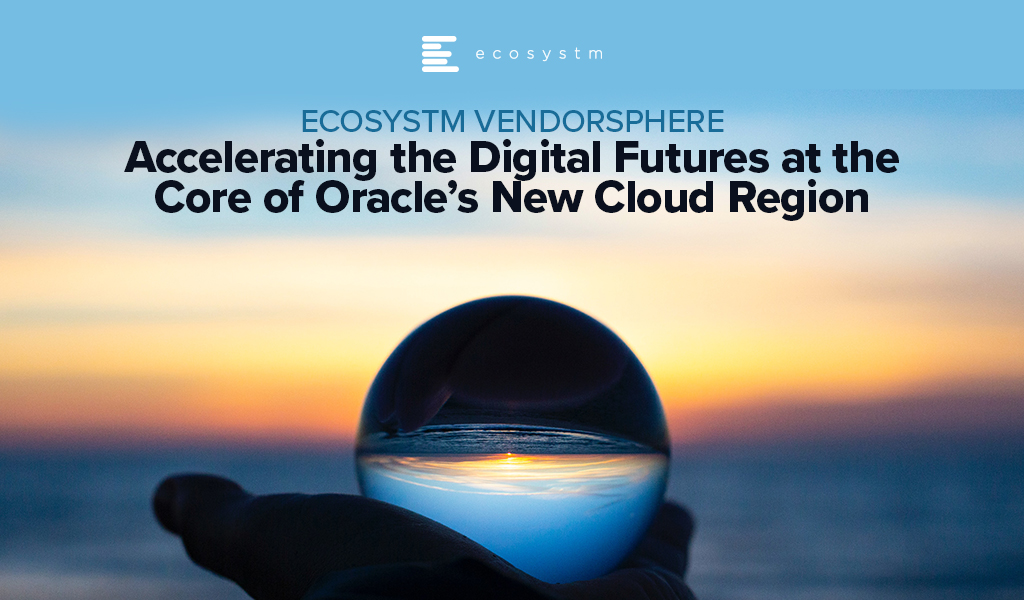 Earlier this month, I had the privilege of attending Oracle's Executive Leadership Forum, to mark the launch of the Oracle Cloud Singapore Region. Oracle now has 34 cloud regions worldwide across 17 countries and intends to expand their footprint further to 44 regions by the end of 2022. They are clearly aiming for rapid expansion across the globe, leveraging their customers' need to migrate to the cloud. The new Singapore region aims to support the growing demand for enterprise cloud services in Southeast Asia, as organisations continue to focus on business and digital transformation for recovery and future success.
Here are my key takeaways from the session:
#1 Enabling the Digital Futures
The theme for the session revolved around Digital Futures. Ecosystm research shows that 77% of enterprises in Southeast Asia are looking at technology to pivot, shift, change and adapt for the Digital Futures. Organisations are re-evaluating and accelerating the use of digital technology for back-end and customer workloads, as well as product development and innovation. Real-time data access lies at the backbone of these technologies. This means that Digital & IT Teams must build the right and scalable infrastructure to empower a digital, data-driven organisation. However, being truly data-driven requires seamless data access, irrespective of where they are generated or stored, to unlock the full value of the data and deliver the insights needed. Oracle Cloud is focused on empowering this data-led economy through data sovereignty, lower latency, and resiliency.
The Oracle Cloud Singapore Region brings to Southeast Asia an integrated suite of applications and the Oracle Cloud Infrastructure (OCI) platform that aims to help run native applications, migrate, and modernise them onto cloud. There has been a growing interest in hybrid cloud in the region, especially in large enterprises. Oracle's offering will give companies the flexibility to run their workloads on their cloud and/or on premises. With the disruption that the pandemic has caused, it is likely that Oracle customers will increasingly use the local region for backup and recovery of their on-premises workloads.
#2 Partnering for Success
Oracle has a strong partner ecosystem of collaboration platforms, consulting and advisory firms and co-location providers, that will help them consolidate their global position. To begin with they rely on third-party co-location providers such as Equinix and Digital Realty for many of their data centres. While Oracle will clearly benefit from these partnerships, the benefit that they can bring to their partners is their ability to build a data fabric – the architecture and services. Organisations are looking to build a digital core and layer data and AI solutions on top of the core; Oracle's ability to handle complex data structures will be important to their tech partners and their route to market.
#3 Customers Benefiting from Oracle's Core Strengths
The session included some customer engagement stories, that highlight Oracle's unique strengths in the enterprise market. One of Oracle's key clients in the region, Beyonics – a precision manufacturing company for the Healthcare, Automotive and Technology sectors – spoke about how Oracle supported them in their migration and expansion of ERP platform from 7 to 22 modules onto the cloud. Hakan Yaren, CIO, APL Logistics says, "We have been hosting our data lake initiative on OCI and the data lake has helped us consolidate all these complex data points into one source of truth where we can further analyse it".
In both cases what was highlighted was that Oracle provided the platform with the right capacity and capabilities for their business growth. This demonstrates the strength of Oracle's enterprise capabilities. They are perhaps the only tech vendor that can support enterprises equally for their database, workloads, and hardware requirements. As organisations look to transform and innovate, they will benefit from the strength of these enterprise-wide capabilities that can address multiple pain points of their digital journeys.
#4 Getting Front and Centre of the Start-up Ecosystem
One of the most exciting announcements for me was Oracle's focus on the start-up ecosystem. They make a start with a commitment to offer 100 start-ups in Singapore USD 30,000 each, in Oracle Cloud credits over the next two years. This is good news for the country's strong start-up community. It will be good to see Oracle build further on this support so that start-ups can also benefit from Oracles' enterprise offerings. This will be a win-win for Oracle. The companies they support could be "soonicorns" – the unicorns of tomorrow; and Oracle will get the opportunity to grow their accounts as these companies grow. Given the momentum of the data economy, these start-ups can benefit tremendously from the core differentiators that OCI can bring to their data fabric design. While this is a good start, Oracle should continue to engage with the start-up community – not just in Singapore but across Southeast Asia.
#5 Commitment to Sustainability at the Core of the Digital Futures
Another area where Oracle is aligning themselves to the future is in their commitment to sustainability. Earlier this year they pledged to power their global operations with 100% renewable energy by 2025, with goals set for clean cloud, hardware recycling, waste reduction and responsible sourcing. As Jacqueline Poh, Managing Director, EDB Singapore pointed out, sustainability can no longer be an afterthought and must form part of the core growth strategy. Oracle has aligned themselves to the SG Green Plan that aims to achieve sustainability targets under the UN's 2030 Sustainable Development Agenda.
Cloud infrastructure is going to be pivotal in shaping the future of the Digital Economy; but the ability to keep sustainability at its core will become a key differentiator. To quote Sir David Attenborough from his speech at COP26, "In my lifetime, I've witnessed a terrible decline. In yours, you could and should witness a wonderful recovery"
Conclusion
Oracle operates in a hyper competitive world – AWS, Microsoft and Google have emerged as the major hyperscalers over the last few years. With their global expansion plans and targeted offerings to help enterprises achieve their transformation goals, Oracle is positioned well to claim a larger share of the cloud market. Their strength lies in the enterprise market, and their cloud offerings should see them firmly entrenched in that segment. I hope however, that they will keep an equal focus on their commitment to the start-up ecosystem. Most of today's hyperscalers have been successful in building scale by deeply entrenching themselves in the core innovation ecosystem – building on the 'possibilities' of the future rather than just on the 'financial returns' today.