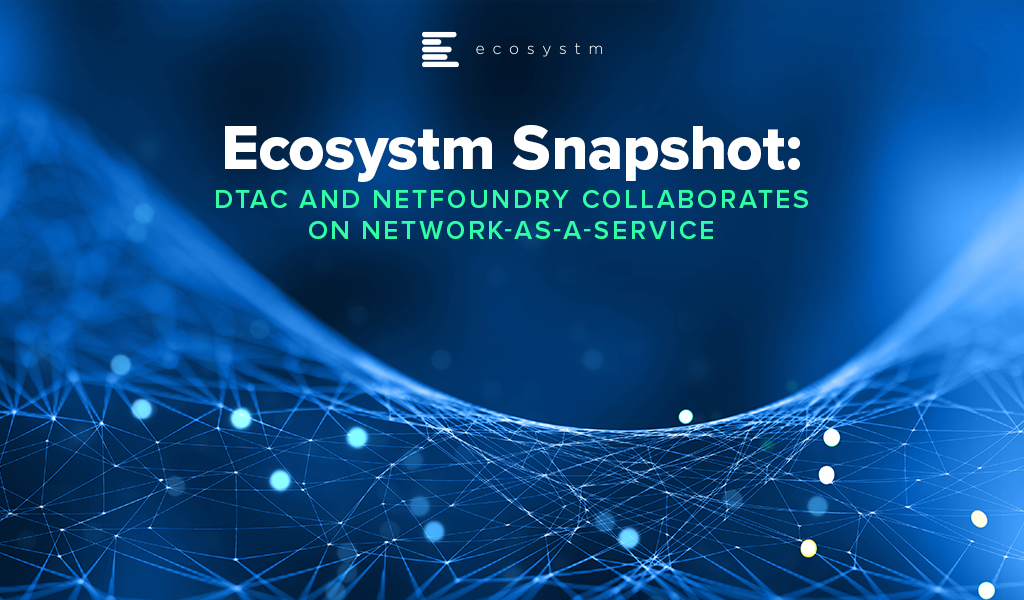 Thailand has emerged as a key player in the 5G space in Southeast Asia. In February 2020, Thailand's telecom regulator, NBTC auctioned 48 5G licenses to boost the development of Thailand's digital economy. Later in the year, Thailand also announced the formation of the National 5G Committee to coordinate the 5G development roadmap with the digital economy vision.
The Future of 5G in Thailand
Ecosystm Principal Advisor, Shamir Amanullah says, "The transformational nature of 5G, unlike its predecessors, is expected to boost adoption of IoT, smart manufacturing and broader Industry 4.0 initiatives to drive the economy. NBTC expects 5G technology to contribute over US$ 15 billion to the GDP in 2022. Key sectors expected to adopt are Healthcare, Manufacturing, Education and Agriculture."
We are already seeing initial applications of 5G. "AIS and True have been launching 5G networks in hospitals across Thailand to support medical personnel in their fight against COVID-19. Telemedicine and robots using 5G are being used to prevent contact between affected patients and medical personnel. AIS has launched 5G networks in 158 hospitals in Bangkok and other major cities."
Amanullah adds, "The changing landscape of remote working caused by COVID-19 has increased network traffic, especially a spike in the video, further amplifying the need for 5G infrastructure. The onboarding of many new digital users and increased adoption of digital solutions by businesses has whet the appetite for more speed, latency and more innovative services. 5G first-mover advantage is key especially for the major operators who can achieve significant scale in their new service offerings."
The Thailand 5G Landscape
The major telecom providers bid for multiple licenses across different bands. While AIS and True bid for and won more licenses, other telecom providers such as DTAC are aiming more for a niche presence. They only bid for the high band 26 GHz auction, winning two out of the possible 26 licenses for 100 MHz blocks.
Amanullah discusses the benefits of different 5G bands. "The 700 MHz band covers large geographic areas while also being able to penetrate walls easily making it a highly valuable spectrum asset. The 2600 MHz band is attractive as most smartphones already have this radio."
"The 26 GHz band provides for high-frequency spectrum, also known as mmWave spectrum. This band offers high-speed data and capacity but with a limited range. Applications expected to be used in the mmWave include virtual and augmented reality and remote health services. While DTAC has a smaller spectrum holding compared to AIS and True, they plan to complement with their coverage band to offer 5G services. The company is also believed to be keen in the 3500 MHz mid-range band when it becomes available. This band is currently occupied by satellite operator Thaicom."
DTAC-NetFoundry Partnership
DTAC and NetFoundry recently announced a collaboration, to introduce a new network service dubbed as SmartConnect. SmartConnect is a network service which allows organisations to manage the network and cloud computing in a unified platform thus increasing efficiency, speed and security.
The partnership will enable both small and medium enterprises (SMEs) and large enterprises to leverage cloud-native networking capabilities to boost performance while increasing security when connecting to a cloud environment. SmartConnect service will replace traditional set-ups involving hardware, VPN devices by providing a new virtual network for organisations. This is expected to empower business users to access cloud-based data quicker – with eight to ten folds speed – than a conventional network in a highly secured environment at a fraction of a cost.
Amanullah says, "The Network-as-a-Service (NaaS) features in 5G – where a customised network service based on bandwidth speed or latency, specific to a variety of 5G use cases – brings an exciting new business and potentially lucrative opportunities. Network slicing allows for many virtual networks on a single physical network and NaaS theoretically allows for a customer to request for a tailored network service required. NaaS delivers virtual network services on a subscription basis which has the potential to be an exciting game-changer."
DTAC is clearly gearing up for the changes in the industry. The SmartConnect service can become a true differentiator for them. It also gives an opportunity to DTAC to leverage NetFoundry's integration with Azure, AWS and GCP to enhance cloud connectivity services and provide value to their enterprise users.
As the telecom industry transforms, it will see more such partnerships between telecom providers and technology vendors.