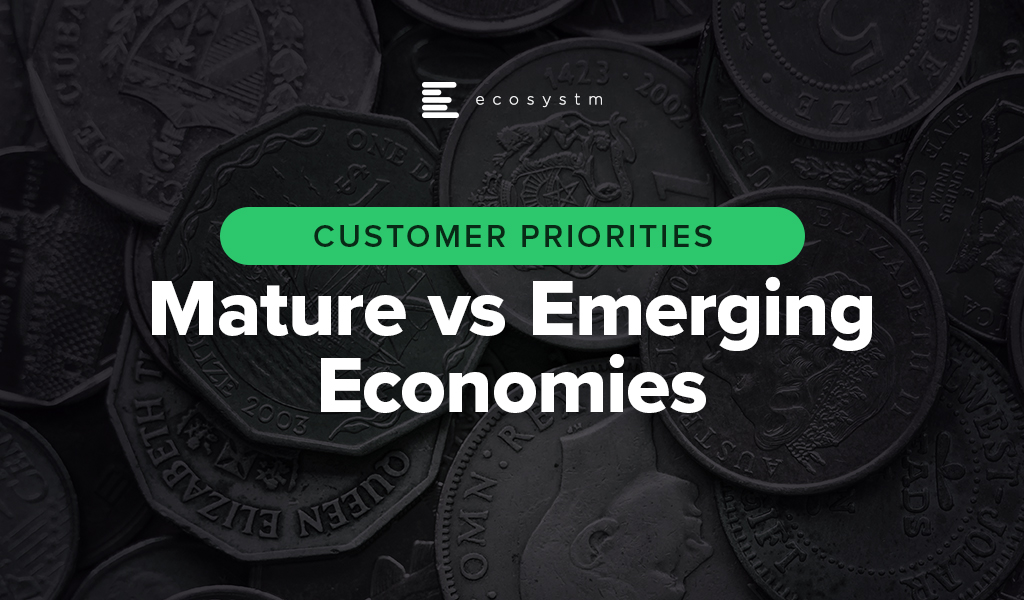 In the Top 5 Customer Experience Trends for 2020 Ecosystm Principal Advisors, Tim Sheedy and Audrey William say that emerging Asia will catch up with the mature economies of the world in their customer obsession. Have emerging economies really embraced Customer Experience (CX) fully or are they just responding to the hype? Do consumers really care about how they connect with brands or do organisations think product offerings is the main differentiator? The business priorities of global organisations reveal that there is a universal focus on improving CX (Figure 1). It is the top business priority across emerging and mature economies, though mature economies are still ahead in their customer focus. Organisations in emerging economies prioritise revenue growth and improving Employee Experience (EX) more than those in mature economies.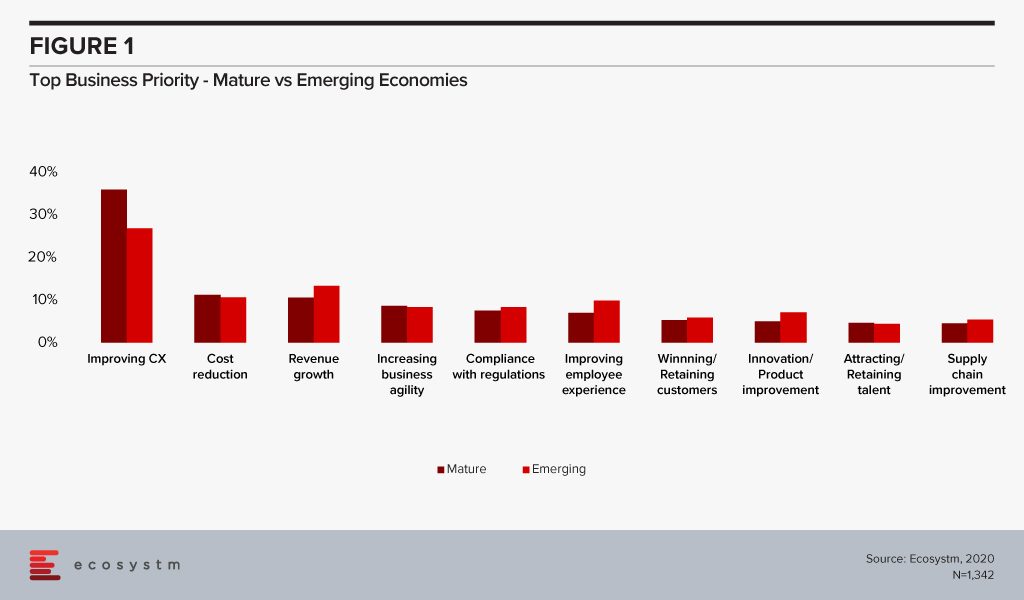 Delivering Better CX – The Challenges
Whether these organisations can actually fulfill their CX goals, depends on what their key challenges are. In the end, what consumers want is a consistent CX – across multiple channels and touchpoints. Organisations in emerging economies seem to find it more challenging to drive a more consistent CX (Figure 2). Information siloes are a challenge across all organisations. But organisations in mature economies cite training of their agents as their biggest challenge.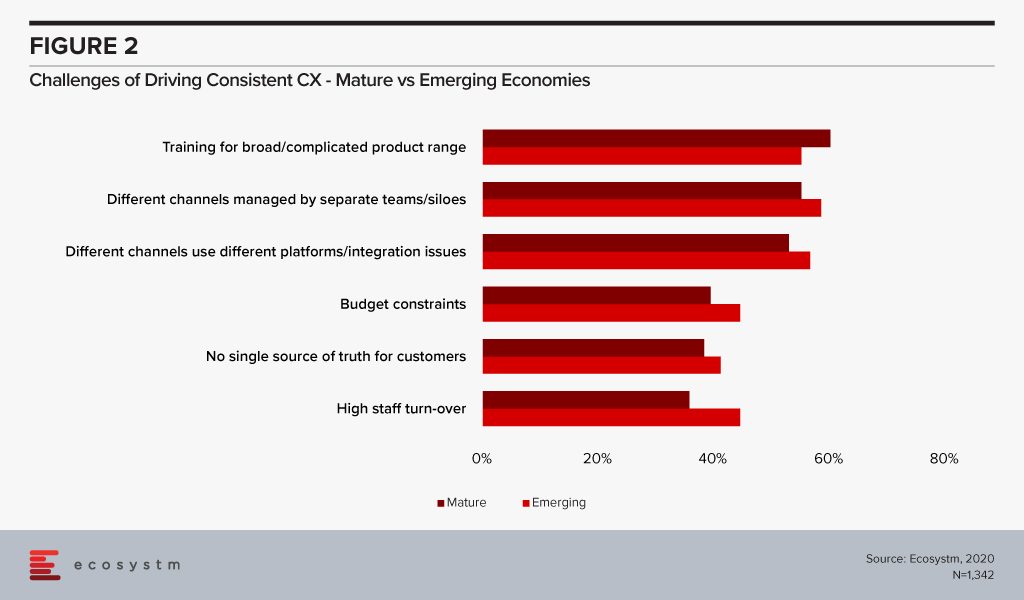 A desire to improve CX must be backed with both vision and budget. The vision should be for the entire organisation to have a single source of truth – not just for the employees – but also a common source of truth that is accessible easily and consistently by customers, across multiple channels. Without this, customer self-service measures will be inadequate. Increasingly customers will want to engage with brands when they want to (very often beyond working hours), how they want to (avoid lengthy voice calls) and where they want to (web and mobile apps). Interoperability of enterprise systems and a robust knowledge base are important factors.
How do Organisations Improve Service Delivery?
If we compare the top CX measures by organisations in mature and emerging economies, we notice a clear difference in priority. In mature economies, organisations appear to have a clear roadmap. They focus on the customers first; followed by empowering the staff to perform their jobs better; invest in technology that will enable both; work on process optimisation; and finally set KPIs and metrics to evaluate the efficacy of the CX measures in place. Also, what they are increasingly doing is setting CX KPIs across the entire organisation – involving all stakeholders. A customer-focused business is one where everything is second to the customers and that should be built firmly into the organisational culture.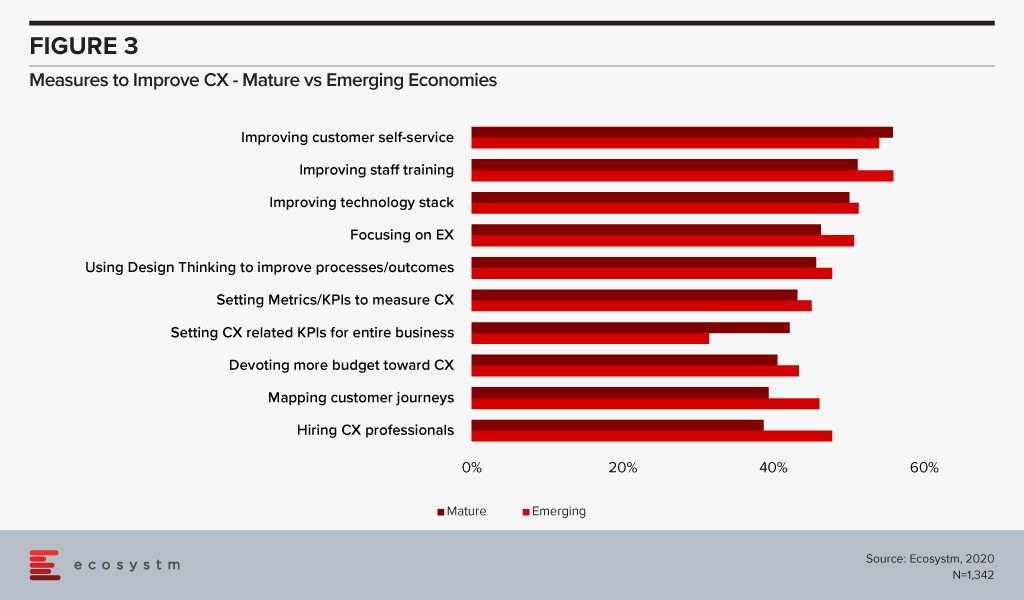 In emerging economies, organisations do not appear to follow a clear roadmap in their CX measures. While self-service is an important aspect of their CX programs, they are more tied down by improving their customer service staff capabilities. They are more challenged by high staff turnover (Figure 2) and appear to be focused on their employees in multiple ways – hiring experts, improving EX and investing in staff training. What they do far less than their counterparts from mature economies is setting organisation-wide CX KPIs.
Web apps are still the most important self-service CX touchpoint, followed by mobile apps. However, emerging economies are ahead when it comes to the importance they place on mobile apps for CX. This is reflective of the high mobile penetration in emerging economies, and the propensity to use mobile devices for all transactions – social and business.
We have seen that organisations in mature economies set CX KPIs more consistently. What are the top CX metrics and are there any differences based on the maturity of the economy (Figure 4)?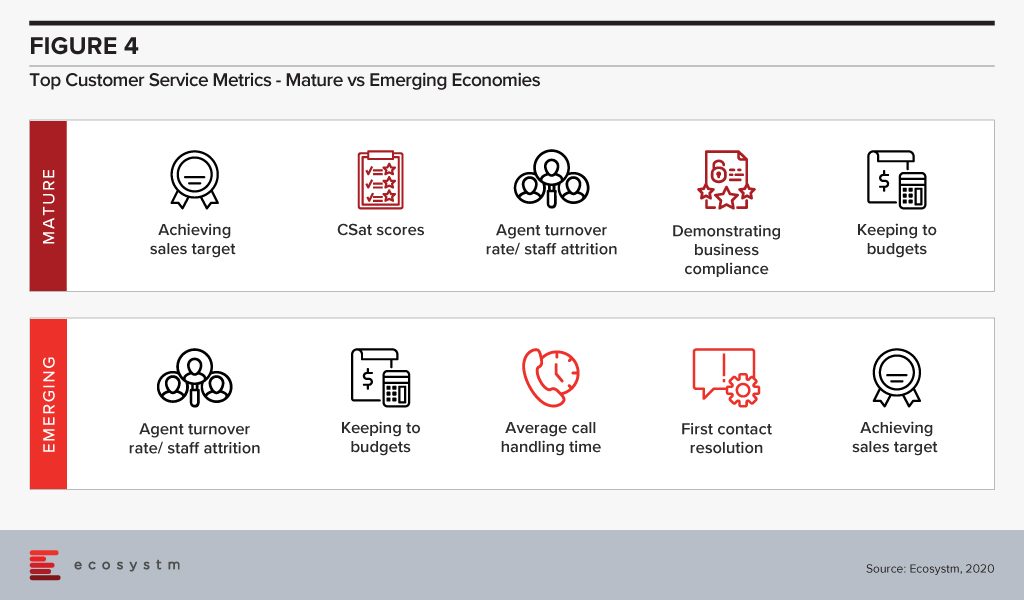 Organisations in emerging economies, continue to be more concerned about attracting and retaining employees. In fact, when asked about their security concerns, these organisations cite agents leaving with data as the key challenge. In mature economies, the key security challenge is improper use of confidential customer data, which can be handled best by continued staff training. In emerging economies, while organisations measure individual areas such as average call duration and first contact resolution, they do not measure customer satisfaction, in its entirety, using CSat scores, for instance. Organisations in mature economies are better at setting KPIs for their CX initiatives and tying them down to outcomes beyond the customer service teams – such as sales and adherence to compliance requirements.
Organisations in mature economies are focused on CX, but to become truly customer-obsessed they need to:
Evaluate what will enable them to deliver better customer self-service – it is not only about apps, but also about the knowledge base
Create a clear CX roadmap, focused on the multiple stakeholders and the technology – the steps have to be focused and not ad-hoc
Inculcate customer obsession across the entire organisation – not just the customer-facing teams