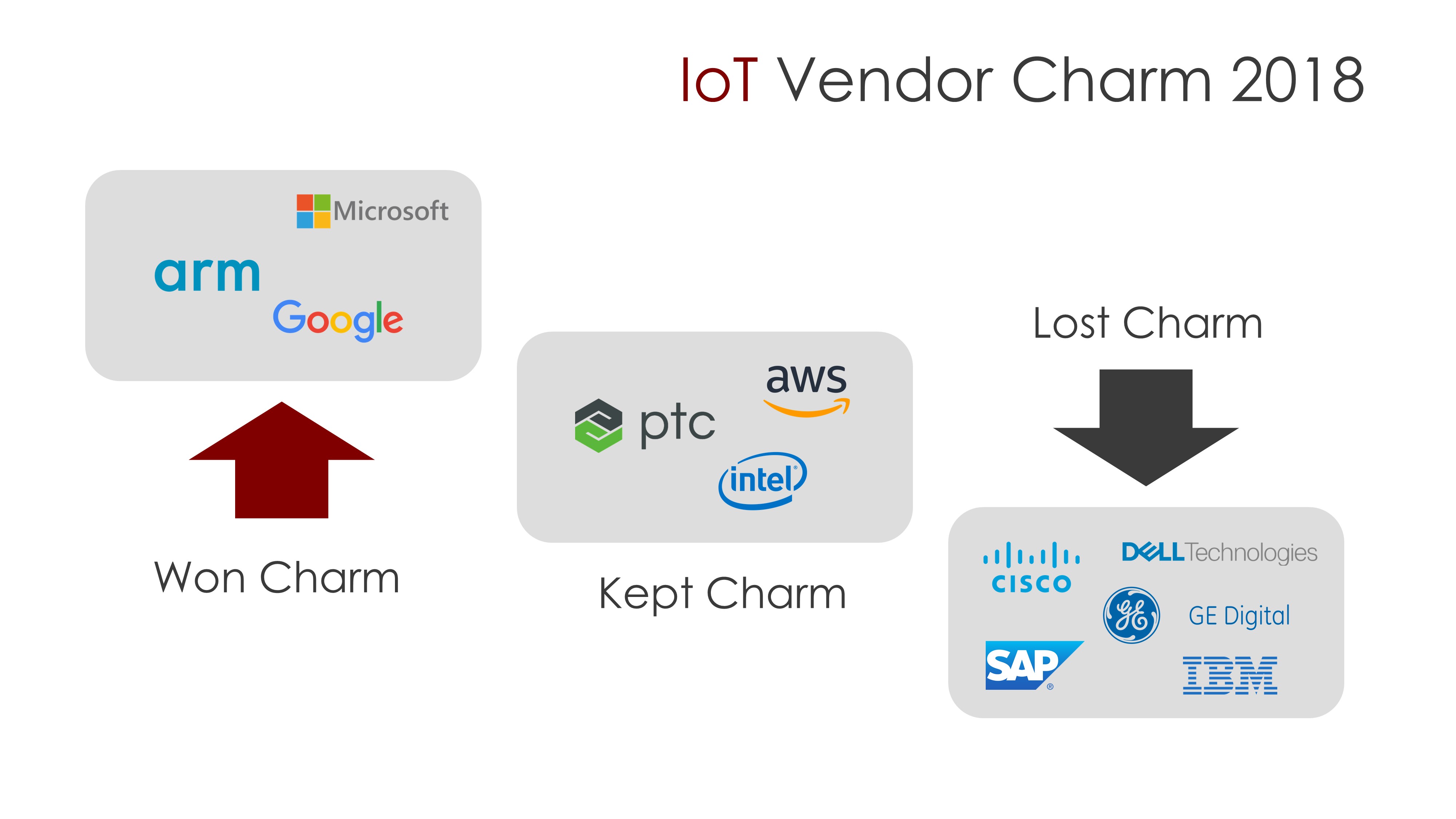 In my article "Which Top IoT companies are losing, keeping or winning its Charm in 2017?", I reviewed the Top 10 IoT companies that lost, maintained or gained Charm in the IoT sector in 2017. Here are my updates for 2018.
Defining Charm. The power of pleasing or attracting through their strategy, investments, innovation, teams, products, events and media presence. Their attractiveness is well received all-round – by investors, customers, developers and analysts.
Which Ones Lost Charm in 2018?
The 5 Top companies that have lost IoT charm in 2018 are:
Which Ones are Keeping their Charm?
The 3 Top companies that have kept their IoT Charm in 2018 are:
PTC. Since Rockwell and PTC announced their partnership earlier 2018 at Rockwell – including a $1 billion equity investment from Rockwell into PTC – the two companies have been hard at work to bring their respective offerings into alignment. And before the end of the year they released their first collaborative offering: FactoryTalk InnovationSuite, which provides improved data insights through a single source of operations visibility and systems status. PTC also partners with Microsoft to help customers accelerate Digital Transformation in IoT. The company announced in fall 2018 that it is preparing an $18 million restructuring plan in 2019. We will probably see the impact in 2019, but PTC deserves to keep the Charm in 2018.
Intel. IoTSWC 2018 awarded Intel-ARM-Pelion for innovative solutions jointly developed by Intel, ARM and Pelion enabling users to connect any IoT device to the cloud in a matter of seconds. Reducing the complexity of IoT development, Intel revamped their IoT roadmap to benefit developers and integrators in 2018. Other news through 2018 that helps Intel keep their charm were: Intel Capital pumps $72 million into AI, IoT, cloud and silicon startups, $115 million invested so far in 2018.

Dell Technologies is combining tools from its broad portfolio with technology from Intel and partners in the Dell Technologies IoT Solutions Partner Program

. Intel deserves to keep their Charm in 2018.

AWS.

In AWS re:Invent 2018, Amazon announced a variety of AWS IoT releases. Also, AWS IoT Greengrass extended functionality with connectors to external applications, hardware root of trust security, and isolation configurations , AWS IoT Device Management Now Provides New Features for Fleet Indexing and Jobs and Announcing AWS IoT SiteWise, Now Available in Preview. No doubt AWS has kept their Charm in 2018.
Which Ones are Winning Charm?
The 3 Top companies that have won IoT Charm in 2018 are:
Microsoft.

Microsoft is now the world's most valuable company

. The company made a major statement earlier in 2018 when they announced a $5 billion commitment to IoT projects for the next 4 years. That new investment has already resulted in new products, such as Azure Sphere and Azure Digital Twins. The company also launched their IoT deployment and management platform Axure IoT Central to the general public. New customers, new partners and good analyst recommendations makes them win the Charm in 2018.
ARM. The list of ARM's acquisitions in 2018, includes enterprise data management leader, Treasure Data (enabling device-to-data IoT platform), Stream Technologies (to expands IoT connectivity and device management capabilities) and ChaoLogix. These acquisitions and the new Pelion IoT Platform will give ARM businesses super powers. For the second consecutive year, ARM is in the Top winners of the IoT Charm list.
Google. Google I/O 2018 marks a new era for IoT devices with new Google Assistant capabilities. In 2018 Google bought Xively to improve their IoT platform. The company invested in creating a strong ecosystem adding new

IoT partners

. Finally Google forays into edge computing with cloud IoT Edge and TPU. Good reasons to include Google in the winners list.
Thanks in advance for your Likes and Shares